The Dallas Stars Aren't Playing Anything Like The Team They Used To Be. So Long As They Keep Winning, Though, We're Perfectly OK With That.
The days of calling Your Dallas Stars a puck-possession team are long gone.
This team is not offensively relentless. It won't overwhelm the opposition with speed, methodical passing or creative zone transitions.
This is a team that relies on Roman Polak rushes, superb goaltending, a teenager, a defense-by-committee back-end strategy and swarms of physical pressure from their forwards to find Ws.
And, to be honest, it's really fun to watch. The emergence of Roope Hintz as a legitimate top-six forward has us grinning ear to ear, and Ben Bishop and Anton Khudobin's continued strong efforts in net give us hope for a nice little run in the playoffs. Hell, the fact that Valeri Nichushkin is setting an NHL record for games played in a season without scoring a goal or committing any penalties is highly amusing to us, too.
It was a good week in Stars land, folks. Let's take a look back at the week that was…
Last Week in Your Dallas Stars.
• Victory Green™ versus Colorado Avalanche, 0-4.
Damn, is this what Your Dallas Stars are capable of? Alexander Radulov returned from his one-game "suspension" to score his first career hat-trick as Ben Bishop blanked the Avs for his second straight shutout of the season and the first back-to-back SOs of his career. Damn! Coach Jim Mongtomery's Bois established a physical presence early in the contest and continued to hammer the Av's top line into submission. Even Bishop got into the rough stuff, as his aggressive play behind the net to play a loose puck jolted Gabriel Landeskog into leaving the game with what looked like a jammed wrist and broken spirit. So sad! The newly formed shutdown duo of Esa Lindell and Roman Polak also heavily neutralized the speed of the Avalanche, pushing Colorado around on the ice and further down the standings. Dallas extended it's win streak to four in commanding fashion. here. Also neat? Blake Comeau led the hit parade against his former teammates, registering six hits against the Avalanche. Blake currently leads all Stars in hits with 179 on the season. The next closest forward is Jamie Benn with 114.
What. A. Beaut. #GoStars pic.twitter.com/nl6DhXtkzA

— Dallas Stars (@DallasStars) March 8, 2019
• Darkness Music versus Chicago Blackhawks, 2-1.
The defensive sieves that are the 2019 Blackhawks have allowed 255 goals against this year, which is second worst in the NHL. They average a goals-against of 3.70 per game. You'd think Dallas might be able to put more than one in the puck in the net, eh? The Stars snapped their winning streak in front of a mixed home crowd to keep the Blackhawks mathematically alive in the playoff hunt. Chicago lit the lamp first by capitalizing on a 2-1 against an uncharacteristically befuddled Roman Polak, who allowed the cross-ice pass that let David Kampf easily tap one in. Radulov responded with a goal of his own, notching his fourth goal in two games by corralling a rebound off Corey Crawford. But it was all the offense Dallas could muster. Khudobin would allow one more tally in the opening frame, but gave his teammates every chance of making a modest comeback. Alas, not tonight. Your boi Miro Heiskanen looked slower than his usual self here too, as his skating stride was sluggish as hell (for his standards anyway). The rookie logged 26 minutes and 40 seconds in the effort, eclipsing his average time on ice of 23:04. We hope our teenage son is taking his Flintstones!
Dobby is doing his part 👏 #GoStars pic.twitter.com/J03ziAANpa

— Dallas Stars (@DallasStars) March 10, 2019
• Victory Green™ at Buffalo Sabres, 2-0.
Ben Bishop extended his win streak against the Sabres to 12, and is now 12-0-1 all time with a .951 save percentage and 1.37 goals against average when facing them. In turn, Dallas casually dominated the Sabres, who were without Jack Eichel due to suspension, as Buffalo dropped its fifth game in a row and got shut out in back to back contests. Meanwhile, Roope Hintz continued his recent confidence surge and scored two very impressive goals for the game's only tallies. The multi-goal effort is the first of his fledgling career in the NHL.
The Sabres aren't exactly sure what happened here. Hintz knew. #GoStars pic.twitter.com/pxzzDa9tad

— Dallas Stars (@DallasStars) March 13, 2019
NHL Hitz PRO Player Of The Week.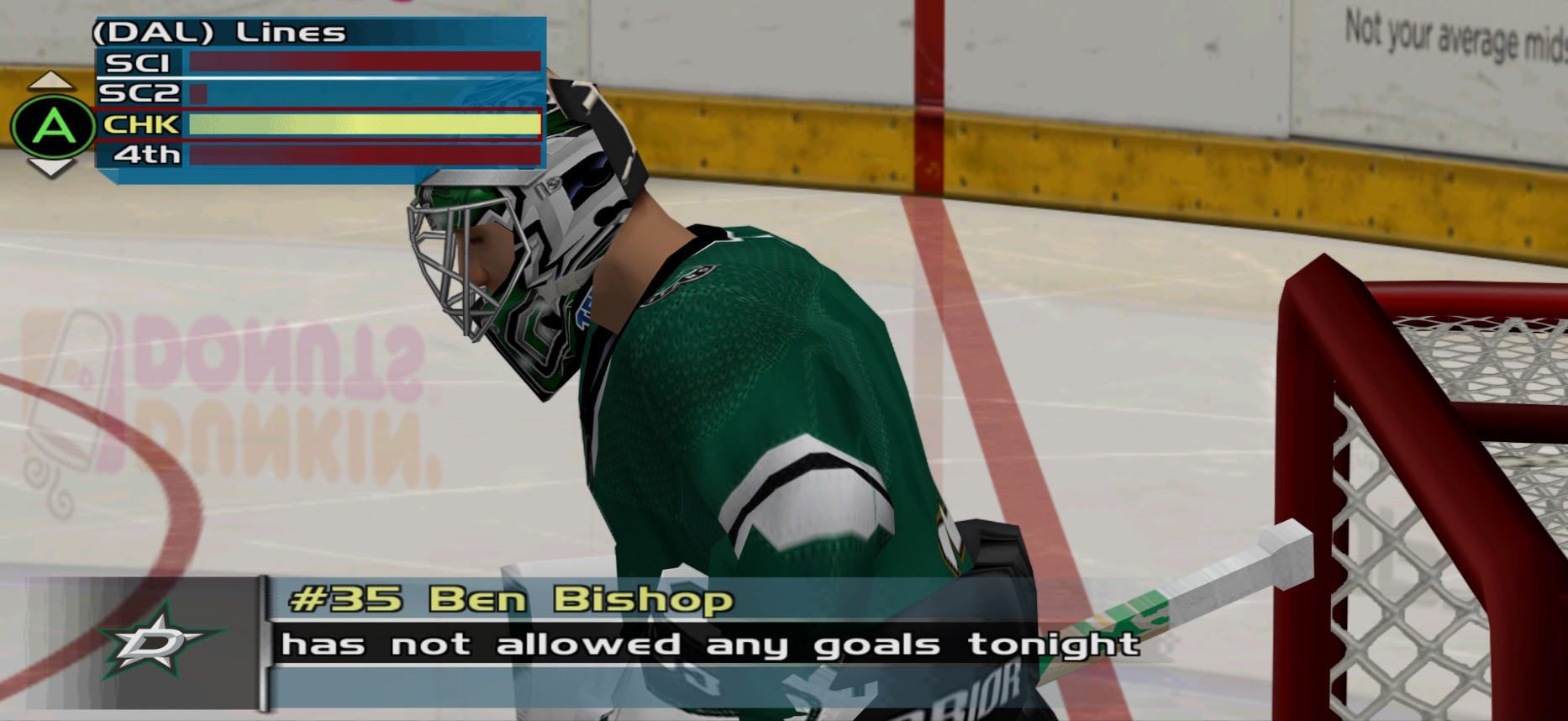 Back once again with the ill behavior, Ben friggin' Bishop is your NHL Hitz Pro Player of the Week — an illustrious award we should just rename in Big Ben's honor at this point. Back-to-back-to-back shutouts from the 32-year-old and last week's second star amongst all NHLers surely has stars fans feelin' pretty darn confident in their netminding these days. Bish joins Ed Belfour and Cesare Maniago as the only goalies in franchise history to record three shutouts in a row, extending his shutout streak to a ridiculous 204 minutes and 20 seconds. In addition to blanking his opponents mercilessly, he's physically dominating them as well. Bishop's collision with Gabriel Landeskog in Colorado has knocked the Avalanche captain out of the lineup for the rest of the regular season and perhaps killed their chance at making the playoffs. Yikes! Bishop is putting together a Vezina Trophy-caliber season for Your Dallas Stars, as his .932 save percentage is now tops in the NHL. Also, unlike other favorites to win the award, he has the added pressure of backstopping a team that is lucky to score three goals in any given game. Dallas may be the third-worst scoring team in the NHL. But, hey, we've got ourselves a prodigy in net! When in doubt, change your pitch up and smack our Bish up.
This Week In Your Dallas Stars.
It's going to be a busy week for Esa Lindell and the Bois as Dallas plays four times in six days. At least it's a home game-filled stretch!
• Thursday, March 14, at 7 p.m. at Minnesota Wild (AWAY): The Stars are 2-1-0 against the Wild this season, and this is the biggest game of the week, for sure. The Wild and Stars are neck-and-neck in the Central Division standings, vying for a wild card spot.
• Friday, March 15, at 7 p.m. versus Vegas Golden Knights (HOME): The Stars are a lowly 0-2-0 on the season against the Knights, making them the only Western Conference team that Dallas has yet to beat this season. Ssure would be nice to squeeze at least one Victory Green™ out of the NHL's newest franchise this year!
• Sunday, March 17, at 6 p.m. verses Vancouver Canucks (HOME): We don't like the Canucks, whom the Stars have beaten in the team's lone contest thus far this season. But we will always love our ex-Stars Loui Eriksson and Antoine Roussel. Loui has underwhelmed since joining the underwhelming Canucks back in 2016, scoring 24 points two years ago, 23 points last season and currently sitting on 22 points. Roussel has been his usual pesky self, though, quickly becoming a fan favorite in Vancouver with 29 points and a whopping 118 penalty minutes.
• Tuesday, March 19, at 7:30 p.m. versus Florida Panthers (HOME): The Stars bested the Panthers in their lone game thus far this year, but the Panther's veteran netminder Roberto Luongo has recently passed Ed Belfour for third on NHL all-time wins list. Only Martin Brodeur and Patrick Roy have more Ws. Quite the accomplishment for "Bobby Lu", who unlike the Hall of Famers that occupy the list, didn't have the luxury of goal-tending for below-average teams like Vancouver and Florida throughout their career.
Flip it. Stick it. See ya later, bye. — LehtMoJoe