With Two Games Left In The Season, Your Dallas Stars Are Guaranteed A Return To The Stanley Cup Playoffs — Just Like We Told You Would Happen!
This week, Your Dallas Stars continued to pile up the points in preparation of their long-awaited return to the Stanley Cup Playoffs!
Yes, it's been a good time here in Stars Land of late, as the team's highly successful road trip through western Canada saw The Bois in Victory Green™ bagging seven out of eight possible points, establish a franchise-high seven-game road winning streak and put any fears of a 2018 March collapse to rest.
With last night's statement victory over the Philadelphia Flyers, Tyler Seguin & The Bois are officially playoff bound and looking dangerous as hell: Since the All-Star break, Dallas ranks second in the Western Conference in points earned (trailing only the St. Louis Blues) en route to a 18-10-3 record. Cheese and rice, y'all! Dallas' late-season dominance has longtime fans hopeful, bandwagon fans excited and potential first-round opponents uneasy.
Oh, and how 'bout droppin' some guy named Mats Zucarello in the mix just in time for the big dance? This is gonna be good.
Last Week in Your Dallas Stars.
• Victory Green™ at Calgary Flames, 2-1.
This entire game, we caught ourselves muttering "Weird!" to ourselves. The flow of the game, the decision-making on display from from both teams, the packed (but silent) crowd at the Saddledome, the choppy ice, the botched faceoffs, even the on-ice audio feed from the Sportsnet broadcast and its phasing issues — it was just a really weird game, folks! Seeing Ben Bishop prone on the ice away from play should also fall under the "weird" category, but unfortunately we aren't surprised to see Big Ben leave a contest with an injury. Alas, with or without Bish, Dallas just has the Flames number. Here, Alexander Radulov snuffed the Flames in their home barn again, and in impressive fashion. Dallas also went two-for-two on the power play, and were just minutes shy of shutting Calgary out while utilizing both Bishop and Anton Khudobin in net. Miro Heiskanen's game winner here also gives him the lead in scoring among all rookie defensemen. In all, that effort propelled Dallas to its sixth straight road win, tying the franchise record.
COMING THROUGH! #GoStars pic.twitter.com/ylQdPE8iRi

— Dallas Stars (@DallasStars) March 28, 2019
• Victory Green™ at Edmonton Oilers, 3-2.
Gotta ask: What is Ken Hitchcock thinking right now? One year ago, the NHL's third-winningest coach saw his Dallas Stars go down in flames, squandering an 88 percent chance of making the postseason thanks to a franchise-record eight-game losing streak that came after losing Ben Bishop to injury. One "retirement" and a calendar year later, Hitch is now watching the Dallas Stars cruise through final leg of the season confidently, albeit still without Ben Bishop, as his dysfunctional Oilers somehow managed to miss the playoffs while boasting two 100-plus players. This is an insane stat: Conor McDavid has nearly as many assists (74) as Tyler Seguin has total points (75) this year. Incredible! But what do you think ran through Hitch's mind when his Oilers squandered a two-goal lead at home — on Fan Appreciation Night, no less! — as Seguin (who embraced Hitch's guidance in player development) and Jamie Benn (who refused Hitch's attempts at having him play center) go on to score in the shootout? Something unpleasant, most likely.
A silky-smooth snipe from Miro Heiskanen. #GoStars pic.twitter.com/rKkrKVNzlU

— Dallas Stars (@DallasStars) March 29, 2019
• Loser Point at Vancouver Canucks, 2-3 (shootout).
Here's what was going through my mind in this one, unfiltered: "Oh, boi, I hope we start well and earn our playoff berth right here, right now against a franchise that has had its fill of dirty players, and a fan base that will burn their beautiful city to the ground just 'cause. Here comes the first period! Aaaaaaaaand there's a Vancouver goal. Oh, boi, that was a bad defensive effort by the Stars, with Dobby flopping around a bit and looking unsure. And, oh no, Vancouver's scored again. Oh, boi. I don't like this at all. Oh, boi, Miro's pass to Radek was mishandled in neutral, and that was some awful support from Klinger, too. No wonder the 'Nucks were able to slip another one past Dobby. Oh, boi, that was just the first period alone? The Stars better get their skating legs in order. Now, here's the second period about to start. Man, I'm getting sleepy. I really hate these late games. OK, time for the second! Zzzzzzzzzzzzzzzzzzzzzzzzzzzzzzzzzzzzzzzzzzzzzz." See, what happened was I fell asleep.
Dobby is doing his part to keep the Stars in this. #GoStars pic.twitter.com/E6qG30FnGi

— Dallas Stars (@DallasStars) March 31, 2019
• Victory Green™ versus Philadelphia Flyers, 6-2.
[Full Disclosure: Your Dallas Stars graciously gifted Forechecking™ some choice seating to this contest, but we assure you, our coverage of the NHL's top franchise will remain unflinchingly honest and trill even in the face of such a gift. As the model sports entertainment entity of North America, the Dallas Stars organization continues to trail-blaze as the standard bearer of excellence. Still, their uncanny proactive fan engagement, synergistic vertical integration and 360-degree thinking will have no bearing on the views and opinions expressed in this edition of Forechecking™, we promise.]
Mats "They're Not Booing, They're Zuuuing" Zuccarello made a surprise return to the lineup here, and was warmly greeted by a packed American Airlines Center. Crazy that, after being acquired way back in February at the trade deadline, the guy is just now playing his first home game in Dallas. Life is weird sometimes! Playing on a line with Jamie Benn and Roope Hintz, Mats' presence was immediately noticeable. The diminutive and dynamic Norwegian's confidence with the puck seems to rub off on his teammates. It's like an "Oh, I didn't know we were allowed to do that" epiphany occurs, and before you know it, Esa Lindell is scoring Connor McDavid-style goals. I'm into it! Dallas' newfound offensive swag quickly overwhelmed the lowly Flyers goaltending  hereto the tune of two goals on two shots. Cam Talbot is Philadephia's NHL record-setting eighth — yes, eighth! — goalie to suit up for the Flyers this season. He started the year with the disastrous Edmonton Oilers before being traded to the Flyers, so it's very likely the veteran isn't exactly giving it his all before summer vacation. Philadelphia would make a game of it in the second period, however, tying the game up on some quality forechecking in the Stars' zone and making Anton Khudobin sprawl on several grade-A scoring chances. Dobby's performance was once again excellent, and the Stars' eventual four-goal outburst to obliterate the Fyers likely doesn't happen without the backup netminder keeping the game in check during his team's lull. There was a bit of scare as Andrew Cogliano and Zuccarello left the game in third, but coach Montgomery has since assured anxious Stars fans that these moves are only precautionary, and that both will fine. Whew! Also, hey, this win clinched us a berth in the Stanley Cup Playoffs again! Who's chopping onions, huh?
He just turns around like it was no big deal. #GoStars pic.twitter.com/lM3rVpMMcL

— x – Dallas Stars (@DallasStars) April 3, 2019
NHL Hitz PRO Player Of The Week.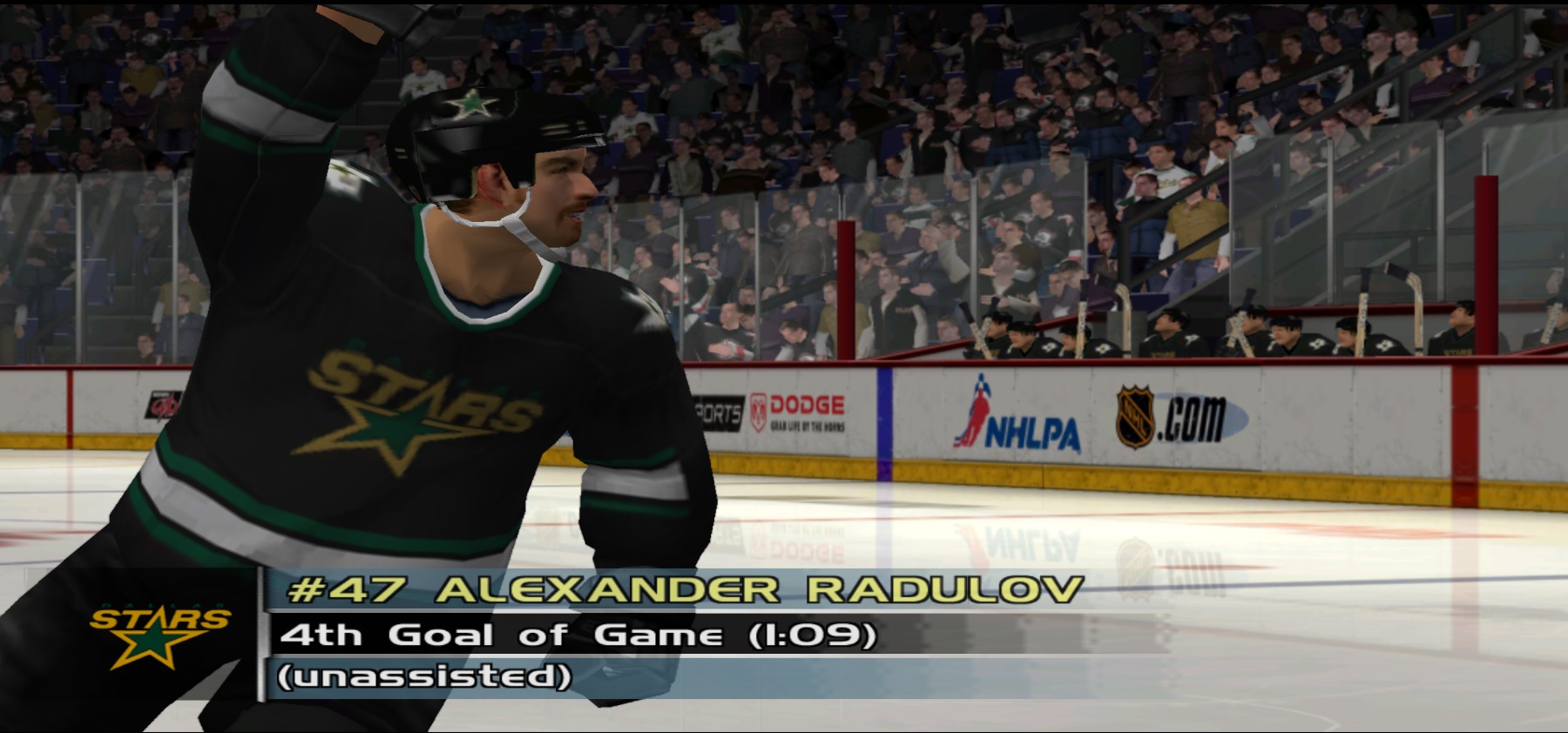 It's been a totally rad week for one Alexander Radulov! Yes, the banana-chomping Russian has been red hot for your Dallas Stars of late, for sure. Over the last nine games, Rads has notched 14 points and is currently riding a six-game point streak. His four-point effort against the Flyers solidified the Stars' playoff berth, and that kind of play certainly bodes well for Jim Montgomery and company, as the Stars will continue to rely on the right-winger to carry a large part of the offensive load in the postseason. With 29 goals on the year, Rads has already surpassed his career high, and is currently only three points shy of topping last seasons 72-point effort — not band considering he played 14 fewer games this season. It's pretty clear that Rads is playoff ready, and that this team is playoff ready. So keep your strong arm steady, carb load up on some spaghetti and gather some confetti, 'cause Alexander Radulov & The Bois might be bringing the Cup back to Dallas. Already!
This Week In Your Dallas Stars.
Games 81 and 82 of the season are all that's left of the 2018-2019 regular season. Will Monty rest some regulars or try to keep the momentum rolling into the postseason?
• Friday, April 5, at 7:30 p.m. at Chicago Blackhawks (AWAY): What twilight zone is this? NBC's darling Chicago Blackhawks aren't in the playoffs, but your Dallas Stars are? LOL.
• Saturday, April 6, at 7 p.m. versus Minnesota Wild (HOME): In February, Wild coach Bruce Boudreau guaranteed that his team would make the playoffs. They won't. In September, Forechecking™ guaranteed the Stars would make the playoffs. They will.
Flip it. Stick it. See ya later. Bye. — LehtMoJoe