Tyler Seguin's Back To His Goal-Scoring Ways, And The Stars Are Somehow Third In The Central. Now, Imagine If This Team Had Any Other Offense To Speak Of!
Your Dallas Stars are an interesting bunch!
The team is ranked 29th in goals scored, and coach Jim Montgomery is doing all he can to change that, continuously shuffling his lineup in hopes of sparking offense from players not named Tyler Seguin.
Once again, it's the team's stellar goaltending play that really is to credit for the team's recent successes. Ben Bishop and Anton Khudobin are without a doubt the reason why this team's currently looking like a playoff-bound group, despite outscoring only two other teams in the NHL — the abysmal Los Angeles Kings and the depressing Anaheim Ducks — and if general manager Jim Nill is unable to acquire even a modest goal scorer by the the time the trade deadline passes on February 25, the Stars cold very easily slip out of a playoff spot.
There's a lot on the line on Nill's cell phone these days, is what I'm saying.
But what about other aspects of the team beyond goal-scoring? How are those doing?
Quite frankly: Pretty damn good! The patchwork defensive unit has seen many faces this season as a rash of injuries has required assistant coach Todd Nelson to get creative with pairings. Only Esa Lindell and Miro Heiskanen have suited up for every contest thus far, with Roman Polak closely behind them. Now, what if I told you, in the summer of 2018, that this trio would be carrying the bulk of the load for the Dallas defense this season?
I, for one, would be surprised by that. But they've been solid! John Klingberg in particular has been a big boost, returning from a broken hand to chew up a team-leading 25 minutes on ice per game average, even if he still hasn't regained the Klinger form of old yet. In all, the shot-blocking group has helped the team's venerable goaltending duo post the second best goals-against figures in the league, and has carried the Stars' penalty-killing to to the tune of an 83 percent success rate — good enough for fifth-best in the NHL.
In a bit of a surprise, it's defense and discipline that are the marks of this Jim Montgomery-coached group, with the Stars drawing more penalties than serving and boasting a penalty minute differential also good enough for fifth-best in the league at plus-46.
So, y'know, the next time you curse at your television or smartphone over another Radulov slashing penalty, just think of what Nashville Predators' fan are screaming at with their league worst minus-116 in penalty minutes.
Another aspect of the game that Montgomery stresses is face-offs — it is part of "the process," after all — and the Stars are currently ranked sixth in the NFL with a face-off win percentage of 51.8 percent. Jason Spezza is leading the team with a whopping 59.2 percent success rate, and Seguin is close behind with 53.9 percent.
The Stars' power play, on the other hand, is about what you'd expect — average at best, currently sitting middle of the pack with a 20.5 percent success rate. No, the Stars' power play has not been a difference maker this season. But this unit does claim the distinction of only surrendering one shorthanded goal on the year, something only two other teams can say at this point.
In summary: Your Dallas Stars are actually excellent in most areas of the game!
The team's on-ice responsibility and buy-in to Jim Montgomery's system has reached a consistency that has propelled the team to top of heap in many important categories! Things are pretty great, really!
Now, again, if only they could figure out how to put the puck in the net…
Last Week in Your Dallas Stars.
• Loser Point at Nashville Predators, 2-3 (OT).
While not nearly as amped up as the previous meetings between these two teams, Stars-Predators III was still a quality game. Dallas began the contest trading low-grade chances in that prototypical "road hockey" style and were dominated by tight checking until the Predators finally burst the Khudobin bubble by scoring off the back of the netminder's head. Yes, in order to break the spell that is Dobby, you must turn to black magic. Kevin Fiala's wild shot ricocheted off teammate Craig Smith behind the net before bouncing off of Khudobin and into the net for the game's first goal. The Stars didn't get flustered, however, and continued to grind out a respectable game until the third period, which is where Dallas has excelled lately! Miro Heiskanen bombed a wicked slapper past Juuse Saros for his 10th goal of the season to tie the game up — but, alas, only briefly. A costly Dallas turnover moments later was pounced on for an easy tap-in goal to keep the Stars at arms' length once again. Not to be outdone by his fellow defenseman, Tyler Fedun then squeaked a point shot through to send the game into overtime after an excellent shift by Jason Dickinson and Andrew Cogliano created the opportunity. Coach Montgomery would ride the momentum of Heiskanen, Dickinson and Cogliano in OT, only to surrender the fatal goal against just 43 seconds into the extra frame, and dropping the Stars to 5-5 in OT this season. Oh, well! Can't win 'em all! The Stars' winning streak, which was very fun, ended at five games. But its points streak remained alive! Not too shabby.
Predators finally get one past Dobby and this is how they do it… pic.twitter.com/zekQw719L7

— Dallas Stars (@DallasStars) February 8, 2019
• Darkness Music at Arizona Coyotes, 2-3.
Welp, so much for the points steak, which ended on this night in the 48th state of these United States. Arizona achieved statehood on February 14th, 1912, coinciding with Valentine's Day, but there was little to love in this loss to the Coyotes. The Stars skated relatively well in the first period — an oddity for Dallas in an afternoon road game — and, despite losing Roman Polak to a boarding injury and surrendering the game's first goal, the Stars looked poised to to take control with a patented second-period outburst. Unfortunately for Dallas, no such outburst occurred. Arizona's league-best penalty kill kept the Stars off the score sheet. The 'yotes also capitalized on their lone power play chance to extend their lead to two, forcing coach Montgomery to shuffle his forward group again to look for any offensive spark. Arizona's third goal of the game just four minutes into the third, and proved to be enough to secure the win, as the Stars' late game rally came up a day late and a dollar short. Meh.
Hintz drives to the net and Ritchie puts home the rebound. #GoStars pic.twitter.com/DFgABULFf5

— Dallas Stars (@DallasStars) February 9, 2019
• Victory Green™ at Florida Panthers, 3-0.
Khudobin handed the Panthers their first shutoff loss of the season in a sparsely attended game here at the BB&T Center. Less than 9,500 Panther fans witnessed the Stars' backup netminder record his second shutout of the season, which Dobby later said felt like an "exhibition game," lol. Seguin's three-point night led the Stars to their first victory on the current road trip, and thankfully nipped their two-game losing streak in the bud. Overall, Dallas was excellent in the defensive zone in this one, limiting the Panthers to 30 mostly low-threat shots on goal as defenders and forwards alike willfully blocked shots and kept the opposition's attack exterior. Esa Lindell also scored his eighth of the season in front of Roberto Lunogo's doorstep as the Stars were very efficient with the few scoring opportunities they had in the contest. A sign of offensive life? Let's hope so!
If you're feeling stressed, just watch this puck movement. #GoStars pic.twitter.com/JLcZKBqP6e

— Dallas Stars (@DallasStars) February 13, 2019
NHL Hitz PRO Player Of The Week®.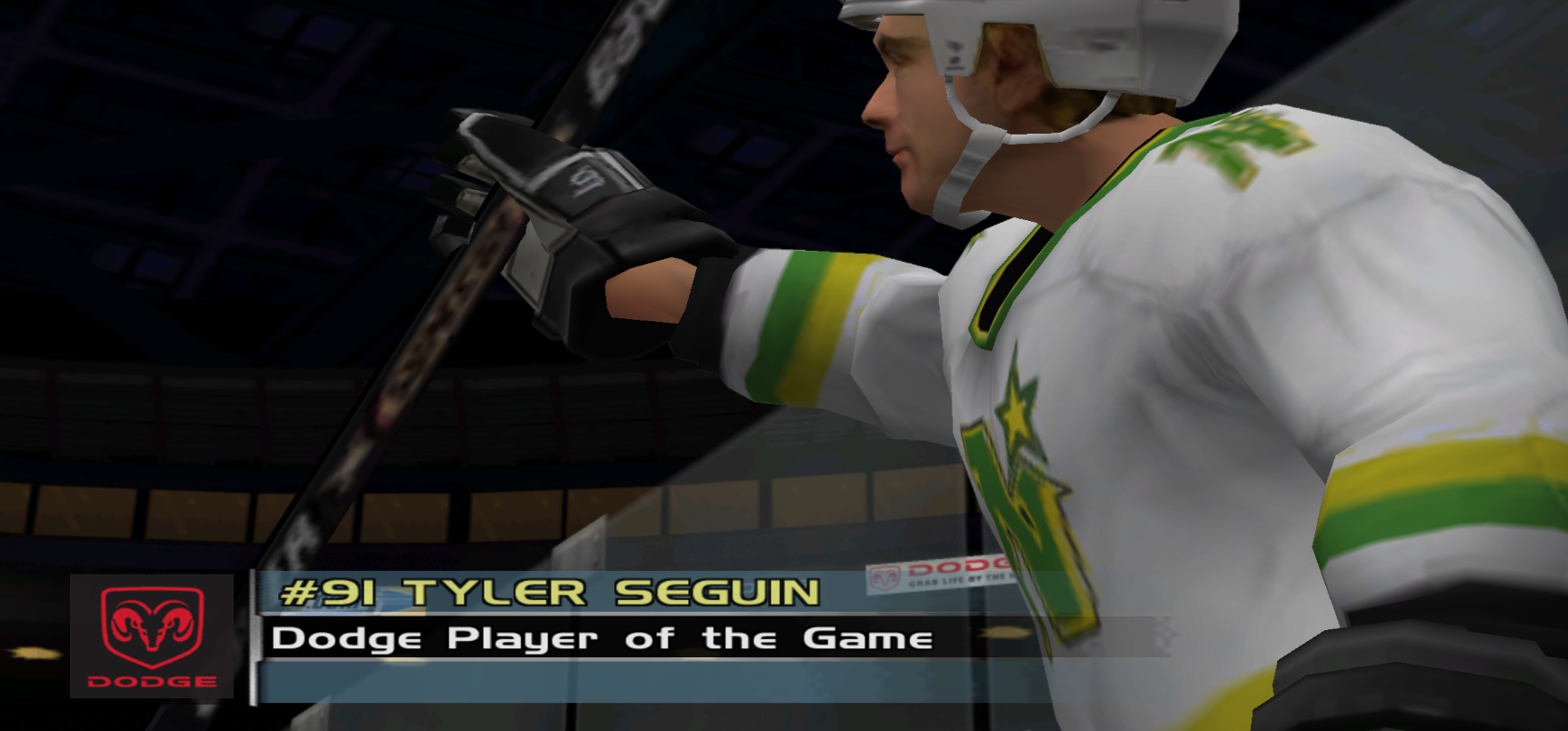 Yes, Mr. Wah Wah himself is playing his best hockey of the season. The Stars' leading scorer has seven points in his last five games, and he's a huge reason why Dallas is currently sitting third in the Central. In addition to his on-ice exploits this week, Tyler has also been scoring major points with the community while off the ice. Good dude!
This Week In Your Dallas Stars.
• Thursday, 2/14, at 6:30 p.m. at Tampa Bay Lightning (AWAY): Ben Bishop will celebrate Valentine's Day with his ex-flames, who are off the charts hot!
• Saturday, 2/16, at 7 p.m. at Carolina Hurricanes (AWAY): Here's hopin' Carolina doesn't win, if only so we can avoid watching this mess.
• Tuesday, 2/19, at 7:30 p.m. versus Nashville Predators (HOME): The Stars have been seeing an awful lot of Predator yellow lately, which… well, at least it's not the murky mustard yellow of yore.
Flip it. Stick it. See ya later, bye. — LehtMoJoe