The Dallas Stars Are Rocking A Season-High Five-Game Win Streak, Many Thanks To Its Goalie Tandem's Continued Stellar Play In Net.
Your Dallas Stars are streaking!
Tyler Seguin and friends have worked their tails off of late to push Dallas to a season-high five-game win streak.  Sometimes a change in latitude can result in a change of attitude, and the time this team spent over the extended All-Star break in warmer climes may have just what the doctor ordered.
Of late, coach Jim Montgomery has been finding better balance in the lineup, pairing Jamie Benn nicely with Radek Faksa. Meanwhile, newcomers Andrew Cogliano and Jamie Oleksiak have proven to be immediate upgrades at their respective positions.
All combined, Dallas has just been simply finding ways to win, in large part due to a new physical, "whatever it takes" mentality. Here at Forechecking™, we believe the increased swagger starts with Stars' goaltending duo of Ben Bishop and Anton Khudobin. Even after the time off, Bish and Dobby are continuing their dominance in the crease, combining for a 2.53 GAA, which is good for second in the NHL and just good for team confidence on the ice.
Meanwhile, Your Dallas Stars are also in the news cycle off the ice once again, and this time for something not horse poo-related! While we don't fully understand why this is going on — we are just cavemen and your world frightens and confuses us — the Stars have gone viral for something involving SpongeBob SquarePants and the Super Bowl, we guess? Even if we don't know what the hell any of this is, we are happy it makes everyone else happy! The Dallas Stars' media team is the best in the business, folks. Believe that!
Now, before we look towards the games ahead and hand out our highly-coveted NHL Hitz PRO Player of the Week® trophy, let us take a moment bask in the afterglow of the Dallas Stars' winning ways from the last week.
Last Week in Your Dallas Stars.
• Victory Green™ versus Buffalo Sabres, 1-0.
After a 10-day break from professional hockey, you'd expect the Stars to come out little flat against a Sabres club that was playing its second game in two days. And normally, you'd be right! Fans of the team have suffered from lowered expectations lately, but a well-rested Jamie Benn & Co. skated with intent in this return to action. Benn's opening-period goal was a thing of beauty, and not only because of the subtle wrister that slipped through Sabres netminder Linus Ullmark's five-hole. The Stars' heavy forecheck caused an errant clearing attempt by the Sabres D that a revitalized Tyler Fedun pounced on from the blue line, before deftly passing it over to the Captain as he stickhandled his way to the game's only tally. Ullmark would go on to have an impressive game, thwarting 26 of 27 shots in his efforts to give Buffalo a fighting chance until the bitter end. Power play chances were awarded in the first, but special teams were thankfully absent from the rest of the contest, even as the physicality of play picked up considerably in the third after Benn obliterated superstar Jack Eichel against the boards. No punches were thrown, and no penalties were called on the clean hit, as the Sabres would pick up the pace to give Ben Bishop all he could handle until the final buzzer. Bishop was marvelous down the stretch, relying heavily on his positioning as his teammates got a bit squirrelly in front of him under pressure to secure his third shutout of the season. All in all, it was an entertaining game! It was also great to see Jamie Benn playing up to his ability. The newly formed Benn-Faksa-Cogliano trio also played extremely well. Meanwhile, the Sabres' 18-year-old D-man (and Rookie of the Year candidate) Rasmus Dahlin had some issues with the puck in this one, and the difference in play styles between the more-offensive minded Dahlin to the Star's own defense-first teen rookie sensation Miro Heiskanen was fun to observe. On the downside of things, Jason Dickinson angrily left the game after an apparent injury, continuing the former first-rounder's rough stretch of health this season. On the plus side, Jamie Oleksiak's first game in a Dallas sweater since December 2017 found the Big Rig looking comfortable in his re-debut in Big D.
— NHL GIFs (@NHLGIFs) January 31, 2019
• Victory Green™ versus Minnesota Wild, 3-1,
This game left us speechless. We are shook and literally shaking right now.
• Victory Green™ at Nashville Predators, 3-1.
If you don't put on your big boy pants when you play the Predators at Bridgestone Arena, you're going to have a bad time. Thankfully for Stars fans, Anton Khudobin always remembers to pack his JNCOS when traveling to Nashville. Dobby's dominance continued against the Preds in their home building in this one, too, as the Stars relied heavily on their netminder in a suffocating first period. Eventually, Calle Jarnkrok snapped a wrist-shot blocker side high on Dobby to get the Preds on the board on their ninth shot of the game — a shot so deceptive that the goal judge failed to see it in realtime. But Tyler Seguin would answer back just one minute later off a salty one-timer from the top of the faceoff circle to give the Stars confidence heading into the second. Then things physicality ramped the hell up. Esa Lindell picked up his first fighting major of his career when Ryan Hartman totally dissed Dobby's JNCOS, even attempting to rip them off in front of everybody! Dallas then fed off the boiling bad blood and started taking the game over late in third with a heavy forecheck and max effort net drive. Radek Faksa and Mattias Janmark scored the game winner and insurance tally respectively by capitalizing on Pekka Rinne's rebounds, which only occurs by overwhelming the Predators defense into loose pucks. It's always great to see a playoff-like atmosphere in "Smashville" fuel both teams, and that was the case here. The Stars got a little lucky, though, with their timing: Since the new year, the Predators' power play has been the NHL's worst; and while we love Jamie Benn imposing his will on the ice as he has been, he's going to have to calm down on the dumb penalties like he secured here. Fortunately, Dobby was there to carry the load, Dude has now stopped 87 of the 88 shots he's faced in Bridgestone Arena this season. You think our lil' ol' backup netminder is in their heads at all?
Hartman was pushed into Khudobin and then well…

this happened. pic.twitter.com/deiUkXLiJC

— Dylan Nadwodny (@dnadders) February 3, 2019
• Victory Green™ versus Arizona Coyotes, 5-4.
Your Dallas Stars have historically done very well against the Coyotes — even back in the days when the Arizona Coyotes were the Phoenix Coyotes — and while the players have all changed since these teams' rivalry in the late '90s, the results have largely stayed the same. In this rare high-scoring contest at the American Airlines Center, Dallas extended it's win streak over the 'Yotes to a whopping nine games. The 2019 Coyotes team is very young and very fast, and the contrast in style to the defense-first Stars didn't create sparks in the opening frame. But it was interesting to see Dallas mishandle the puck so frequently. Miro Heiskanen in particular was a bit wonky, having two uncharacteristic turnovers before finally making proper adjustments as the game continued. The Coyotes would take a 2-1 lead in the second before the true catalyst changed the energy of the lackluster game: Brett Ritchie unintentionally boarded former Star Alex Goligowski, and was assessed a five minute major and game misconduct, which led to a strong Stars penalty kill and, OK, some boneheaded delay of game penalties on Arizona's part. That then encouraged Dallas to a more aggressive attack to the tune of three goals in 71 seconds, giving the team 4-2 lead, which evaporated nearly as quickly as it was created. Arizona finally capitalized on the frequent Stars turnovers and scored a power play goal on a Ben Bishop mishandle, and tied the game up on yet another bad pass by the defense. In response, Montgomery reassembled the Radulov-Benn-Seguin trio as he tends to do in desperate situations and was rewarded with a great line effort in the offensive zone to regain the lead with the eventual game-winner. Our big takeaway from this one: Roman Polak sure loves to charge up the ice with the puck, doesn't he? We love his enthusiasm for creating offense, but we're not sure why his younger, speedier partner Miro is tasked to stay back more than the elder Polak.
NHL Hitz PRO Player Of The Week®.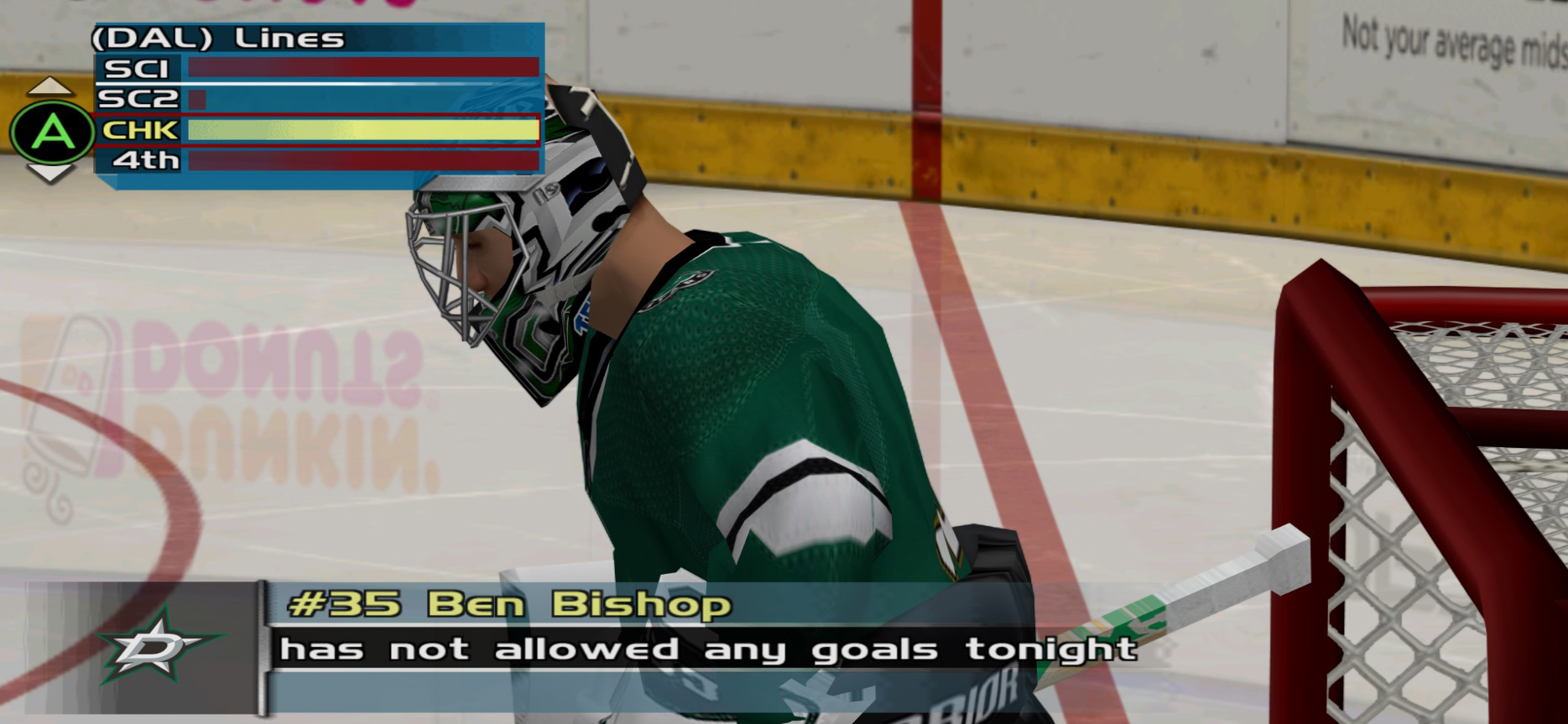 Sometimes, it can be difficult finding a player that has contributed consistently enough to be awarded Central Track's Forechecking™ NHL Hitz PRO Player of the Week® — but not this week! We mulled over the resurgence of Jamie Benn as a power forward, and how the team has responded to his on ice leadership. We also considered Tyler Seguin's four goals in three games, which was also mighty impressive to see, as the centerman improves to second in the NHL in goals scored since the calendar flipped to 2019. But we knew in our heart of hearts that the Stars' goaltending has been the key to this week's success. Ben Bishop and his Khazikstani comrade have dominated in net, giving your Dallas Stars every chance to pull points from any given contest. Undoubtedly, Dallas' goaltending is among the league's best, as both netminders find themselves smart enough to find themselves top 10 in save percentage and goals against average, giving Jim Montgomery the luxury of effectively two All-Star caliber goaltenders to strategically start. Big Ben's triumphant week included a shutout — good for his third of the season and putting him in an eight-way tied for third in the NHL as he improves his record to 19-12-2 on the season. And so he captures this week's honors as our NHL Hitz Pro Player of the Week®! Congrats, ya Bish!
This Week In Your Dallas Stars.
Some familiar faces are looking to get a lil' revenge after losing to the Stars last week. Let's disappoint them once again, eh?
• Thursday, 2/7, at 7 p.m. at Nashville Predators (AWAY): If Anton Khudobin doesn't start against the Preds, we will be shocked!
• Saturday, 2/9, at 3 p.m. at Arizona Coyotes (AWAY): Hey, 'member Pierre?
• Tuesday, 2/12, at 6 p.m. at Florida Panthers (AWAY): The Panthers are wheelin' and dealin' players as they drift further out of playoff contention. So who knows will be on their roster for this one. I guess we'll see!
Flip it. Stick it. See ya later, bye. — LehtMoJoe