Also Among This Week's Upcoming Dallas-Area Shows You Should Know: J.I.D., Mastodon, Shakey Graves, Dr. Dog, King Gizzard, The Chainsmokers & More.
As we previously discussed, the 61st Annual Grammy Awards ceremony took place in Los Angeles on Sunday night, and while locally spring heroes such as Kacey Musgraves, St. Vincent and Leon Bridges received much-deserved honors, Maren Morris's wins amounted to nothing more than a giant goose egg. Same for Post Malone.
As Hannibal Buress once said: "Wack."
Speaking of the Grammys, some nominees from this year and years past alike are on this week's list of concert announcements. Among the many Grammy-nominated artists that comprise this week's offerings are Beck (whose album Colors beat St. Vincent's MASSEDUCTION in the category of Best Alternative Music Album), Jorja Smith, The Chainsmokers, Father John Misty, Mastodon, Alejandra Guzman, Ben Platt and Cage the Elephant.
Also this week, more co-headline bills have been announced than usual!
But for the sake of not spoiling the article, you'll just have to keep reading to learn more about those.
Ice Cube
Saturday, March 16, at South Side Ballroom
On sale Friday, February 15, at 10 a.m.
You are about to witness the strength of street knowledge.
Family of the Year
Tuesday, April 16, at Trees
On sale Wednesday, February 13, at 10 a.m.  
Los Angeles indie folk/pop outfit Family of the Year are, perhaps, best known for their 2012 single "Hero." Apparently, they haven't had a hit as successful ever since. Lydia opens.
Sabroso Festival
Sunday, April 14, at Panther Island Pavilion
On sale Friday, February 15, at 10 a.m.
The Offspring and Bad Religion co-headline what appears to be a slightly modified reprise of the NOFX craft beer festival of yesteryear, this time adding tacos to the smorgasbord of refreshments and comestibles. Undercard performers include the Vandals, Black Flag (or as they're known these days, "Greg Ginn Ditching the Theremin and Giving the Middle Finger to Keith Morris With Mike Vallely"), Strung Out and Dwarves.
Haley Reinhart
Wednesday, April 17, at Dada
On sale now.
Former touring member of Postmodern Jukebox, former American Idol contestant and the voice of Bill Murphy in Netflix's Bill Burr-produced animated series F is For Family is still chugging along as a musician after all these years. She will be touring this spring in anticipation of her fourth studio album Lo-Fi Soul.
Epik High
Saturday, April 20, at Canton Hall
On sale Friday, February 15, at 10 a.m.
Jokes aside about their name and the fact that they're playing 420, hip-hop trio Epik High are the second Korean act to play Coachella. You may not have heard of them, but their career is old enough to buy cigarettes and cast a ballot, and they are helping spearhead the increasing presence of South Korean music in the United States along with acts such as Winner, BLACKPINK and Hyuko.
The Marias
Friday, April 26, at Main at South Side
On sale Friday, February 15, at 10 a.m.
Ones to Watch said of the Los Angeles-based psychedelic soul outfit: "Watching them, you feel transported, taken over by a sultry tranquility as you drift into a timeless space."
Anomalie
Thursday, May 2, at Deep Ellum Art Co.
On sale now.
Montreal-based producer and keyboardist Nicolas Dupuis performs under the stage name Anomalie. His musical style combines elements of electronic and jazz music. See for yourself.
Polyphia
Sunday, May 5, at House of Blues
On sale now.
The instrumental progressive rock hometown heroes are back once again, this time with I the Mighty and Tides of Man opening.
Boogie
Wednesday, May 8, at Cambridge Room
On sale now.
Compton rapper Anthony Dixson, who performs under the alias Boogie (not to be confused with A Boogie Wit Da Hoodie) released his debut full-length Everythings For Sale on Eminem's Shady Records last month to almost unanimous critical acclaim. Between that and his three mixtapes, he has collaborated with Denzel Curry, 6LACK, J.I.D, Jacob Banks, The Game and (it should go without saying, but) Eminem. This will more than likely be the only time you get to see Dixson in a venue this intimate.
Kali Uchis + Jorja Smith
Saturday, May 11, at Toyota Music Factory
On sale Friday, February 15, at 10 a.m.
These two R&B sensations first joined forces in 2017, when Smith was featured on Uchis' 2017 single "Tyrant," and this announcement could not have come at a more opportune moment. Smith is fresh from a Grammy nomination in the category of Best New Artist (that she lost to Dua Lipa), and Uchis is still attracting buzz from her acclaimed debut album Isolation, which made the top 20 in the year-end lists of Spin, NPR and Billboard.
Ben Platt
Sunday, May 19, at Toyota Music Factory
On sale Friday, February 22, at 10 a.m.
Benji Applebaum from Pitch Perfect is actually a Broadway star whose credits include The Book of Mormon and Dear Evan Hansen. Platt has also made 75 percent progress in achieving EGOT status, and at 25-years-old, all he needs to join Mel Brooks, Quincy Jones and Audrey Hepburn in that exclusive club is an Oscar.
Shy Boys
Thursday, May 23, at Dada
On sale now.
Not to be confused with Shy Girls, who are playing Three Links on May 11.
Alejandra Guzman
Friday, May 24, at The Bomb Factory
On sale Friday, February 15, at 10 a.m.
Among the 15 studio albums in her discography, Mexican pop star Alejandra Guzman has sold over 30 million records in her prolific, three-decade career. She is the recipient of a Grammy, Latin Grammy, Billboard Latin Music Award and an ASCAP Latin Award. As of last year, Guzman was enlisted as a vocal coach for the first season of Telemundo's La Voz (The Voice).
Hatebreed
Sunday, May 26, at Gas Monkey Live
On sale now.
The band that is arguably the most commercially successful act in the metalcore genre (and have also been nominated for a Grammy before, mind you) headline yet another stacked tour package. Death metal legends Obituary joins them, along with Agnostic Front (who once wrote these lyrics and thought, "Sweet, let's include it on the album,") Prong and Skeletal Remains.
Xiu Xiu
Wednesday, June 5, at Andy's Bar
On sale now.
Having recently booked larger name acts such as EyeHateGod and Wolf Eyes, Denton venue Andy's Bar is drawing even more positive attention after having just announced San Jose experimental musician Jamie Stewart (AKA Xiu Xiu). Thor & Friends (the project of Thor Harris of Swans) opens.
Weyes Blood
Thursday, June 6, at Dada
On sale Friday, February 15, at 10 a.m.
In conjunction with this tour announcement, frequent Ariel Pink collaborator Weyes Blood announced her upcoming full-length Titanic Rising, which is slated for release on April 5, via Sub Pop — y'know, the label that signed Nirvana. No big deal or anything.
Betty Who
Saturday, June 8, at Canton Hall
On sale Friday, February 15, at 10 a.m.
Betty Who is releasing her third album, Betty, this Friday (the same day this show goes on sale, which is impeccable timing). Last month, the Australian electro-pop sensation dropped the album's promotional single "Ignore Me."
J.I.D
Saturday, June 15, at House of Blues
On sale Friday, February 15, at 10 a.m.
If you haven't listened to J.I.D's fantastic sophomore LP DiCaprio 2 due to the saturation of choice that exists in the streaming age, Mac Miller produced "Skrawberries," and J. Cole is both a featured artist and a producer on this album. 6LACK, A$AP Ferg, Joey Bada$$ and Method Man are also featured on the album.
Jason Isbell & the 400 Unit + Father John Misty
Thursday, June 27, at Toyota Music Factory
On sale Friday, February 15, at 10 a.m.
A former Drive-By Trucker and a former Fleet Fox do America. J Tillman and Co. will possibly have Midlake's McKenzie Smith on drums again. Fingers crossed.
Coheed and Cambria + Mastodon
Wednesday, July 3, at Toyota Music Factory
On sale Friday, February 15, at 10 a.m. 
Coheed and Cambria released the album The Unheavenly Creatures in October 2018, which means that the statute of limitations for touring within good reason has not yet expired. Co-headlining with them is Mastodon, who will be performing Crack the Skye in celebration of the album's tenth year around the sun. Every Time I Die opens, whose album New Junk Aesthetic also turns a decade old this year.
Beck + Spoon + Cage the Elephant
Saturday, July 27, at Dos Equis Pavilion
On sale Friday, February 15, at 10 a.m.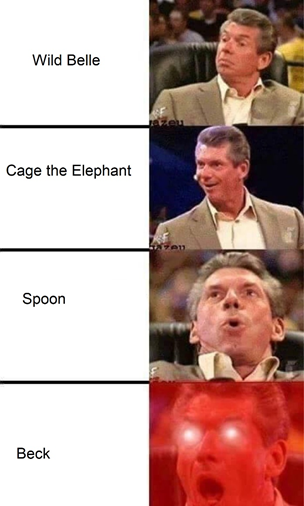 Shakey Graves + Dr. Dog
Thursday, August 22, at The Bomb Factory
On sale Friday, February 15, at 10 a.m.
If you took the above four-panel Vince McMahon meme that was used for the Beck show and condensed it to three panels, we would use that for this show, because the phenomenal Caroline Rose is also playing.
Heart
Friday, August 23, at Dos Equis Pavilion
On sale Friday, February 15, at 10 a.m. 
Elle King (Rob Schneider's daughter whose backing band, as we've mentioned, has ties to Denton) opens, as Joan Jett skips us to apparently take a day off between playing Houston and Albuquerque.
King Gizzard & the Lizard Wizard
Friday, September 6, at The Bomb Factory
On sale now.
This Australian progressive psychedelic band epitomizes the word "prolific," as they have released 13 albums in less than a decade (five of those albums were released in 2017 alone, beating Brockhampton's record of releasing three albums that year). Five years ago, they played a free show at the Foundry with Street Arabs. After years of patiently climbing the ladder, they have achieved enough success to play The Bomb Factory.
The Chainsmokers + 5 Seconds of Summer
Thursday, October 31, at American Airlines Center
On sale Friday, February 15, at noon.
If you notice a shortage of trick-or-treaters this Halloween, this show might be the reason why.