After A Winless Week In Which The Team Simply Could Not Put The Puck In The Net, Things Are Not Looking So Hot For Your Dallas Stars.
After a brief stint in third place among their Central Division's adversaries, Your Dallas Stars have slipped into a wild card position on the heels of another disastrous road trip where, you guessed it, they were just not able to score. Like, at all. And, in a sport where victory is awarded to the team that scores the most, not scoring greatly hurts your chances to win.
Also of note this week: The odd relationship between the Dallas Stars and former face of the franchise Mike Modano is taking another unexpected turn. Ol' Mikey Mo has spent his post-playing days in Arizona, largely absent from hockey except to show support for any team outside of Texas. Now, rhe all-time leading American scorer is reported to be close to returning to the NHL in some capacity… with the Minnesota Wild? Uh, OK, cool.
Let's take a closer look at the hockey week that was and then will be.
Last Week in Your Dallas Stars.
• Darkness Music at Tampa Bay Lightning, 0-6.
What is there to talk about in a shellacking of this caliber? Anton Khudobin surrendered three goals early to the league's most offensively gifted team before being pulled. Jim Montgomery decided to throw in AHL-er Landon Bow in the crease for his first taste of NHL action only for him to be promptly scored on and effectively end the game. Khudobin returned at the start of the second, presumably to shelter young Bow from the Lightning, before getting lit up once again as his teammates twirled around the ice hoping the game would be mercifully called. Lucky for Stars fans, they can just turn off the TV in times like this. But poor Miro Heiskanen has play through the beating. Oh, won't somebody please think of the children!
Your @sonnysbbq goal of the game: MOST of you chose wisely. #DALvsTBL pic.twitter.com/pBCABihv2u

— Tampa Bay Lightning (@TBLightning) February 15, 2019
• Darkness Music at Carolina Hurricanes, 0-3.
Stars fans should be very happy with how well the team lost in Carolina! Yes, that's a ridiculous statement — but these are ridiculous times in Stars land. Dallas was once again shut out on the road here, this time to the Metro Division's fifth-best team as the Stars showed great hustle and general dominance, but frustratingly were unable to put the puck in the friggin' net. Two particular plays stuck out to us like a sore thumb:
1. Jamie Benn's first period no-look pass in the offensive zone to, we presume, Tyler Seguin, caught his linemates off guard and out of position as the Hurricanes quickly gathered the puck in transition to score on a two-on-one against Khudobin. Jamie Benn was dreadful on this road trip, and his passing was comically awful the entire game. We've come to expect The Captain to be disappointingly low-effort in most games this season, but the recent downturn in puckhandling and placement is a new and depressing development.
2. Andrew Cogliano's missed open-net scoring chance as he casually swept a Grade A chance into 'Canes netminder Peter Mrazek's pillows. Cogs, stunned at his own ineptness, blankly stared at the puck as it was swept away by the Carolina defense. Mrazeck returned to his feet and shouted as he beat his chest like a gorilla, enamored with his mastery of goaltending. Little does he know how bad the Stars are with the puck. Jokes on you, Peter! You aren't that great, it's just that the Stars are horse poop! LMAO. What a fool!
Mrazek Magic 😱 pic.twitter.com/3jZHcvWuJe

— Carolina Hurricanes (@NHLCanes) February 17, 2019
• Darkness Music at Nashville Predators, 3-5.
Dallas has matched up well against the Preds this season, relying on heroics from Anton Khudobin to pull out some unlikely points against last season's Central Division champs. But a long week without Ben Bishop available for duty has left Dobby low in magic. Here, the Preds pumped 46 shots on net and, despite making some massive saves, Anton wasn't able to outduel Pekka Rinne in Round 3 of their head-to-head. The Stars finally did get some offense from some unusual suspects to push the Predators to the brink in a tightly contested affair, however. Jason Spezza scored his first goal in over 20 games with a beauty of wrister over Pekka Rinne's blocker, and Esa Lindell's two-point night helped Dallas take a very short-lived lead in the second. Rookie Roope Hintz was also very noticeable on the evening, using his impressive speed to pounce on turnovers and drive the play with a bit of an edge, ending the night with four hits and the third-most minutes played among all Stars forwards. We love what we are seeing with the young Finn — he's going to be a good one.
Nice set up by Hintz and Seguin does the rest. #GoStars pic.twitter.com/IZm4LMRvC3

— Dallas Stars (@DallasStars) February 20, 2019
NHL Hitz PRO Player Of The Week®.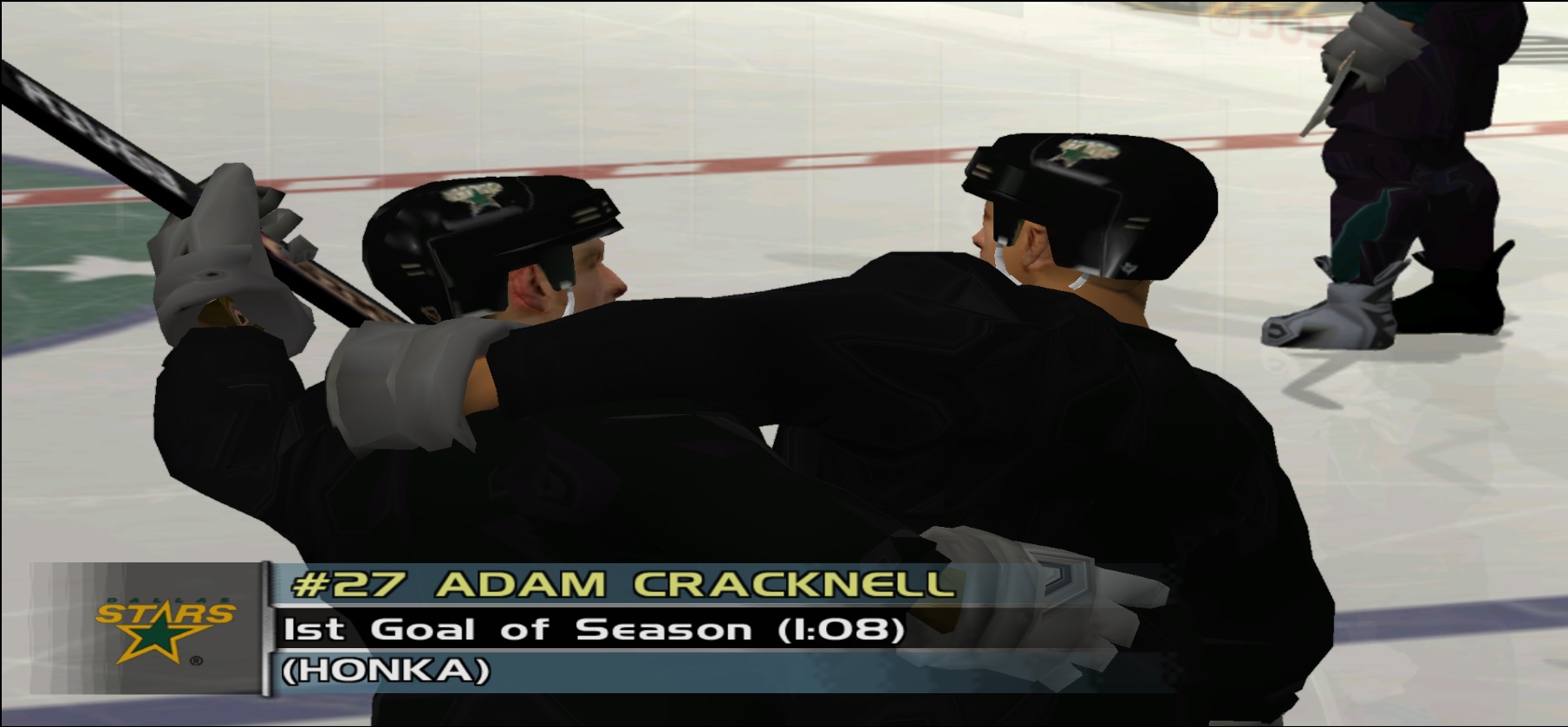 We had great difficulty pinpointing a Dallas Stars player who put together a quality week, so on the eve of the 2019 NHL Trade Deadline, we'd like to take a moment to remember all the bois in Victory Green™ who are longer with us. From the trades of Devin Shore and Patrick Eaves and the waiving of Gemel Smith and Remi Ellie to the unofficial retirements of Patrick Sharp and Ales Hemsky, Dallas has been churning through the depth of the roster looking for the right mix. There have been many transactions in franchise history, but do you remember the first trade after the Stars' arrival in Big D? On June 20, the Dallas Stars acquired Paul Cavallini from the Washington Capitals for future considerations. How exciting!
This Week In Your Dallas Stars.
Julius Honka and friends may be looking ahead to the NHL trade deadline on Monday, but there are still some very important games to be played in the next seven days…
• Thursday, 2/21, at 7:30 p.m. versus St. Louis Blues (HOME): Not too long ago, the Blues were flirting with last place. A 10-game win streak later, and they have now surpassed the Stars in the standings. Whoa.
• Saturday, 2/23, at 3 p.m. versus Carolina Hurricanes (HOME): Not too long ago, the Hurricanes shut out your Dallas Stars. Will Peter Mrazek ever be scored on again?
• Sunday, 2/24, at 1 p.m. at Chicago Blackhawks (AWAY): Not too long ago, the Blackhawks were perennial Stanley Cup contenders. Can the Stars keep the Central Division's last-place team in the basement?
• Tuesday, 2/26, at 9 p.m. at Vegas Golden Knights (AWAY): Not too long ago, the Vegas Golden Knights didn't exist, but now they have much better odds at winning the Stanley Cup than Your Dallas Stars (according to Vegas).
Flip it. Stick it. See ya later, bye. — LehtMoJoe