You Never Know Which Of Two Dallas Stars Teams Will Show Up On The Ice In A Given Night. And This Week Fans Got To See Both Sides, Score! Wait.
Welcome to Forechecking™, our weekly Dallas Stars column that looks back at the hockey week that was, and the hockey week that will be.
Your Dallas Stars are starting to juggle the lines a bit in order to find some much-needed offense throughout the lineup.
And, hey, it'd be pretty sweet it if that led to a little consistency out of this team. As is, the 2017-2018 season thus far has been a Tale of Two Stars Teams. Games in which your Dallas Stars are engaged are quite thrilling as the team can quickly overwhelm the opposition with puck control and a smothering forecheck. On the other hand, in the games in which Your Dallas Stars are sleeping on the job, things can be quite depressing.
This week, we saw both extremes. Uh, I guess that's cool?
Last Week in Your Dallas Stars.
• Darkness Music versus Winnipeg Jets, 1-4.
'Member last week when the Jets steamrolled Your Dallas Stars in Winnipeg and we thought we was gonna have our revenge on home ice days later? Yeah, well we done got steamrolled again, and it sucked. The Jets scored three times in the first period to extend their point streak to eight games as center Mark Scheifele continues to terrorize the Dallas defense. His two goals paced the boys of Winnipeg as captain Blake Wheeler notched four assists of his own in another outing that was frustrating to watch. Credit Winnipeg for stopping up the Dallas attack through the neutral zone and hounding anything in Victory Green™ all night long. The Jets are clearly the better team at the moment.
Play of the Game:
Off the post and in the net… what a start!!

🍎: @BiggieFunke & @KyleConnor18 #WPGvsDAL #GoJetsGo pic.twitter.com/HbVIwPjzWV

— Winnipeg Jets (@NHLJets) November 7, 2017
• Victory Green™ vs New York Islanders, 0-5.
Hey, maybe the three-day break this week did ya bois some good? The Stars immediately got all up in the grill of them Islanders in this one, scoring three goals in the first and dispatching the latte-sipping Brooklyn hipsters with little trouble. It's crazy, man: Those dirty New Yorkers only managed to get 14 shots on net, and could only manage winning a laughable 36 percent on their face-offs. Damn. That's dominance! Gemel Smith and Jason Spezza were able to score their first goals of the season, which means the world in terms of getting the depth scoring of this club up and running. If the Stars are to have any success this year, they will need players not named Benn, Seguin and Radulov to generate some offense. To that end, coach Ken Hitchcock split their super line up in this one to kick-start the roster some. And it seems to have worked! Meanwhile, Ben Bishop earned his 20th shutout of his career here. It was also perhaps his easiest. Said Spezza of getting off the snide: "It's nice to score a goal and contribute offensively. Hopefully, it's something I can build off of."
Play of the Game:
While the game winds down, let's watch the goal that made it 5-0. #GoStars pic.twitter.com/etvps1hPPJ

— Dallas Stars (@DallasStars) November 11, 2017
NHL Hitz Pro Player of the Week.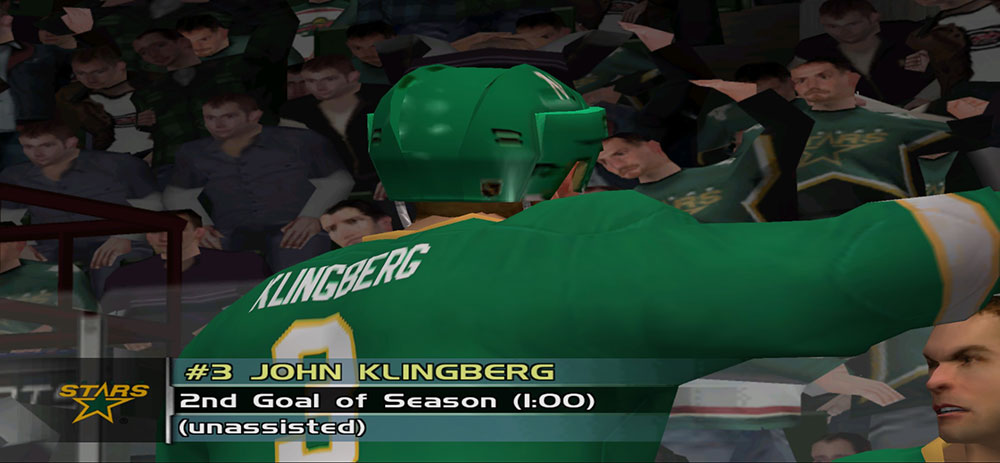 You may not have noticed,but ya boi John Klingberg is having himself a helluva start to the season. Who done gots the most points among all defenseman in the league? Klinger! Who done got the most ice-time among Your Dallas Stars? Klinger! Who done have 20 giveaways with only 5 takeaways? Klinger? Eh, well, don't pay too much attention to that last one; most offensive defenseman don't have particularly good numbers in that department. But above all these fancy stats is how much more confident Yung John has looked this season compared to the sophomore slump he endured all last year. Sure, there remains the occasional high-risk turn over, but for as much time Klingberg is skating each night, that's to be expected. He's the go-to defenseman in all situations of the game, and Hitch has let the young Swede work through his mistakes. Why wouldn't ya? The next closest Star in points on the back-end is his partner Esa Lindell, and he's only clocking in with seven points on the season. Damn, that's a drop-off in production! Points ain't everything, for sure, but let's glance down the lineup at Jamie Oleksiak's glaring zero-point effort with a depressing -6 plus-minus. Or take a gander at free agent prize Marc Methot, who also has zero points and isn't helping much in the offensive end, either. It's Klingberg or bust for Your Dallas Stars. So don't drop that shit, Klinger!
Your Unofficial Dallas Stars Fan of the Week.
Name: Tegan.
Twitter: @tegbam
From: Melbourne, Australia.
When did you become a fan: I got into the Stars circa '98 while playing NHL 99. I was 9 or 10, and I loved their jerseys. I had no idea they were any good.
Favorite player: Modano. Current day? Probably Faksa, Rous and/or Seggy.
Favorite moment/experience: The Cup, of course.
The Stars win the cup this year if: they win the Stanley cup final, of course
Song that gets you hyped for hockey: *riff* "Dallas!" *riff* "Stars!"
Complete the sentence "Only shooting Stars…": break the mold.
Message to Stars fans: I love Stars fans.
Would you like to be featured in Forechecking™? Just answer the questionnaire above and send it to forecheckingtm [at] gmail [dot] com, pretty please.
This Week In Your Dallas Stars.
Dallas Stars at Carolina Hurricanes. 
Monday, November 13, 6 p.m..
The Stars begin a busy week on the East Coast by squaring off against the Hurricanes. They are currently in last place in the Metro Division, whatever that is.
Dallas Stars at Florida Panthers. 
Tuesday, November 14, 6:30 p.m.
The Panthers are in last place in the Atlantic Division. Hey, we know what that is!
Dallas Stars at Tampa Bay Lightning. 
Thursday, November 16, 6:30 p.m.
The Lighting are in first place in the Atlantic Division. They must be pretty good!
Edmonton Oilers at Dallas Stars.
Saturday, November 18, 1 p.m.
Connor McDavid graces Big D with his presence for this afternoon tilt. He's really good!
Cover photo via the Dallas Stars' Facebook page.