The Stars Are Right Smack Dab In The Middle Of The Western Conference, And Boy Do They Really Need The Time Off They're Getting This Week.
Welcome to Forechecking™, our weekly Dallas Stars column that looks back at the hockey week that was, and the hockey week that will be.
Your Dallas Stars find themselves smack dab in the middle of a congested Western Conference standings these days.
Will they stay there? Tough to say. Some teams are overachieving (Las Vegas Golden Knights) and some teams are underachieving (Minnesota Wild). Meanwhile, your Dallas Stars are just achieving. That's OK, folks. Dallas is still 7-4 in their last 11 games despite a sloppy road trip, and after a heckuva run, they've got themselves a slow stretch for once this week.
Should they be higher in the standings? Probably. But they've been keeping pace with the competition, entertaining to watch and getting jiggy with it. What more could you want?
Last Week in Your Dallas Stars.
• Victory Green™ at Vancouver Canucks, 1-2 (OT).
The Stars' trip through Jamie Benn's old stomping grounds continued and Ben Bishop returned to the crease in what the team hoped would be a bounce back performance for the lanky netminder. What happened next will shock you! The Stars won in overtime! Bishop stopped 38 of 39 shots on net, many of the high-quality caliber, as Dallas' top trio once again carried the offensive load. Tyler Seguin had an absolutely beautiful one timer over the shoulder and past the exposed ear of Canuck goalie Jacob Markstrom, putting the Stars up 1-0 on the power play. Alexander Radulov then netted the game winner to give Dallas its first overtime win of the season. The Vancouver home crowd went bonkers. Whew, that was close!
Play of the Game:
Non-stop blasts from @tseguinofficial. #DALvsVAN pic.twitter.com/Qa1mVK9CLB

— NHL (@NHL) October 31, 2017
• Darkness Music at Winnipeg Jets, 2-5.
Welp, this was an ugly one. Dallas surrendered three goals in the opening frame and couldn't sustain any significant offensive pressure to claw their way back into the contest. Physically, they certainly tried, with Gemel Smith and Jamie Benn both scrapping in hopes of injecting some life into a Stars team that couldn't seem to make more than two passes in a row. Dallas did luck out in having one Jets goal overturned, though. But they also received zero power play opportunities. Lame! On the plus side, his poopy game ended a five-game road trip in which your Dallas Stars managed to win two games. Bleh!
Play of the Game:
Round 1… pic.twitter.com/TFmo0WLdsQ

— Dallas Stars (@DallasStars) November 2, 2017
• Victory Green™ versus Buffalo Sabres, 1-5.
Some home cookin' done did your Dallas Stars some good! The fact that they were facing a woeful Sabres squad probably helped, too. After a lackluster road trip, the Dallas depth finally contributed on the score sheet. Gemel Smith, Remi Ellie, Radek Faksa and Stephen Johns were the unlikely goal scorers of the night as Klingberg finished the evening with three assists, two of which were quite marvelous. It was the team's fifth straight W at the AAC, none of which were more dominating than this. It was a full 60-minute effort by Dallas to keeps the Stars in the middle of the pack of the Central Division. Alas, it came with some bad news: Tyler Pitlick and Radek Faksa both left the game due to injury, and they've both been great this season.
Play of the Game:
The Sabres are getting their shots on goal, but Kari Lehtonen has been coming up with some big saves tonight. #GoStars pic.twitter.com/Ed8J6zeeMu

— Dallas Stars (@DallasStars) November 5, 2017
• Darkness Music versus Winnipeg Jets, 1-4.
Well, this one was a bit of a downer. You'd think the Stars woulda learned their damn lesson after losing to the Stars in pretty much the exact same fashion up in Winnipeg last week, but nope! Once again, the passing was real bad. Captain Benn wasn't too pleased with the effort, either: He called it the loss "embarrassing." he would know, too, as it was his 600th career game. Did he score? You bet he did. That's what he does! Too bad it was the team's only score. Hey, at least the team left this one with four days off before their next game.
Play of the Game:
Fitting for @jamiebenn14 to score a goal playing in his 600th career NHL game tonight. Congrats, Captain. #GoStars pic.twitter.com/1ysUZyYMsB

— Dallas Stars (@DallasStars) November 7, 2017
NHL Hitz Pro Player of the Week.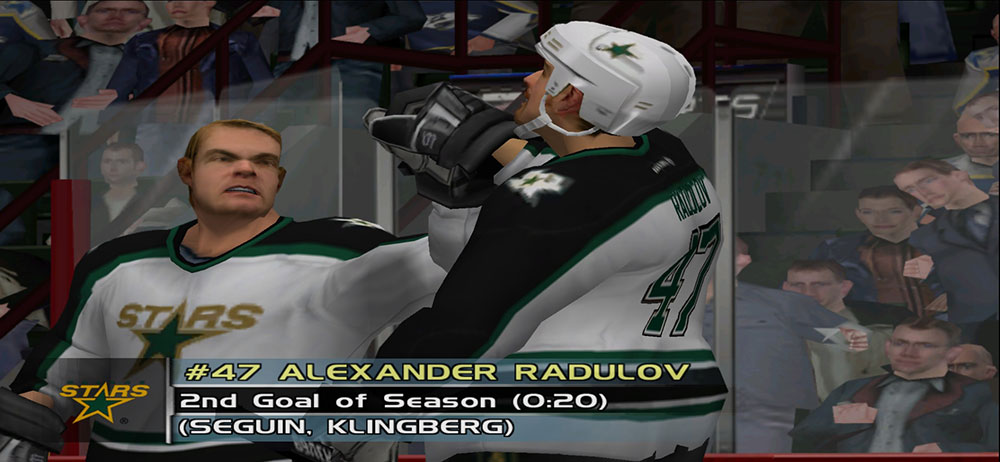 It was a pretty good little week there for the Russian madman! Alexander totaled four points, including the game-winner in Vancouver. Better yet, he's looking more at home riding shotgun with Benn and Seguin. There were some grumblings from East Coast blowhards about Radulov's play in the early season — but only from those that haven't, y'know, actually watched Rads in action. He's a treat to watch, and is often the hardest-working player on the ice in any given shift. As such, his teammates loves him and so do we. One particular noteworthy ability of #47? Hitting Seguin with a lateral pass in the attacking zone for a one-timer. It's a high-skill play that takes confidence to attempt in traffic, but confidence that is not lacking in Comrade Radulov. Says Coach Hitch of our player of the week? "He's not afraid of the moment." Nope, he's not.
Your Unofficial Dallas Stars Fan of the Week.
Name: Trunkins
Twitter: BamDLeprechaun, but I don't use it much. I mostly use my Instagram.
From: Denton, TX, but currently in Chicago.
When did you become a Stars fan? In '89, when I met a kid from Minnesota who had a North Stars jersey. I've been love ever since.
Favorite Player: Current? Jamie Benn. Past? Jere Lehtinen.
Favorite moment/experience: Moment? Obviously, winning the Cup. Experience? Tied between Modano's 500th goal and Game 6 vs San Jose in '08.
The Stars will win the Cup this year if: the offense is firing on all cylinders, the defense is stifling and goaltending is gargantuan.
Complete the sentence, "Only Shooting Stars…": NO.
Song that gets you hyped for hockey: "Puck Off," obviously.
Message to Stars fans: Fight the good fight, f*** the Ducks, f*** the Blues and f*** the Hawks.
Would you like to be featured in Forechecking™? Just answer the questionnaire above and send it to forecheckingtm [at] gmail [dot] com, pretty please.
This Week In Your Dallas Stars.
Dallas Stars vs. New York Islanders.
Friday, November 10, 7:30 p.m.
Look Ma, it's the Islanders!
Flip it. Stick it. See ya later, bye. — LehtMoJoe
Cover photo via the Dallas Stars' Facebook page.