Your Dallas Stars Are Not A Very Good Road Team. Maybe If We Start A Letter-Writing Campaign The League Will Let Them Only Play Home Games?
Welcome to Forechecking™, our weekly Dallas Stars column that looks back at the hockey week that was, and the hockey week that will be.
Your Dallas Stars have completed a sequence in which completed four games in five and a half days for a humbling three out of eight possible points acquired.
The rough stretch finds Dallas slipping to fifth place in the Central and boasting a pretty awful 3-7-1 road record. That's horse hockey!  While the road has been unpleasant to the Stars, the good news is that Dallas continues to bombard the opposition in the friendly confines of the American Airlines Center to the tune of a 7-2-0 home record.
Still, it's been a grueling week. That's said, let's relive the joylessness that was last week in your Dallas Stars, shall we?
Last Week in Your Dallas Stars.
• Darkness Music at Carolina Hurricanes, 1-5
Well, this is unacceptable. Dallas began its southeast road trip with a clunker of a game against one of the Metro Division's weaker teams. After playing a rather uneventful (if scrappy) affair for two periods, the bottom just straight collapsed under Ben Bishop and the rest of the lineup. Bishop looked tired, and was unable to handle the puck cleanly when sending wobbly passes to his defenders, who, in consequence, were lucky not to turn over the puck immediately from the forecheck. Dallas deflated after giving up the go-ahead goal in the third and looked disengaged and sloppy in their efforts to tie the game up, surrendering yet another hat trick to the opposition — much to the delight of the 17 fans in attendance in Raleigh, I'm sure. All of this was just ugly. At least Radulov scored and extended his scoring streak to 8 games? Yeah, that's badass as hell. Said Bishop on the effort: "Nobody's happy in here right now, but like I said we get a chance to play tomorrow and redeem ourselves." Hmmm. Will they?
Play of the Game:
Radulov with the quick release. #GoStars pic.twitter.com/IIlchvGtGz

— Dallas Stars (@DallasStars) November 14, 2017
• Loser Point at Florida Panthers, 3-4 (Shootout).
It was the second night of a back-to-back, and how did the Stars respond to their awful play in Carolina with their backup goalie in net? Pretty well, actually! Despite surrendering two power play goals in the first, Jamie Benn led a spirited charge that saw the visitors put 43 shots on net, many of which were high-scoring opportunities. Alas, Roberto Luongo, in addition to be a great follow on Twitter, was excellent IRL as he stopped all four shots from the Stars in overtime and put Dallas in its first shootout of the season. Luongo then out-dueled Kari Lehtonen in the skills contest, much to no one's surprise. And, undeservedly, Florida walked away from the game with a full two points — in front of an estimated, oh, 58 fans in attendance, I think? Hey, that's more than Carolina!
Play of the Game:
Quick thinking by Radulov and Jamie Benn makes 'em pay. #GoStars pic.twitter.com/p7MpajmkKb

— Dallas Stars (@DallasStars) November 15, 2017
• Darkness Music at Tampa Bay Lightning, 1-6.
In this contest, Ben Bishop returned to Tampa for the first time since he was traded to the Los Angeles Kings before he signed with the Dallas Stars in the offseason. In the short time since he's been gone, the Lightning have vaulted up the standings as the top team in the NHL. Bishop's replacement, young Andrei Vasilevskiy, has sparkled in net, sporting a 13-1-1 mark as the high-octane Lightning have dominated their way to a 14-2-2 start. Welp, make that 15-2-2. After a respectable first period of road hockey and some sharp play by Bishop, there wasn't much to celebrate. Tampa showed why its team is the best in the biz at the moment with a 3-1 second period — this before potting three additional goals in the third for good measure as Alexander Radulov's nine-game point streak came to an end. Said Jamie Benn: "This was probably the biggest disappointment of a game so far this year. They pretty much took it to us from the start of the second and took over. They kept coming at us, and we didn't help ourselves at all."
Play of the Game:
A heartfelt thanks from @Benbishop30 to the people of Tampa Bay. pic.twitter.com/PhN3lzMhaz

— NHL (@NHL) November 17, 2017
• Victory Green™  vs Edmonton Oilers, 3-6.
Back at home, back in the win column and this time in offensive fashion! Phenom Connor MacDavid's three-point effort wasn't enough to match the Stars' goal-scoring feats at American Airlines Center as Antoine Roussel posted three points of his own. How did the scrubby Fenchman double his point total on the season in just one game? By playing alongside Benn and Radulov, that's how! Despite the Oilers taking a 3-2 lead over Kari Lehtonen, the Stars adjusted, put Bishop in net and beat the beat back. Of note? Post-game comments by Roussel included references to his linemates for the day as "Rads" and "Chubbs." Dunno about you, but I've never heard that one for Jamie before.
Play of the Game:
Beautiful turnaround pass from @Pitty687 to @RadekFaksa to give the Stars the lead. #GoStars pic.twitter.com/AWGlgw2aOY

— Dallas Stars (@DallasStars) November 18, 2017
NHL Hitz Pro Player of the Week.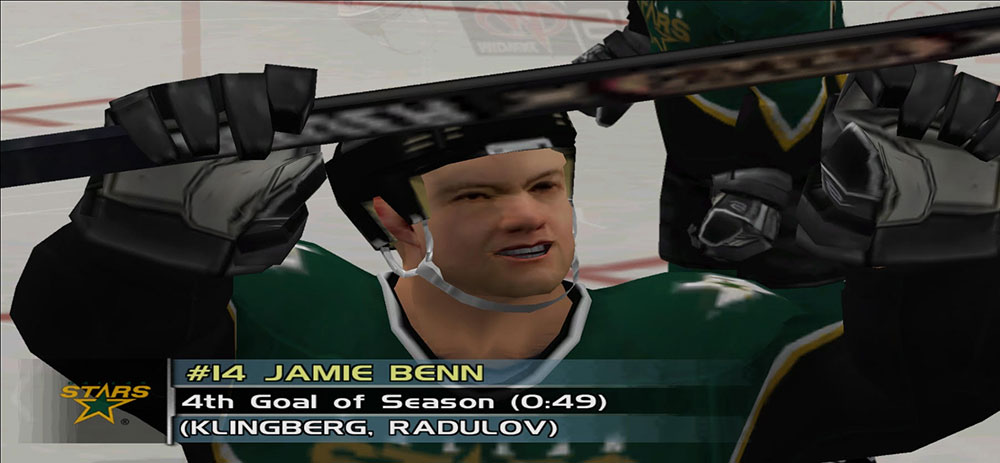 While not his best week this season, your Dallas Stars would be completely lost without their captain. Sir Jamie posted five points this week while playing center on the top line in Ken Hitchcock's effort to spread scoring throughout the lineup. Consequently, Tyler Seguin's goal output has completely dried up with new line mates. No Way! In addition to providing the bulk of team's offense, Benn has won 59 percent of his faceoffs in his first stint back at the center position since the GM Joe Nieuwendyk era. Ya boi has officially bounced back from his wompy 2016-2017 campaign, folks! Jamie has come here to chew bubblegum and kick ass, and he's all out of bubblegum.
This Week In Your Dallas Stars.
Dallas Stars versus Montreal Canadiens
Tuesday, November 21, at 7:30 p.m. 
The Canadiens are coming off a 6-0 loss to Toronto, so expect Jordie Benn's A-game.
Dallas Stars at Colorado Avalanche
Wednesday, November 22, at 8 p.m.
A back-to-back finds the Stars in Denver, where the Stars always seem to lose. GULP!
Dallas Stars versus Calgary Flames
Friday, November 24, at 8 p.m.
The Flames score often, and often get scored on. Should be a fun one! Glen Gulitzen behind the bench, Jaromir Jagr on the ice. What is this, the 2012 Dallas Stars????
Flip it. Stick it. See ya later, bye. — LehtMoJoe
Cover photo via the Dallas Stars' Facebook page.