Nick Quintero Was A Pretty Good Rapper With The Freshest Merch Around. Now, He's A Kickass Graphic Designer For Other Rappers, For Big-Name Brands And, Sometimes, For Us.
Nick Quintero didn't intend to become a graphic designer. He started doing it out of necessity.
It was right around the turn of the millennium, and Quintero was a rapper by the name of Mes The Jive Turkey who was in desperate need of a visual identity for his brand. So he did what any rapper working on a budget would do: He decided to give graphic design a run himself.
Seventeen years later, Quintero's rapping days are long behind him. But his graphic design game? It's thriving like never before — to the point where it's his become his career, with many large brands using him to outsource graphic design every single day. In the past decade, Quintero and his unique illustration-based aesthetic have become high-demand quantities commissioned by retailers like Urban Outfitters and Hot Topic; music festivals such as South by Southwest and The Roots Picnic; music acts including Atmosphere, DJ Sober and Astronautalis; national brands like DC Comics and Red Bull; and even Dallas restaurants like Pints & Quarts. He's also fully established his own Fresher Than brand, as a killer source for cheeky, pop-culture influenced design concepts, which he sells in shirt, pin and patch forms, both individually and as part of a subscription service.
So when we decided to dip our own toes into the merchandise game here at Central Track, there was barely a hesitation before we decided who we'd hit up first about joining us in this venture. It was Quintero, obviously. Had to be. Wasn't really a choice.
Fortunately for us — and hopefully for our readers, friends and fans — Quintero was immediately game to become the first of what we hope will be many graphic designers we'll work alongside with as part of this new effort.
His initial task, as with all future collaborators, was to visually represent his thoughts when presented with the phrase "Dallas AF." His response? A classic-looking design that incorporates various icons of Dallas into a singular logo. Or, in clearer visual terms, this: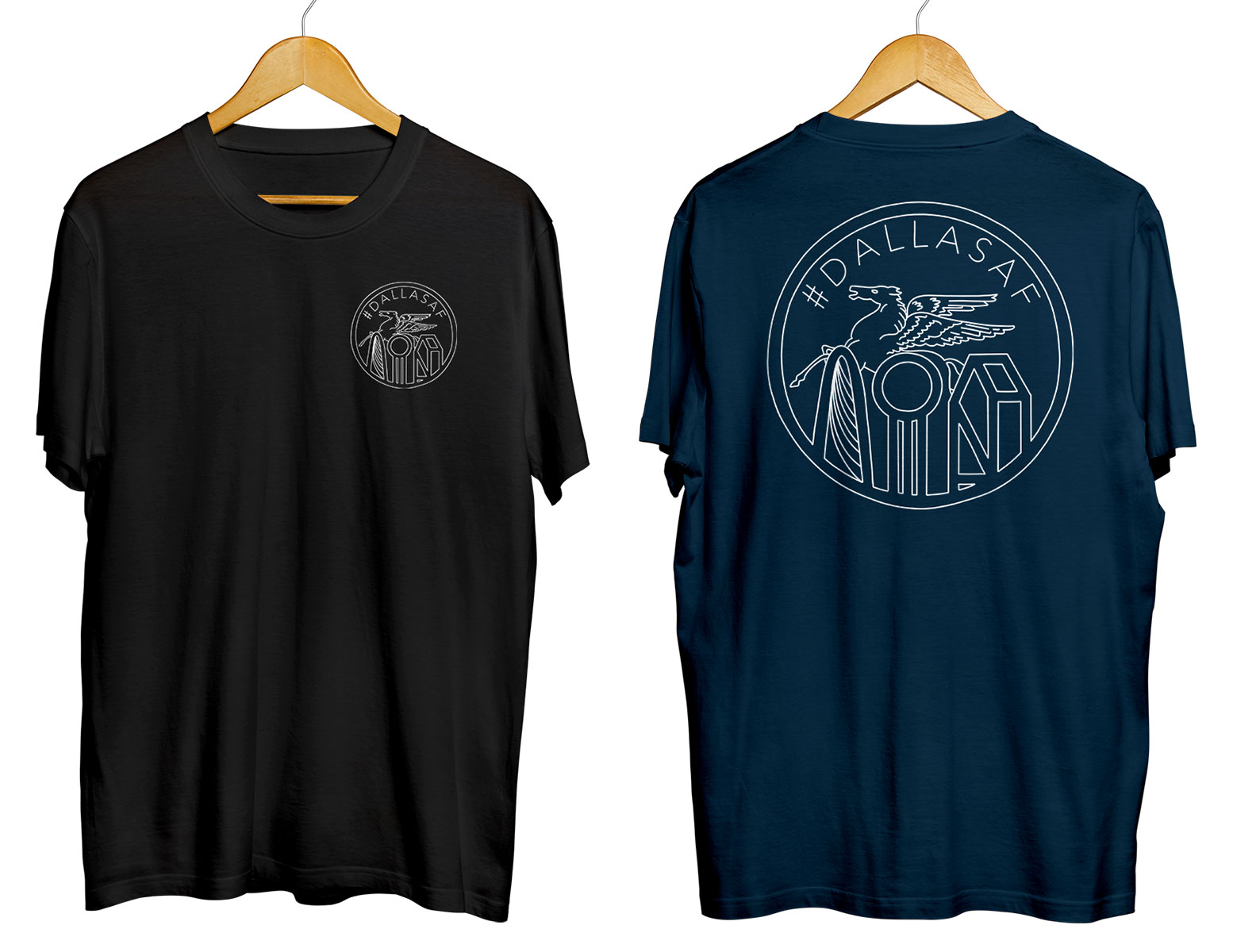 The above shirts, along with some other designs Quintero assisted us and our merchandising partners at Printed Threads in creating, are currently available for purchase right here as tees, zip-up hoodies and even baby onesies.
To better understand Quintero's inspiration, as well as how he came to be among Dallas' more in-demand designers and what else he has up his sleeves these days, check out our Q&A with the man himself below.
Even back in your rapping days, there was always a strong visual element to your presentation. Can you tell me how you first got into graphic design and how long have you been at it now?
Rapping is how I started, actually. I needed merch, so I had to teach myself to design. I downloaded a few bootleg programs, made a bunch of mistakes and eventually learned how to get everything done technically right. I think I designed my first t-shirt around 17 years ago.
I know you've done some mural and graphic design work for businesses beyond your own over the years. Where might our readers have seen some of your designs?
I've done a lot of stuff for groups like Atmosphere and The Roots, but here in Dallas you might recognize my branding and artwork at Lower Greenville's Pints & Quarts restaurant. I've also designed a ton of officially licensed tees in every retailer from Urban Outfitters to Target.
You've recently gotten really heavy into the pin and the subscription box game, right? What can you tell me about that?
I have been selling tees and art on my website fresherthan.com for years, but this year marked some great successes leading to better quality items like our pins and patches, which are all thanks to the subscription box. The great part about creating this box is that all of the money we are getting from our supporters just goes right back in to making our new stuff bigger and better.
How would you describe your aesthetic?
I essentially draw bad tattoos with dumb humor. I make things fast and gritty, but in the best way possible. I try to make it obvious that my crooked lines are supposed to be crooked.
What approach did you take to these Central Track designs?
I wanted to make something that was clean and iconic, but with my unmistakably hand-drawn lines. I kind of worked backwards and created super clean shapes with thick outlines that looked like a logo, and then re-drew it by hand to finish it off.
Anything you're working on coming up that our readers should know about or keep an eye out for?
Fresherthan! Per usual, I am putting so much more on my own plate. We are throwing Dallas' first pins and patches show, booking more pop-ups around town, growing the subscription box and will be offering pin manufacturing to other artists and businesses at the start of the new year!
Photo courtesy of Quintero. Head here to visit our merch store. Head here to learn more about Quintero and Fresher Than.