Who Knew It Would Take A Mediocre Week To Finally Move Your Dallas Stars Up The Standings In The Hyper-Competitive Central Division?
Welcome to Forechecking™, our weekly Dallas Stars column that looks back at the hockey week that was, and the hockey week that will be.
Your Dallas Stars were a bit of a mixed bag during their light workload last week. And, rather weirdly, it worked out for them.
Turns out, having a fairly mediocre week is the rub answer we were seeking as pertains to our question of how the hell the Stars are supposed to move up the Central Division standings.
That's right: After squaring off in a playoff-like game against a tough divisional rival on Friday and following that up with an uninspired Sunday effort, Dallas is now neck and neck with the Blues for third place in the Central.
Standings-watching is fun, huh? So too is keeping an eye on the fast-approaching trade deadline! Which reminds us: Will the Stars make a move or two or three in their pursuit of the playoffs or will they keep the the gang together as is? We don't know! But ESPN is full of opinions, and we think you should check out their ranking of all 31 NHL GMs and then return right here to Forechecking™ to read the rest of our weekly segments.
(Spoiler alert: We think they nailed it.)
Last Week in Your Dallas Stars.
• Victory Green™ vs St. Louis Blues, 1-2.
The rough and tough and big-bodied Blues have held one of the top three spots in the Central all season long, so for the Stars to finally chase them down this week represents a small yet significant step for the boys in Victory Green™. In front of a packed AAC, Ben Bishop put on a stellar performance to secure a win in this one, where Dallas only managed 16 shots on net while surrendering 29. Mattias Janmark scored the game's first on the power play when a centering pass intended for Jason Spezza deflected its way past Jake Allen — and, hey, John Klingberg's assist on the score marked his 200th career point in the NHL, neat! Stephen Johns then scored what would be the eventual game winner with a bomb from the faceoff circle to give the Stars some breathing room, which they needed. The Blues' Brayden Schenn scored on power play goal at the 18:46 mark in the third, setting up a furious conclusion with the Blues' extra attacker in play, which thankfully was to no avail. Still, even after the final buzzer, a dejected and frustrated Blues squad started chucking knuckles with a fresh-from-IR Marc Methot. It's great to have the veteran back in the lineup, we gotta say.
Play of the Game:
🚀🚀🚀🚀🚀 #GoStars pic.twitter.com/Ze38pCyQWr

— Dallas Stars (@DallasStars) February 17, 2018
• Darkness Music at San Jose Sharks, 2-5.
As excellent as Ben Bishop can be, he's prone to absolute stinkers from time to time, and we got one in this game. Sure, some of the early goals in this one were of the "not his fault" variety, but the big netminder managed only one — yes, one — save before being yanked for Kari Lehtonen. In fairness to Bishop, Dallas came out the gates flat and were caught in their zone under pressure as the Sharks took advantage of fortuitous puck bounces. Down four goals after the opening frame, though, you could have just pulled the plug on this game entirely and switched to HGTV to watch Home Town, a show about a couple in a sleepy little town in Mississippi that renovates homes with a tasteful craftsmen approach while maintaining the charm of those historical builds — an approach their clients absolutely love. But we didn't do that, we promise. We slugged through two more periods of catch-up hockey to see the Sharks extend their lead to five — before Tyler Pitlick and Gemel Smith scored their garbage time goals in the disappointing loss. Speaking of disappointing, this was the third game this season in which the Stars were awarded zero power plays. That's more than any other team this season.
Play of the Game:
NHL Hitz Pro Player of the Week.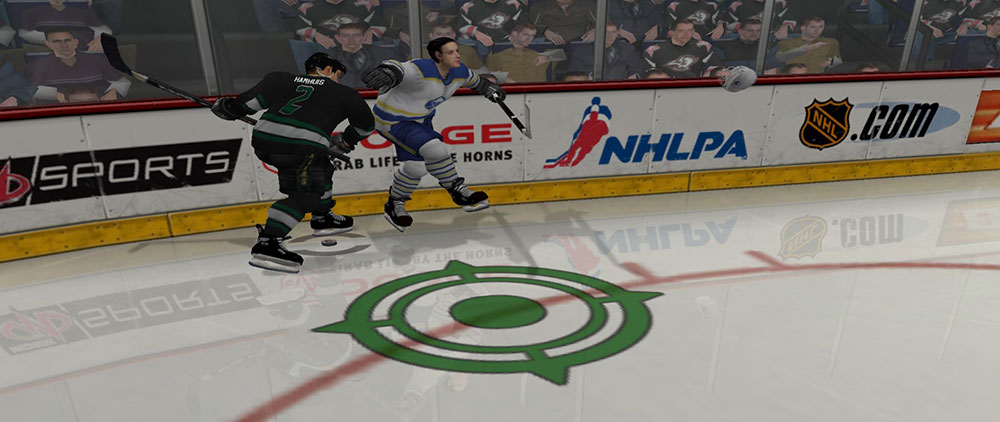 With only two games this week, and one of them being of the poo-poo variety, we decided to highlight someone who has been a consistent contributor and not necessarily one of those score-all-the-goals-that-the-kids-like types. So here goes: Dan Hamhuis has been a soldier for your Dallas Stars, and we appreciate that! He's put together a respectable and underrated season in this, his 14th campaign since being drafted by the Nashville Predators way back in the year 2001. Last week, Your Dallas Stars celebrated the veteran for passing the 1,000 NHL game mark, and it's great to see the quiet defender recognized. Unable to meet the loft expectations of a top line defender when initially signed, Hamhuis has finally hit his groove in Victory Green™ alongside unsung Greg Pateryn to solidify a Dallas defense that has been leaky for so long. The gold medal-winning Canadian has already surpassed all of his offensive stats of last year, is back to being a "plus" player, and his ice time is up as well! Maybe having his coach from those Olympic days behind the bench has increased the confidence a bit? Maybe! All we know is this: Have a lead late in the third and hemmed in the defensive zone with a key faceoff? Put in "The Hammer." Now if only the Stars could start scoring again….
This Week in Your Dallas Stars.
The Pacific swing continues followed by a huge Central Division battle against the Jets on Saturday back in Dallas. Getchya popcorn ready.
Dallas Stars at Anaheim Ducks.
Wednesday, February 21, 9 p.m.
Ducks fly together.
Dallas Stars at Los Angeles Kings
Thursday, February 22, 9:30 p.m.
The Kings stay The Kings.
Dallas Stars at Winnipeg Jets
Saturday, February 24, 6 p.m.
When you're a Jet, you're a Jet all the way.
Flip it. Stick it. See ya later, bye. — LehtMoJoe