We're Not Sure What A Hockey Team Has To Do To Move Up In The Standings Of The NHL's Central Division, But Bless The Dallas Stars For Keeping On Trying.
Welcome to Forechecking™, our weekly Dallas Stars column that looks back at the hockey week that was, and the hockey week that will be.
Your Dallas Stars have hit the 30-win mark in the NHL's ultra-competitive Central Division — and yet they're still not making up much ground in the standings, stuck in the fourth position.
It's pretty nuts: Seems no matter what Dallas does, Winnipeg, Nashville and St. Louis stay above them. Maybe it has something to do with the fact that no one in this division ever loses any games? Seriously, all seven squads are above .500, and it's an honest-to-goodness shame that some lesser teams from the Pacific are going to end up making the playoffs over a few Central teams that likely to hit 95 points this year.
Wait, are we getting ahead of ourselves? Yes, it's definitely way too early to talk about the big dance. But it's not too late to talk about last week in Your Dallas Stars!
Last Week in Your Dallas Stars.
• Darkness Music versus Los Angeles Kings, 3-0.
Well, now. How much of this do you really want to rehash? Dan Hamhuis skated in his 1,000th NHL game during a largely forgettable outing that saw Dallas drop its second in a row in the most noncompetitive fashion. Unable to exit their end cleanly all night, the Stars were of little trouble to Kings backup netminder Darcy Kuemper as rookie Paul LaDue scored his first career NHL goal, much to the chagrin of the AAC faithful. It was an ugly, ugly game against a team with a heavy forecheck. Let's never speak of it again.
Play of the Game:
Paul LaDue's first NHL goal? Definitely qualifies for @getjackblack's High Performance Play of the Game!#GetJackBlack pic.twitter.com/g4K2d0oWjH

— LA Kings (@LAKings) February 1, 2018
• Victory Green™ at Arizona Coyotes, 4-1.
Whatever malaise plagued the Stars in the two previous contests was certainly still in effect during the first period of this tilt in Glendale. Former Dallas Star Kevin Connauton scored the period's only goal with a wrister over Kari Lehtonen's shoulder as the 'Yotes outshot, outhit and out-dabbed your Stars with little pushback — but only temporarily! We aren't sure what coach Ken Hitchcock said in the locker room during intermission to change up the team's fortune. Perhaps something along these lines: "Oh geez, guys, this isn't going too swell, I mean, gosh darnit, we have to try a little harder, fellas." Dallas began the second period looking like a different squad, finally completing passes and winning the individual battles we've come to expect from ya bois in Victory Green™. Jason Spezza chipped the puck over the Coyotes net where Devin "The Dude" Shore smacked the pass out of midair to tie the game up and begin a sequence of dominating play that would propel Dallas to a three-goal victory, all while only allowing only 18 shots on Kari. Dallas would go on to kill six shorthanded opportunities with Tyler Seguin scoring the gamewinner on the powerplay on his way to a team-leading 24 minutes of ice time. He sure must have been tired after the game! But he probably wasn't as sore as Ben Bishop, who despite not even playing, managed to take a puck off the noggin' while riding pine on the bench. Ouch!
Play of the Game:
After watching this like 15 times, the goal is pretty incredible, but how about that little chip pass from Jason Spezza!? #GoStars pic.twitter.com/xdnFsAG3IS

— Dallas Stars (@DallasStars) February 2, 2018
• Victory Green™ at Minnesota Wild, 1-6.
The Stars organization has been doing a great job this season commemorating the team's 25th anniversary in Dallas, celebrating former players and donning throwback jerseys during warm-ups. Appropriately, the Stars showcased "Retro Night" against the Minnesota Wild (who played the night before) in this game — and to tune of six goals and all the Now That's What I Call Music! jamz of 1993 playing in the arena. Kari Lehtonen was strong in goal early as the Stars committed some egregious turnovers to begin the game before turning up the heat in the second. Dallas netted four in the middle frame, including a Stephen Johns steal/skate/slapshot sequence that was very reminiscent of early '90s NHL. Minnesota popped Kari's shutout bid in the third with a loooooooong stretch pass to Jason Zucker, who sniped his 21st of the season. But there was little to complain about here. The Stars' top line dominated, with all forwards finding the back of the net. The team also impressively went two-for-two on the power play, won 67 percent of face-offs and controlled the boards with tenacity in the lopsided Victory Green™. Plus, the team looked real good in its original duds — especially John Klingberg, who became the first player on Your Dallas Stars to hit 50 points this season. Amazing!
Play of the Game:
A retro goal on retro night for Stephen Johns. #GoStars pic.twitter.com/HAefkKbDZO

— Dallas Stars (@DallasStars) February 4, 2018
NHL Hitz Pro Player of the Week.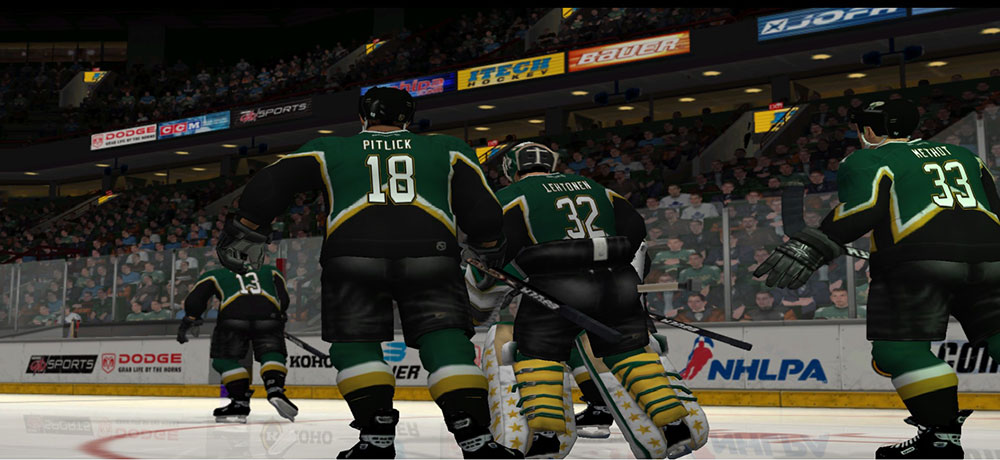 Kari has quietly had himself a pretty good little year as the backup goalie for Your Dallas Stars. Often relegated to road and back-to-back games, the 34 year old Finn has provided stable — and dare we say, good — goaltending when called upon. Kari has won four of his last five starts and sports a .919 save percentage with a 2.22 GAA in his diminished role, which he looks comfortable in. Coach Ken Hitchcock has clearly been impressed with his goaltender, and constantly refers to both Bishop and Lehtonen as "starters," whether he really believes that or is just playing mind games with a player whose self-confidence can adversely affect his performance on the ice. What we do know, however, is that Kari has been giving your Dallas Stars a chance to win, and that's all you can really ask from a guy in puffy pads.
This Week in Your Dallas Stars:
A full slate of hockey awaits your Dallas Stars as the playoff push unofficially begins.
Dallas Stars vs. New York Rangers. 
Monday, February 5, at 7:30 p.m.
The Rangers are awfully mediocre, but netminder Henrik Lundqvist is having himself a stellar bounceback season. Weirdly, Hamhuis' 100th game is being celebrated before this one? Okie doke.
Dallas Stars at Chicago Blackhawks 
Thursday, February 8, at 7:30 p.m.
Well, the championship window for the 'Hawks is now closed. Are you sad about it? Naw? Us either.
Dallas Stars vs. Pittsburgh Penguins
Friday, February 9, at 7:30 p.m.
As long as Sydney Crosby is breathing, the championship window for the Pens will never close.
Dallas Stars vs. Vancouver Canucks
Sunday, February 11, 3 p.m.
It's the Canucks. Yay.
Flip it. Stick it. See ya later, bye. — LehtMoJoe
Cover photo via the Dallas Stars' Twitter.