The Battle Of The Benns Spiced Up An Otherwise Meaningless Final Road Trip Of The Year For Your Dallas Stars.
Led by the "New Triplets," the Dallas Stars are a fast-and-furious squad that have quickly become the darlings of the hockey world this season. Thus, we welcome you to Forechecking™, our weekly Dallas Stars column that looks back at the hockey week that was, and then the hockey week that will be.
Your Dallas Stars have wrapped up their final road trip of the season. Fielding a lineup of AHL call-ups, disinterested veterans and a lame duck coach, Your Dallas Stars will now return home as the glorious champions of two out of a possible eight points. Somewhere, Laura Miller is drafting a parade route.
With the final week of the NHL season now upon us, all that's left of consequence is how bad a record Dallas will post, and how high a draft pick Jim Nill will be working with. So let's connect to The Innernette, catch a bunch of e-worms and e-mail viruses , and discover the joys of the hockey zone.
Last Week in Your Dallas Stars.
• Darkness Music at Montreal Canadiens, 1-4.
It was the "Battle of the Benns," with Jamie taking on his recently traded elder brother for the first time of their professional careers. By most accounts, Jordie has played well in his short time in Montreal, patrolling the third defensive pairing, where he is best suited. 'Member when Lindy Ruff trotted out Jordie on the first pairing during the season opener? That should have been a clear indicator that the defense was clearly in trouble. Speaking of former Stars, somehow Steve Ott plays for the Canadiens now, which makes us here at Forechecking™ happy to have a team to cheer for in the playoffs. Oh, and the game itself? Well, right, um, well, yeah. You know how, like, Dallas isn't really good this year and, like, Montreal is actually really good with a healthy Carey Price? So, like well, when they played against each other, it was, like, pretty obvious that the better team would win the game because, like, when you watched them play, it was, like, the team in the red-and-blue jersey was, like, more better at, like, skating and stuff, and they, like, um, moved the puck better and looked better.
Bright Spot: Curtis McKenzie opened the scoring on an unassisted effort. Really love the energy from the kid.
• Darkness Music at Boston Bruins, 0-2.
Tyler Seguin revisited Boston with the tired story line of how he used to play there and then they traded him and it was a bad trade. We're just about as tired now of Tyler getting asked "Do you miss Boston?" questions as Tyler is. But being a nationally televised game on NBC means that Pierre McGuire is going to pound you over the head with such trivial poop. The Bruins are in the middle of a battle for the final wildcard spot in the East and certainly played like it, stifling the Stars offense and capitalizing on mistakes made by the Stars' younger players. Julius Honka was in the lineup, as he will be from here on out, finishing out the remainder of the season with the big club. The biggest moment of the night for "Orange Julius" was getting lit up. WELCOME TO THE NHL! The ineptness of the Stars' attack was on full display as Dallas squandered a four-minute power play and ended up scoring no goals. As a matter of fact, the Stars have only scored 21 goals in the last 12 road games. "No. 1 center" Cody Eakin has zero goals and one assist on a line with Jamie Benn. So Sad!
Dark Spot: Oh my, how we should have not said nothing nice about nothing — 'cause soon as we do, they take a high stick to the eye and bleed and have to be rushed to the hospital. Damn. Sorry Curtis McKenzie. Thankfully, Curtis is doing OK and did not sustain a cut to his actual eyeball — just the soft tissue, guh.
• Moral Victory Green™ vs Carolina Hurricanes 3-0.
I didn't watch the game, I was too busy sorting my midi files. So I have no idea what happened, and there is no way I could possibly find out what happened. The Stars did score some goals, though, and I am kind of enough to share the list with you: Jason Spezza, John Klingberg and Devin Shore. Considering how it looks like the Hurricanes didn't score, I'm assuming Kari got a shutout. I did overhear some people at Sonic talking about Carolina being on a 13-game point streak up until Dallas ruined that for them. So, if that don't get your ass fired up, I don't know what will.
• Darkness Music at Tampa Bay Lightning, 3-6.
Welp, the final road game of the season for Your Dallas Stars went just like nearly every road game this season for Your Dallas Stars. There was some good play for stretches before a series of mistakes in the third sabotaged any chances for a win. Throw in some bad calls against, and some goals called off, and you got yourself yet another frustrating loss.
The good: For 40 minutes, Dallas outplayed a Tampa team that's battling for their playoff lives in the East.
The Bad: Dallas ends the season with a road record of 12-24-5.
The Ugly: AHL-er Gemel Smith, in the lineup playing his 14th game of the season, has three goals on the season. That's the same amount as "No. 1 center" Cody Eakin!
Unofficial Sega Genesis NHL 94 Player of the Week.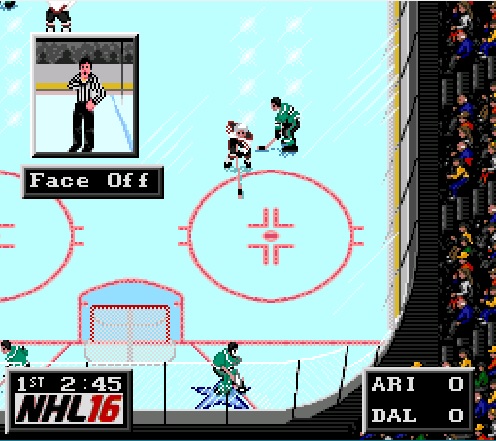 Kari seen here, hanging out, shooting dice near the trapezoid.
It's Kari. Kari has played well lately. Kari seems to play well when there is nothing on the line. Kari is a talented goaltender. Kari looks like a legitimate NHL starting goaltender — at times. Kari doesn't have killer instinct. Kari is not mentally tough. Kari catches a lot of flack from fans. Kari deserves some criticism. Kari also deserves some defense in front of him. Kari probably played his last road game as a Dallas Star
on Sunday
. Will you miss Kari? Will Kari miss you?
This Week in Dallas Stars.
Damn, the 2016-2017 is coming to a merciful and got damned end this week. All games are at home. Arizona Coyotes on Tuesday night, Nashville Predators on Thursday and the Colorado Avalanche on Saturday. So wear your Moral Victory Green™, and be loud and be proud! Home ice advantage starts with — eh, who am I kidding, this team sucks.
LULZ.
Flip it. Stick it. See ya later, bye. — LehtMoJoe
Cover photo via the Dallas Stars Facebook page.