It Wasn't Pretty, But Your Dallas Stars Won Themselves Six Out Of A Possible Six Points Last Week Many Thanks To Puckstopper Ben Bishop.
Welcome to Forechecking™, our weekly Dallas Stars column that looks back at the hockey week that was, and the hockey week that will be.
Your Dallas Stars are playing awkward and unattractive hockey at the moment.
No, the average spectator is probably not overly impressed with how the team's wins look these days. But at least our boys in Victory Green™ are stacking up some points in the standings!
They're chugging along in humble fashion and happy that the after-market parts they acquired in the off-season are working in harmony with core pieces already in place. In many ways, Your Dallas Stars are a 2001 Toyota Echo. And y'know what? They don't give one got-damn bit about your got-damn Bluetooth! Their trunk is big, their gas mileage excellent, and they can Tokyo Drift with the best of 'em.
Last Week in Your Dallas Stars.
• Victory Green™ vs Arizona Coyotes, 3-1.
If you were a sentient being in 1994, you and billions of others across the globe were in collective agreement that an NHL franchise in Arizona would never happen and that the drummer from Nirvana would fade away into obscurity like the redheaded singer of "Never Gonna Give You Up." Well, you and whole world were wrong — damn wrong. It's 2017 and the Arizona Coyotes are stubbornly playing in the dessert while Dale Grohl has ascended to the biggest name in rock n' roll (with the help of Rick Astley, of course). What can we learn from this? Never say never! Well, except when saying you should never say never. So, uh, technically you should say never to decry saying never or else you really couldn't say never say never so you should only say never to never say never? Eh, nevermind. Anyway, former Dallas defenders Alex Goligosk, Kevin Connauton and Jason Demers rolled into town with the league's last winless team for this game, and they lost. Imagine that! The Stars weren't particularly good in this game — in fact, I believe it was the sloppiest one they've played so far this year — but good goaltending goes a long way, and Ben Bishop cleaned up the many mistakes of a team acting cavalier against an "inferior opponent." Alexander Radulov also scored his first goal of the year, albeit on an empty net. It came in the form of a backhand from the blue line that barely clipped the post and then went in. Close!
Observations:
– It's weird seeing the 'Yotes without Dave Tippet behind the bench, Mike Smith in net or Shane Doan elbowing Jamie Benn in the head!
– Sans any hint of irony, Maxim called the fight between Antoine Roussel and Luke Schenn "hilariously sad" because apparently that publication boasts zero mirrors in its offices.
• Victory Green™ at Arizona Coyotes, 5-4.
We wuz real worried that the winless Coyotes wuz gonna win against your Dallas Stars in this one, since every team in the NHL done won at least one by now. But nope! Tyler Seguin scored two goals in third period, and the Stars held onto their early lead as a hungry Coyotes squad nipped away until the final buzzer. Good thing Bishop was in net, though, as he again propelled the Stars to another Victory Green™. Peep the highlights here.
Observations: At this point, we are as sick of the Coyotes as Derian Hatcher is.
• Victory Green™ vs Carolina Hurricanes, 4-3.
Just like in the second Coyotes game, Dallas generated enough offense through two periods here to eek out a Victory Green™ in the dying moments of the third. The Stars' fourth line was consistently the best line on the ice throughout the contest, clearly out-skating and out-working whatever jabroni line the Hurricanes attempted to counter with. Antoine Roussel, Radek Faksa and Tyler Pitlick make for a wonderful mix of size, skill, grit and speed that's uncommon for a line that generally sees the least amount of minutes in a game. Stephen Jones also played his best game of the season while Tyler Seguin continued to score a goal a game as Your Dallas Stars secured six out of six possible points on the week. HELL TO THE YEAH!
Observation: Might not have been a Stars-positive moment, but this mix-up made for the play of the game.
Bishop gets tied up with Hamhuis' skate on his pad and Staal is standing right in front for the goal. It's now 4-3 Stars. pic.twitter.com/Z8FnyL71jp

— Dylan Nadwodny (@dnadders) October 22, 2017
NHL Hitz Pro Player of the Week.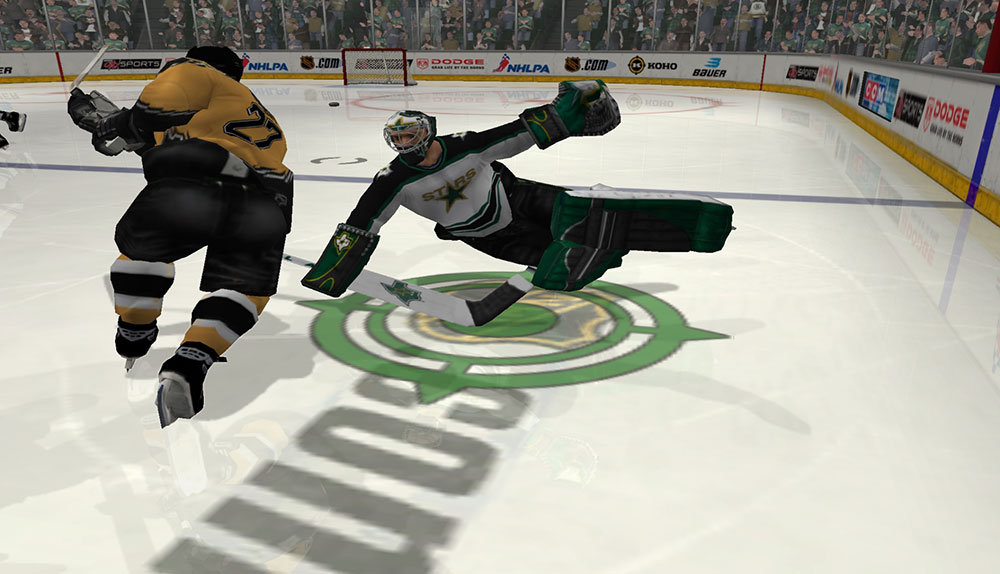 In a week where each game generally turned sour in the third period, Ben Bishop was there to remind us what elite goaltending can bring to a team. He's fun to watch and, as a general rule, we dig any guy in goofy over-sized pads that can regularly stop pucks from going into the net. Is this is a low barometer? Maybe, but when you haven't seen a goaltender make "that save" in many years for your franchise, it's a big deal to the fan. Imagine how big a deal to his teammates, too! Not to knock Kari Lehtonen or Antti Niemi or Tim Thomas or Alex Auld or Richard Bachman or Jack Campbell or Dan Ellis or Jhonas Enroth or Corey Hirsch or Anders Lindback or Christopher Nilstorp or Andrew Raycroft or Jussi Rynnas or Tobias Stephan, but Your Dallas Stars haven't had an above average goaltender for a VERY LONG TIME. Ben Bishop, on the other hand, has won five out of the six games he's completed since joining Dallas, has a save percentage of .928, and looks competitive as hell on the ice while barking orders to his teammates and doing his taxes when the play is on the opposite end of the rink. He's got gas in the tank, he's got money in the bank, he's got news for you, baby: You're looking at the man!
Your Unofficial Dallas Stars Fan of the Week.
Name: Victor King.
Twitter: I'm not a fan of all that, I don't even have a facebook. Too much drama.
From: Fort Worth
When did you become a Stars fan? '99.
Favorite Player: Shane Churla.
Favorite Stars Moment/Experience: Watching Zubov chain smoking cigarettes on the ice while skating drills in practice. I also went to a game with my uncle when I was really young. I remember him getting so mad at a call that he threw his hot dog toward the ice…. followed by a handful of fluttering napkins! Throwing napkins just doesn't express anger very well.
The Stars will win the Stanley Cup this year if: they focus on a sound defense, put pucks in the net, take advantage of the power play.
Complete the sentence "Only shooting Stars…": break the mold?
Song that gets you hyped for hockey? Chelsea Dagger…jk (screw you hawks)…. Puck Off is the only acceptable answer.
Message to Stars fans: get loud at the games!!!!
Would you like to be featured in Forechecking™? Just answer the questionnaire above and send it to forecheckingtm [at] gmail [dot] com, pretty please.
This Week In Your Dallas Stars.
Dallas Stars at Colorado Avalanche.
Tuesday, October 24, 8 p.m. 
Keep the boys away from the dispensaries, Hitch!
Dallas Stars at Edmonton Oilers.
Thursday, October 26, 7 p.m.
The Stars will have their hands full with the ultra-talented Connor MacDavid and his speedy Oilers. I love broadcasts from Rogers Place, though. Bright lighting and excellent ice.
Dallas Stars at Calgary Flames.
Friday, October 27, 7 p.m.
The road trip continues. Jaromir Jagr will be there! Will you?
Flip it. Stick it. See ya later, bye. — LehtMoJoe