A Northeast Road Trip Ain't Gonna Scare Anyone In The NHL This Season, Least Of All Your Dallas Stars, Who Did The Damn Thing Up There This Week.
Your Dallas Stars had a pretty nice little East Coast road trip that resulted in a nice five out of a possible eight points. That's something to be happy about, I'd say.
Another thing to be happy about? Alexander Radulov and company have never complained about the poor officiating they've seen this season. Instead, they just continue to plug along and play their game.
Something else they haven't complained about? The style and comfort of their Jordache Jeans. You see, Jordache knows the fit that's right, and they look good doing it. I mention this because, while many people think that we live in very strange times, it's important to recall that not very long ago, there were literally people frolicking in the ocean wearing distressed denim and zipping up a superfluous zipper on their chest while snapping incessantly.
Incredible.
Last Week in Your Dallas Stars.
• Victory Green™ at New York Rangers, 2-1 (Shootout).
What a pleasant way to start a road trip! Your Dallas Stars hit the ground running — er, skating — with their Big 3 on completely different lines for the first time this season. Much of the game was spent in the Rangers' zone, putting some serious rubber on backup netminder Ondřej Pavelec, whose performance kept the blue shirts in the game. Julius Honka, finally in for Jamie Oleksiak, scored the Stars' only goal in regulation before a late Ranger goal on a solid Kari Lehtonen sent the game to an eventual shootout. But Kari was great in the skills competition as the Spezza and Radulov scores gave Dallas their much-deserved two points for the night.
Play of the Game:
Radulov with the Vernon Fiddler Special. #GoStars pic.twitter.com/dVsofSN5cA

— Dallas Stars (@DallasStars) December 12, 2017
• Victory Green™ at New York Islanders, 5-2.
Those silly Islanders haven't matched up well against Your Dallas Stars this season, have they? Ben Bishop shutout the Isles in their first meeting, and Kari Lehtonen earned his 300th NHL Victory Green™ against the Millennials from Brooklyn in this one. Dallas got the all-important first goal on a backhand chip from Tyler Pitlick, who has looked great lately, and capped off the period with a Radulov wrister. From the second period on, it was Dallas' puck possession that kept the Islanders at bay and generated scoring opportunities from quick transitions and aggressive zone entries. Kari was excellent in the third as the Isles tried to mount some sort of a comeback, but the offensive pressure from top to bottom in the Stars' lineup was too much to overcome. Lehtonen won his second in a row, reached significant milestone, and looked great in the process. We likey! Less likable was the attitude of Islanders on-air personality and former NHLer Arron Asham, who sounded despondent and depressed while discussing the lopsided game during the intermissions on MSG broadcast of the contest. Props to his cohost Shannon Hogan, who did her best to turn the pity party presentation into something more professional.
Play of the Game:
It all starts with Honka finding the opening in his own zone. Nifty stuff. #GoStars pic.twitter.com/nz08D0LK9Q

— Dallas Stars (@DallasStars) December 14, 2017
• Darkness Music at New Jersey Devils, 2-5.
This was a game of high dander from the 2000 Stanley Cup Finals franchises. Despite the score, Dallas was on the trot for about 50 minutes of the contest until the floor collapsed underneath them, or the rug was pulled out from under them, or something else that implies that things got bad quickly. Kari's hot streak came to an end as Your Dallas Stars were happy to shoot the puck from everywhere, including mostly easy-to-stop spots on the perimeter. That won't win you many hockey games, and it didn't in this one. Oh, stinkin' well. You could say the entire team played like Brett Ritchie here — a lot of hustle but awfully weak in the offensive zone, and ultimately, ineffectual.
Play of the Game:
Served up on a platter for Martin Hanzal. #GoStars pic.twitter.com/kwTuXZ9jSV

— Dallas Stars (@DallasStars) December 16, 2017
• Loser Point at Philadelphia Flyers, 1-2 (OT).
After posting a dubious winless streak of 10 games, the Flyers somehow learned to play hockey and are now on a six-game winning streak after defeating Your Dallas Stars in the City of Brotherly Love. Gemel Smith got the all-important first goal of the game that Dallas was unable to build upon or milk to the end, as the Flyers took advantage of some awful officiating. Dallas managed to go on the PK six times in this very physical contest and only earned one PP themselves. In our humble opinion, that was the difference in the outcome. On the bright side? Dallas picked up a point, and Martin Hanzal got back in the lineup and looked like he is starting to come around as the shutdown PK faceoff expert Jim Nill sold us on. The Stars will need a lot more down the stretch from the big man, however.
NHL Hitz Pro Player of the Week.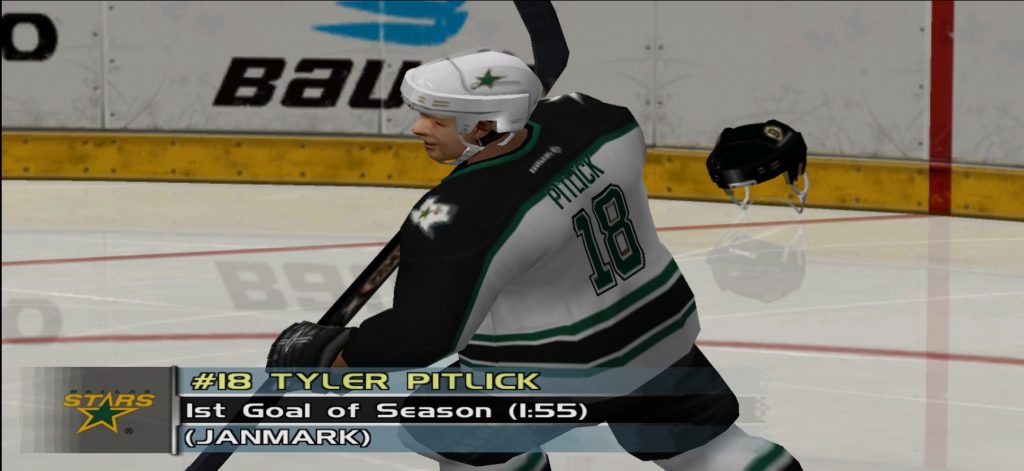 Tyler Joseph Pitlick from Minneapolis, Minnesota, is Your Dallas Stars' player of the week. Granted, two goals in a week isn't spectacular — but, for a fourth-line energy player, Tyler #2 is doing his part! Clocking in a modest 14 minutes a game, Pitlick isn't afraid to use his speed and size in taking the puck to the opposing netminders' doorstep. We like that! Riding shotgun to Radek Faksa is clearly a boon for the 26-year-old, who has been healthy and reliable for the first time in his NHL career this season. His 12 points in 32 games with a +/- of 8 is nothing to sneeze at, either! If you see Mr. Pitlick rummaging around Buffalo Exchange or Plato's Closet, give him a big hug. He deserves it! But, whatever you do, don't ask him if those are Bugle Boy Jeans he's wearing…
This Week In Your Dallas Stars.
Hey, it's a home stand after the road work! Let's see if the boys in Victory Green™ can keep up their home dominance, yeah? Here's hoping.
Washington Capitals at Dallas Stars.
Tuesday, December 19, at 7:30 p.m.
It's a rare opportunity to catch Alex Ovechkin in person! H's worth the price of admission, y'all.
Chicago Blackhawks at Dallas Stars.
Thursday, December 21, 7:30 p.m.
The only Central Division team the Stars seem to have figured out come to Dallas, along with their bandwagon fans.
Nashville Predators at Dallas Stars.
Saturday, December 23, 7 p.m.
Merry Christmas, everyone! Remember that Jordache knows if you've been naughty or nice, you little disco children…
Flip it. Stick it. See ya later, bye. — LehtMoJoe
Cover photo via the Dallas Stars' Facebook page.