Stop The Presses, Your Dallas Stars Won Their First Overtime Game Since 2015.
Led by the "New Triplets," the Dallas Stars are a fast-and-furious squad that have quickly become the darlings of the hockey world this season. Thus, we welcome you to Forechecking, our weekly Dallas Stars column that looks back at the hockey week that was, and then the hockey week that will be.

This week, Your Dallas Stars continued to pick up points in the ultra-competitive Central Division. Key forwards have returned from injury as the nine defenseman trade-bait showcase embarks upon a difficult four-game road trip.
Can the goaltending stay afloat? Will the Stars catch fire offensively? Will Juri Hudler recover from his mystery illness?  Mono is a real…
Last Week in Your Dallas Stars.
• Victory Green™ vs Minnesota Wild, 3-2 (OT).
Have you ever had a dream that, that you, um, that you had, that you could, you do, that you want, you, that, you could do so, that, you could, you want to win overtime so much that you could do anything?  It took a long time to get to here, but Dallas finally notched its first overtime win of the season! YAY! Galveston Rules! In fact, it was their first overtime win since February 15, 2015. Yeesh! In a game that could be dubbed as "two teams more interested in not losing than winning," Your Dallas Stars showed with great courage that they definitely didn't want to lose more than anything in the world. With more apple turnovers than Thanksgiving, The Wild and Stars hacked and whacked their way through a game filled with icing calls, blatant offsides and sloppy passing. It didn't matter none, though, as a Jamie Oleksiak fight and goal energized the home team enough to never trail in the contest. Cap'n Jamie Benn's overtime goal was a thing of sniper beauty, securing two points for the team in the log-jammed CCentral.
Of note: John Klingberg no show to morning meeting? Klingberg no play in game. We've seen this happen before. Stephen Johns was also scratched, and I'm not entirely sure why. With these two scratches and a Johnny Oduya injury, Esa Lindell and Julius Honka cracked the lineup and, doggone it, they looked pretty good. This was Honka's NHL debut. He's the Stars' most valuable prospect and other team's No. 1 trade target, and it's easy to see why. Many comparisons between Stars defensive legend Sergei Zubov and Honka have been made, as both defensemen have an understated and efficient approach to the game. Case in point: Honka slid down the wing and threaded a gorgeous pass to Brett Ritchie for the Stars' second goal of game. It was beautiful. The Stars would be wise to graduate the young Finn to the big club, like, right meow.
• Darkness Music at Nashville Predators, 2-5.
The score looks more wompy than the game actually was, for real. Predators goaltender Pekka Rinne played like a Mr. Falcon, stopping 33 of Dallas' 35 shots as Nashville expanded on a two-goal lead in the final frame. Patrick Sharp scored his first goal of the season on the penalty kill (it's been that kind of year), while Brett Ritchie quietly netted his sixth in the losing effort to the red hot Preds. Psst, hey! Hey, you! Yeah, you with the MacBook Air in a conversation battle on Facebook over how magnificent Fidel Castro was! Can you tell me if this was a good play by the Stars or not? I mean, it looks so obvious, but, ya know, I'm sure you can spin it into something devoid of reality.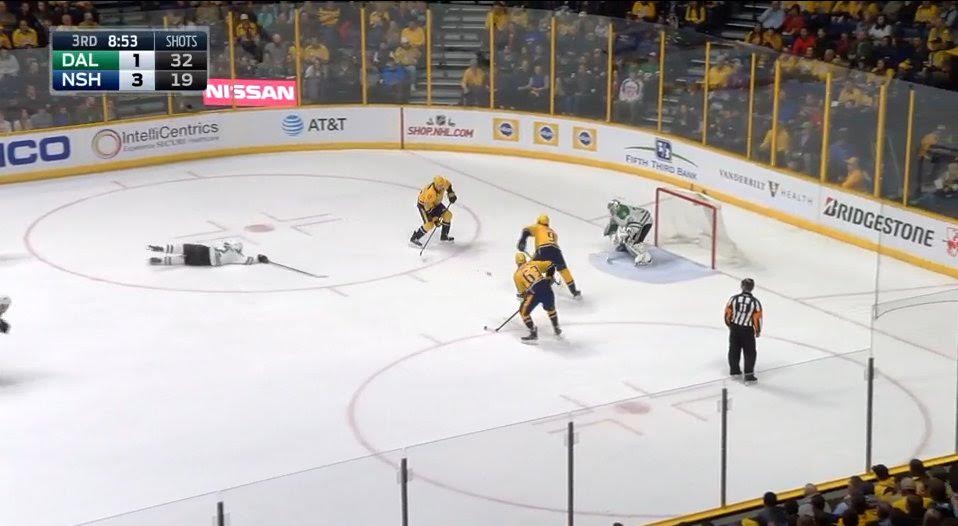 • Victory Green™ vs Vancouver Canucks, 2-1.
Should the Stars have an honest chance at making the playoffs this year, they will have to beat the bottom-feeders of the league with regularity. The Canucks are one such halibut. Dallas finally broke its unenviable streak of losing every game after allowing the first goal as Radek Faksa tied the contest in the second, followed by Esa Lindell's first career NHL goal, the game winner. Lindell, who I'm pretty sure was an extra in A Christmas Story, played his strongest game thus far in the big league, earning first star of the game as the carousel of defenseman spins along.
Unofficial Sega Genesis NHL 94 Player of the Week.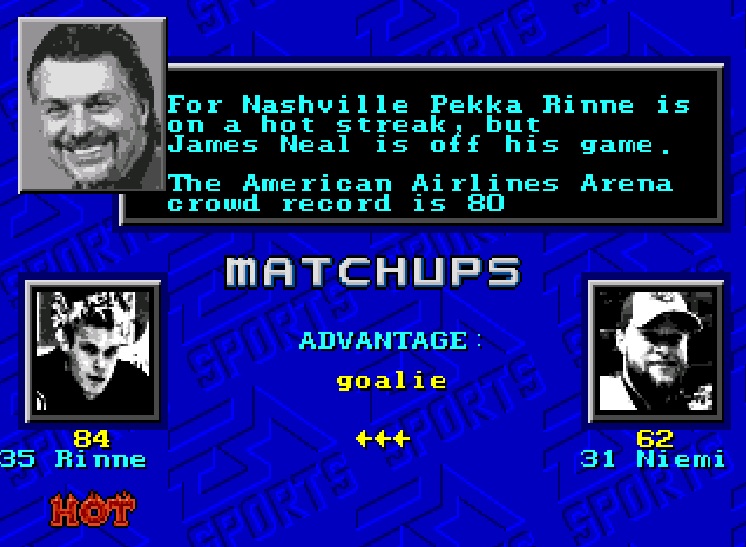 Niemi has played pretty stinkin' good this week. His performance against the Canucks secured two points as he has given the Stars opportunities to win most nights when he is net, especially at home. His numbers aren't sparkling — 5-2-2 with a .909 save percentage — but it's better than we here at Forechecking™ were expecting. Antti Up!
This Week in Dallas Stars.
ROAD TRIP! They hit St. Louis to play the Blues tonight, then it's off to contests with the Red Wings tomorrow, the Penguins on Thursday and the Avalanche on Sunday! Damn, this condensed schedule is killer.
This Week In The Rest of the NHL.
Oh look! A new NHL franchise just popped up — in Las Vegas of all places. Check out their logo and team name, and tell me if you like it or not. By season's end, this nascent organization will siphon off the middle to lower talent pool on existing NHL teams, further diluting the on-ice product of the league. Thanks, Gary Bettman!
Hockey players are tough, we all know that. And so are their goomba lookin' coaches, too. Just watch as Washington Capitals (Crapitals) bench boss Barry Trotz takes a puck off the ol' noggin. If he were a player, I'm sure the league would say he's day-to-day with an upper body injury.
Flip it. Stick it. See ya later, bye. — LehtMoJoe
Cover photo via the Dallas Stars Facebook page.