Exclusive Premiere: Hear The Debut Single From Keite Young and Jason Burt's New Gospel- and Hip-Hop-Tinged Medicine Man Project.
Ahead of the release of The Life of Pablo earlier this year, Kanye West promised he would deliver "a gospel album with a whole lot of cursing on it." Along with records like Chance the Rapper's Coloring Book mixtape — dubbed "the first true gospel-rap masterpiece" — 2016 has seen loads of examples of mainstream rap embracing the harmonies and sensibilities of gospel music, with artists finding an approachable middle-ground between the religious and secular worlds.
Featured on each of those aforementioned records is Fort Worth native Kirk Franklin, a musician at the forefront of the trend, a man whose own deeply spiritual music is increasingly being embraced by secular audiences.
Now, his former protégés are starting to do the same.
Enter Medicine Man, the new collaborative project of Keite Young, a onetime member of Franklin's choir, and producer Jason Burt (Jonas Martin, Color TV). The group is set to debut in early 2017, but it has passed along its first single for us to premiere on Central Track. You can stream that song, called "You Are Safe," below for a limited time.
"You hear [Franklin's influence] on Kanye's records," says Young. "That's what a choir sounds like now because of Kirk Franklin. Choirs don't sound like that. James Cleveland's choirs don't sound like Kirk Franklin's. He started doing that with our youth choir. He changed the game in that way. If you listen to any great pop record, it's really just a gospel singer arranging some shit in the studio and toning that shit way down."
After parting ways with Franklin, Young scored a record deal of his own with Hidden Beach Records, which released his The Rise and Fall of Keite Young LP back in 2007. It was a promising debut effort, but one that received mixed reactions.
Young would be the first to tell you he was probably wearing his love of old-school R&B, soul, gospel and Prince a little too much on his sleeve at the time. Says Young: "My grandfather was a blues singer. My mom was a gospel singer. I broke away from gospel for many personal reasons, and went and created a really diverse body of work that, essentially, cannibalized itself. The thing is, when you're in the marketplace, they have labels. People look to labels to tell them what's inside the package. No one label could actually let you know what was inside this package."
But all that changed when Young ran into Jason Burt, a Dallas producer most known for his work in the psych rock and Americana genres, but who had been quietly building up a catalog of more hip-hop oriented material and saving it for a hypothetical future solo record. One night, the pair decided to show each other new solo material they were working on when they realized their efforts might work well together, congealed into a singular, forward-thinking effort.
"We were both like, 'Oh shit! Maybe we could combine these ideas and see what happens,'" Burt says. "That grew into, 'Let's take both of our personal records that we're working on and just put them together.' Have him sing some stuff I was working on, and have me produce stuff he was working on and see if we can get a congenial sound. That started kind of working."
The two quickly recorded a handful of tracks this summer at Modern Electric Sound Recorders, rounding out their hip-hop-rooted base tracks with live gospel musicians from their respective circles – some from Burt's buddies in The Texas Gentlemen and and a few of Young's pals in Erykah Badu's The Cannabinoids, both of which stands among the most decorated and respected backing outfits in North Texas. With that talented pool of musicians providing input, Medicine Man has managed to take the gospel hip-hop subgenre into an interesting new direction, one that doesn't necessarily lean too hard on either of those labels.
"I wanted to make a gospel record, because my mom would think that's lit," Burt says. "To be honest, I think this is my first chance to do exactly what I wanted. That's the reason the lyrics are gospel, because I want to personally redeem the church in my own way, and my vision of that music, because I loved that music as a kid, and it was ruined for me as I understood [what it was about]. I want to make this music again. It's not a gospel record for god's sake, but that's in there."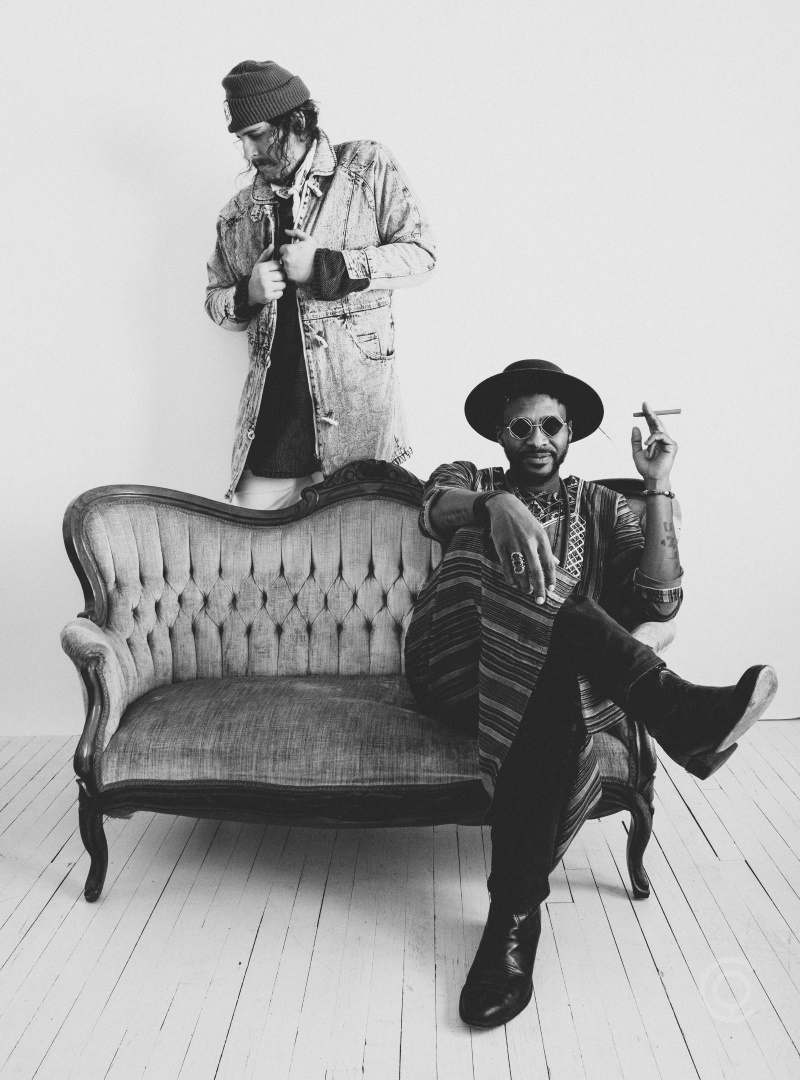 For both parties involved, Medicine Man represents a chance to for the artists to reinvent themselves. For Burt, it gives him a chance to flex his songwriting muscle, and to show he's more than just the one-trick pony that someone hits up when they're wanting to make a psych-tinged rock record. For Young, it's a shot at redemption, an opportunity to show that he's capable of making futuristic, genre-pushing record that doesn't lean at all on his past influences.
"Our goal with Medicine Man is to change people's minds about us – who we hang out with and what kind of music we make," Burt says. "We're trying to regenerate an idea of who we can be. At this point in our careers, we've both been a part of a lot. We're trying to recreate a mold, and we're having as much fun as we can. Medicine Man is just that in its entirety."
Adds Young: "It's a vehicle for redefining — not just sonically — what people think of as soul or pop or funk or blues. It's redefining success. What is success as an artist? Is it playing at American Airlines [Center]? Is it staying out [on the road] nine months out of the year playing the music that you love? What is success? We're artists. We create art, so we're successful."
All images by Cal Quinn. To hear more releases from Medicine Man, sign up for their mailing list here.