Despite Continuing Their Overtime Struggles, the Dallas Stars Kept Their Heads Above Water This Week.
Led by the "New Triplets," the Dallas Stars are a fast-and-furious squad that have quickly become the darlings of the hockey world this season. Thus, we welcome you to Forechecking, our weekly Dallas Stars column that looks back at the hockey week that was, and then the hockey week that will be.
Some readers have been very vocal about their dissatisfaction with last week's Forechecking™, accusations that we were "shilling" for the monstrously successful band Smash Mouth, known for their chart topping hits like "All-Star" and "I'm a believer." Firstly, Forechecking™ would never accept money/goods/services for mentions or positive coverage in our highly regarded weekly article. Secondly, Smash Mouth does not need a hockey column to help promote its impeccable catalog or its upcoming gig at The Rose in Pasadena, California on Sunday December 18th (Get your tickets here.) It ain't no joke, I'd like to buy the world a toke and teach the world to sing in perfect harmony and put this whole misunderstanding behind us.
With that out of the way, let's get into Stars hockey!
Last Week in Your Dallas Stars.
• Darkness Music at Winnipeg Jets 2-8.
November 8, 2016. Worst loss of the season.
"We all have to look in the mirror and figure it out. This is pretty much rock bottom" — Jamie Benn
• Victory Green™ at Calgary Flames, 4-2.
Twenty-five years ago, they spoke out and they broke out of recession and oppression and together they toked. Dallas was in Minnesota, Lindy Ruff was skating his final year as an NHL player, and 5-foot-6-inch Theo Fluery notched 104 points for the Calgary Flames. Fast forward to the present, and Calgary is once again led by a diminutive offensive dynamo. Johnny Gaudreau is generously listed at 5 feet 8 inches, and is one hell of a player. "Johnny Hockey" spent most of the night in Dallas' zone, controlling play alongside former Star, Alex Chiasson, and was rewarded with two goals for his efforts as Calgary erased a two-goal deficit that had many Stars players cringing at the prospect of another dumb faced loss. Some were spellbound, some were hell bound, some they fell down, but our captain got back up and fought back against the melt-down. Midway through the third, Jamie Benn scored his second goal of the night on the power play on a wonderful Tic-Tac-Toe sequence from winger Antoine Roussel in the slot, to Tyler Seguin on the side of the net, to Benn in the crease. The Frenchman wasn't done contributing to the victory, as Roussel sealed the game on a rare empty netter to complete the Gordie Howe hat trick. Excellent work Antoine!
• Victory Green™ Edmonton Oilers 3-2.
First consecutive wins of the season for Dallas, ain't that cray cray? Lauri Korpikoski opened the scoring just 28 seconds into the game as the depth of Big D propelled the offense on the back of a fantastic goaltending performance by Kari Lehtonen. The big Finn stopped 40 friggin' shots in the face of a very determined and puck dominant Oilers squad, as both squads traded two goals apiece in the opening frame. Edmonton really poured it on the second, only to be denied by the surprisingly aggressive play of Kari. Roussel capped the period, and the scoring for the game, with a delicious backhand that sauteed past Oilers netminder Cam Talbot. Solid game for the Stars! And it ain't no joke when Oilers' handkerchief is soaked with their tears because their chance's for winning has been revoked.
Of note: Benn and Seguin had two assists each in the contest. The dynamic duo has really been piling up the helpers as of late. Seguin is actually tied for most points in the NHL with Winnipeg's Mark Scheifele (really). The Oilers have the cleanest looking ice in the NHL, maybe it's the LED lighting, but got damn that arena always looks so sharp on the telly.
• Loser Point at Vancouver Canucks, 4-5 (OT).
The grueling Western Canada road trip finally came to an end with this matinee tilt in Vancouver, marking eight of the last 10 games played on the road. Dallas once again opened the scoring as a red hot Patrick Eaves buried a loose puck in front. But the road-weary Stars were unable to put the game away against the wonky Canucks, conceding three goals in the frustrating third. Defensive miscues and piss poor goaltending allowed Loui Eriksson and Co. to send the game to overtime where, of course, they won. So Dallas, don't delay, act now, supplies are running out. You are dreadful in three- on-three overtime, having lost in every extra frame contest so far this season, and that can't be blamed on injuries. And just to illustrate how fart-and-fall-down the Canucks season have been, Eriksson, fresh off signing a six-year $36 million contract, has just two goals this year. By contrast, scrap heap find Lauri Korpikoski is on a three-game scoring streak. Really, they need to put these games away. All things considered, however, it was a successful road trip for Your Dallas Stars, securing five out of eight points for the week, and currently in a playoff spot.
Unofficial Sega Genesis NHL 94 Player of the Week.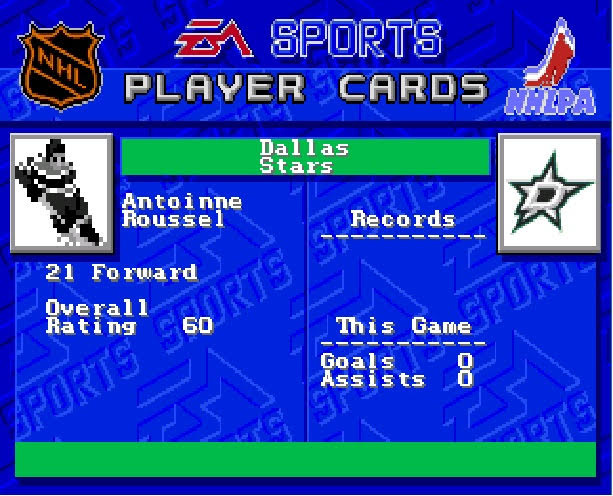 Merci Anotine! After a slow start for our French bulldog, Roussel is starting to figure it out. This week, he didn't sit back, kick back and watch his team get bushwhacked. Utilized in seasons past as a super pest on a deep roster, Rooster is having to elevate his game to a more well-rounded winger who won't spend half the game assaulting water bottles in the penalty box. Furthermore, seven points in his last five games, a couple scraps, and better defensive play make Antoine our Unofficial Sega Genesis NHL 94 Player of the Week.
This Week in Dallas Stars.
The Devils of New Jersey look to possess the AAC on Tuesday, the exorcism starts at 7:30. That's followed by a match up with the Avalanche on Thursday, another 7:30 start, and the Edmonton Oilers close out the week at the AAC at 6 p.m. on Saturday.

Flip it. Stick it. See ya later, bye. — LehtMoJoe

Cover photo via the Dallas Stars Facebook page

.