Hey Now, The Stars Started Coming And They Didn't Stop Coming.
Led by the "New Triplets," the Dallas Stars are a fast-and-furious squad that have quickly become the darlings of the hockey world this season. Thus, we welcome you to Forechecking, our weekly Dallas Stars column that looks back at the hockey week that was, and then the hockey week that will be.
Your Dallas Stars are known all over the world for their "All-Star"-style of play, but when you are hurt and sick and no longer the sharpest tool in the shed, playing pretty looks kind of dumb, that's when you need to play Smash Mouth hockey (Trigger Warning). Luckily enough for Stars fans, Tyler Seguin wants to get the show on and get paid, and he innately knows that only shooting Stars break the mold and score goals. Fed to the rules, Lindy Ruff has simplified the game plan and has hit the ground running, as it didn't make sense not to live for fun.
So much to do, so much to see in this week's Forechecking™, so let's take the backstreets! You'll never know if you don't go!
Last Week in Your Dallas Stars.
• Loser Point at Columbus Blue Jackets, 2-3 (OT).
Ohio is a cool place and, in the winter, they say it gets colder. So it really sucks that Dallas left Columbus with the shape of an "L" on their forehead. Dallas outplayed the Blue Jackets for the vast majority of the game, and clawed their way to a lead, but allowed a tying goal in the dying seconds of the third. Despite putting 38 shots on net, a season high, only Jason Spezza (on a beautiful redemption play from a turnover) and Seguin (one of the ugliest goals of his career) were able to beat Bobrovsky in front of the nearly empty Columbus barn. It sucks that Dallas went 0-4 on the power play while the Blue Jackets were able to convert one of their only two opportunities on the PP — granted it was a 6-4 man advantage. It sucks to see the Plano-born son of a Dallas Maverick, Seth Jones, score the game winner in overtime with your best players on the ice. What didn't suck was to see the Stars play with great effort and net drive, shoring up some of the turnover issues and simplifying zone exits made a big difference in their ability to generate scoring opportunities that plagued them last week. It's something to build on.
Of note: You get ice time, and you get ice time, and everyone gets ice time! Outside of John Klingberg's 24 minutes, the rest of the Dallas defenders had nearly identical ice time averaging 18.5 minutes between the bunch, quite unusual. Lindy really is taking this play every defenseman in the organization equally thing seriously.
• Victory Green™ vs St. Louis Blues, 6-2.
Personally, I had a hard time watching some games last season because of the hole in the satellite picture, but do you 'member when the Stars used to play entertaining hockey and actually score goals? That's the way I like it and I never got bored. This hard fought Victory Green™ against Hitchcock's Blues was a magnificent reminder of a better time. Meeting for the first time since St. Louis sent our boys home for the summer after round two defeat in the playoffs, both teams are off to a wonky start to the season. The first period played as you would expect, with both squads feeling each other out to better judge how to go forward in the game. Like, if you saw an ex-girlfriend/boyfriend for the first time since a breakup, and y'all act all cordial until the veneer wears thin at the thought of them knocking you out of the playoffs last year and you 'member just how much you 'aint like em very much. In the second period, we finally saw some of the elusive goals that everyone talks about, with Patrick Eaves tipping in a Seguin shot on yet another K.I.S.S. net drive play that Dallas has implemented during their offensive drought. The Blues' Paul Stastny tied the game up with a tally of his own, but unlike in most games this season of caving and allowing a handful of consecutive goals, Klingberg sniped a Jamie Benn feed just 30 seconds later. That's like if that hypothetical ex said something mean to you, but you had an immediate comeback that totally cancelled out the previous slight against your character. Naturally, as a result, fights ensued as Antoine Roussel and Curtis Mckenzie ended up in the sin bin for separate punching incidences against the poo poo face Blues. Dallas really poured it on in the third period, as the goals kept coming and they didn't stop coming much to the dismay of Blues netminder Jake Allen, who was caught out of position often and received little help from his teammates.
Hey now, you're an All-Star! This was Jamie Benn's best game of the season, by far. Played with a snarl and swagger that only our captain can, look at this stat line my beautiful friends: three assists, +/- 4, 82 percent on faceoffs and six penalty minutes. Whoa! Look over here too, lookie what Seguin did, he done matched a career high with four assists in one game! YEAH WOOO!!!!
• Darkness Music vs Chicago Blackhawks, 2-3.
The good: Dallas played really well, for real. They skated with purpose, launching themselves at the 'Hawks for a season high 30 times. Somehow, Chicago managed a mere five hits in the contest (really doubt that, AAC stat counting person). Curtis McKenzie had a strong-like-bull kinda game, leading the physical charge in Victory Green™ while notching a goal with only 10 minutes of ice time.
The Bad: For the second time this season, a Stars netminder surrendered a goal on the first shot of the game, not an awesome way to get things started. Another Saturday loss for the Stars leaves Dallas with a sickly 0-4 record on the day. It was another unseasonably warm day in Dallas, so the ice we skate was getting kinda thin.
The Ugly: Welp, we've got another injury at the forward position as Jason Spezza left the game in the third period and did not return. It's been a real backwards year for our boys, eh?
• Loser Point at Chicago Blackhawks 3-4 (OT).
Judging by how both teams played for the first 20 minutes, you'd think these guys played the night before. A herky jerky offsides and icing bonanza kept the Blackhawks faithful subdued as Dallas lit the lamp first on the power play. Seguin scored on a yawning net after fantastic work by Roussel in the crease battling two defenders and tapping the puck to a wide open Seguin. Not to be outdone by the PP unit, Gemel Smith & the Penalty Killers (I'd listen to that band), teamed up for the first goal of his career, burying an impressive backhand on the breakaway. It was about this time that Chicago thought they could use a little fuel themselves, and that they all could use a little change. Patrick Kane, Jonathan Toews and Artem Anisimov scored three unanswered goals in the rally to push Dallas to the brink of regulation defeat. Lehtonen came off the ice, an extra attacker came on, and with time winding down, shot from the point, deft tip on puck, Stars score! Gemel Smith (sans the penalty killers) sent the game to overtime. Nice! Oh, and Kane took a penalty in OT to put the Stars on a 4-3 power play? Nice! Oh, but the Stars didn't score, and then they lost because Marian Hossa scored. Smashmouth No!
How Darling: Blackhawks backup Scott Darling, had a marvelously phat game, stopping many high quality chances to keep his squad in a contest that could have gotten out of hand during the second period, and shutting down the Stars power play in overtime. Dallas ended the grueling week with four out of eight possible points, not too bad all things considered.
Unofficial Sega Genesis NHL 94 Player of the Week.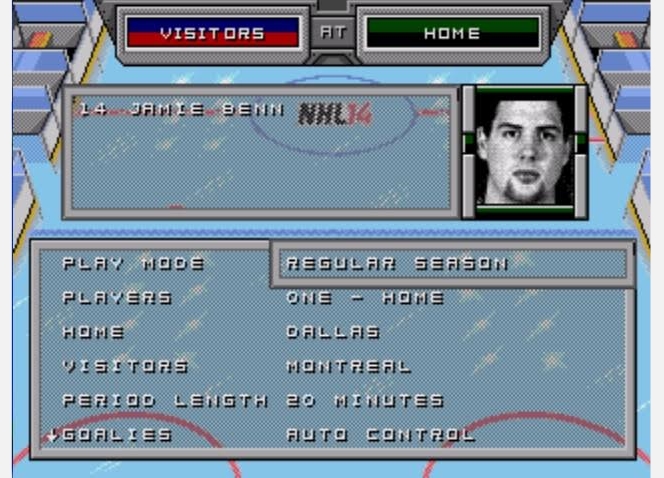 It was a solid week from the captain, who netted five points while setting a physical tone as the Stars transformed on the fly from offensive juggernaut to "pesky." With six of the team's top nine forwards unavailable to suit up, and quite possibly dead, Benn's mashup of style will be crucial to keep this damn season together. He's playing hurt, even if he won't admit it to the public, because understands how vital his presence is in the depleted lineup.
"It's just a hockey player mentality — you just play." — Jamie Benn
This Week in Dallas Stars.
We here at Forechecking™ have always gone the extra mile for you Stars fans. We've taken on The New York Times' East Coast bias head on, crafted the most incredible of hockey theme songs, and are now asking the hard-hitting questions others in the lamestream media are too afraid to ask indirectly to players' faces. Listen as Tyler Seguin wilts under pressure while addressing the issue Forechecking™ readers have been dying to know, his answer (at the 12:36 mark) will shock you.
Flip it. Stick it. See ya later, bye. — LehtMoJoe
Cover photo via the Dallas Stars Facebook page.