It's A New Season, But The Same Old Goaltending Problems Persist For Your Dallas Stars.
Led by the "New Triplets," the Dallas Stars are a fast-and-furious squad that have quickly become the darlings of the hockey world this season. Thus, we welcome you to Forechecking, our weekly Dallas Stars column that looks back at the hockey week that was, and then the hockey week that will be.
Your Dallas Stars have completed their first week of professional National Hockey League games, with mixed results. Can we extrapolate the minuscule sample size into larger platitudes just to alarm the fanbase? I suppose, but it's nothing to get hung about. We play 82 of these sons o' bitches, and you can't win 'em all.
Last Week in Your Dallas Stars.
• Victory Green™ vs Anaheim Ducks, 4-2.
Under the shiny new Central division/Western Conference champion banners, and in front of a sold out crowd, Your Dallas Stars took the ice looking handsomely familiar, yet subtly different.  Sure, there were dashes of Jamie Benn, Tyler Seguin and Patrick Sharp throughout the tilt, but it was the new faces making the biggest impact on the game and scoreboard. Defenseman Stephen Johns opened the scoring on a beautiful feed across the crease from Patrick Eaves, the second of his fledgling career. Johns was active all over the ice, especially in the offensive zone where he put four shots on net and had several aggressive pinches. Despite netting the first tally, however, Dallas was unable to create additional offensive pressure on our feathered foes, ending the first period outshot 17-1 in large part to spending 8 minutes on the penalty kill. Goalie Antti Niemi was at his awkward, scrambly best, stopping point-blank chances and difficult shots through traffic as the Dallas skaters continued to turn the puck over in their own zone. Predictably, fortunes changed in the 2nd, as the Stars shook off the opening night jitters and simplified their attack. Winger Lauri Korpikoski scored on a wrister, just the third shot of the game for Dallas, and assuredly had new/old Ducks coach Randy Carlyle wishing he had better goaltending. Current NHL Ironman and former Goodfella Andrew Cogliano, (shown here after being reprimanded for not bringing his shine box from home) scored his second of the night for the quackers, but it was last offense Anaheim saw, as the Stars' third and fourth lines continued to drive the net in playoff fashion. The Ducks defense hard a particularly bad outing, blowing coverages and being totally unable to clog up passing lanes. Left winger Antoine Roussel and newcomer Adam Cracknell rammed in the final two goals, both products of dogged work gaining positioning on the lap of the Ducks netminder. Niemi was called upon to make a few more timely saves down the wire to preserve the winner,

Of note:
1. Ducks captain Ryan Getzlaf, who concussed our sweet young Radek Faksa at the World Cup this summer, geot 10 shots on net with nothing to show for it. Stupid poopy head.

2. Longtime Stars analyst Darryl Reaugh made his debut as the temporary play-by-play man. Overall, he was competent for his first outing, but it really does go to show how difficult it is to call a hockey game with as smooth a cadence as Dave Strader.

3. Tyler Seguin has seen very little game action the last five months, and looked light on his skates, but sloppy with the puck. But we're still expecting big things from No. 91 this season.

4. Shoutout to @tweetgrubes for debuting the Alice in Chains "Them Bones" remix in the arena during the game.

• Darkness Music at Colorado Avalanche, 5-6 .
If you would have sat me down, told me the Stars would ring up five goals against Semyon Varlamov, given me a kiss on the lips and told me the Stars would find a way to lose yet another contest against the Avalanche, I would have been incredulous! How could our heroes in Victory Green™ lose to the Avs for the seventh time in nine tries in colorful Colorado? How you gonna lose seven of nine at the Pepsi Center? After taking a two goal lead early in the first, the Avalanche avalanched Dallas. Led by 6-foot-5-inch Joe Colborne's hat trick, the Avs capitalized on defensive miscues and rebound opportunities. In true Texas Rangers fashion, however, the Stars #nevereverquit, crawling back into the game with yeoman's work, but in true Texas Rangers fashion, they done lost anyways.

The good:
1. Devin Shore scored his first NHL goal. The kid looks legit, not just because he buried a supple wrister against the devil incarnate, but looks speedy, and situationally aware, and even makes veterans like Patrick Sharp look better when they are on his line. That is tremendous praise IMHO.

2. Seguin and Benn looked much better in this tilt than the home opener. Everyone and their Apple MacBook project this dynamic duo to be among the offensive league leaders, as does the ineffable Brent Rambo.

3. Even without several key regulars in the lineup, Dallas can put up at least 4 against anybody, cheese and rice!

The Bad:
1. Goaltending. Niemi had an, excellent game 1, but a dull game 2. Lehtonen provided some relief after the starter surrendered goal No. 5. We won't beat many teams in the crease competition like this. Still, expect the Hollywood shuffle  to continue until we establish true No. 1 chicken tender.

2. Defense. Ah yes, we've heard about it for years. We sucked here. Jordie Benn is not a D1 defenseman, even though he started there for the second straight game. My theory as to why Jordie is on top pairing and Dan Hamhuis is on third is solely based on conjecture, but it's about conditioning. I don't think Hamhuis came into camp in that great of shape, while Jordie must have been drinking Four Lokos and snorting cocaine off the bathroom urinal after every burpee. It should go without saying, no matter how great Jordie is the weight room, he is only a marginal NHL talent.

3. Coaching. Yeah, like, what's up? Why can't Lindy Ruff and Co. find the right combinations in practice, instead of throwing the lineups against the proverbial wall during every contest? Must the team drop three goals in 10 minutes before they realize certain combinations 'aint working? It's early in the season, obviously, but I mean, what's up with that?
Unofficial Sega Genesis NHL 94 Player of the Week.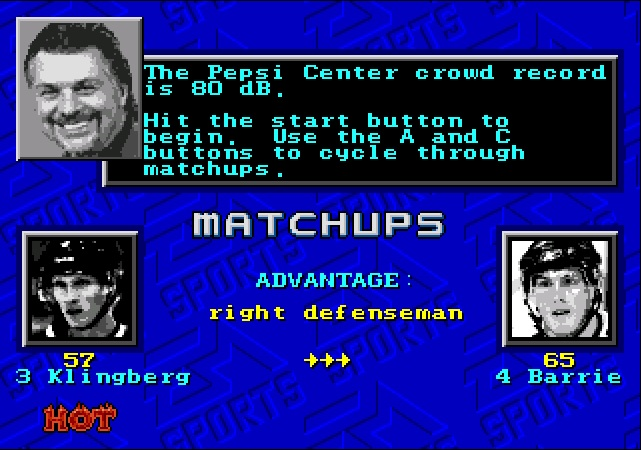 Honestly not sure why NHL 94 rates Klingberg so low, maybe because he was in his terrible two's at the time, but whatever.
John Klingberg may not have had a stellar opening week to the season, but the elite defenseman has already shown flashes of that all-world talent that no other defender on the roster seems to posses. How well the team performs the season will largely hinge on Klinger, whose snub from Team Sweden's roster during this year's World Cup should prove as a an incentive to the silky offensive defenseman.
This Week in Dallas Stars.
It's off to Nashville to take on the newly acquired P.K. Subban and the rest of the Predators on Tuesday. From there, Dallas will host the L.A. Kings on Thursday and will wrap up the hockey week on Saturday when the Columbus Blue Jackets visit the Lone Star State.
Corrections: Last year, Forechecking™ made The New York Times redact their slanderous liberal agenda garbage against Your Dallas Stars. It was a humongous mistake, I've never seen anything like it before, believe me. What we accomplished was very tremendous, it was huge. It's unbelievable what the haters and losers will say about us, because we are winners. We win so very much it's very very unbelievable, that's what people are saying and telling me and let me tell you, it's really, really something. Last week, we, along with many many many other publications, reported that Valerie Nichushkin had been demoted to the KHL minors after a disagreement with the coach. It was a mistake. Val is still with the big club and, by all accurate reports, doing very well. It was a disgusting and ugly mistake for that report to have been sent to us, and it was very brave of us, and very luxurious, for us to fix Obama's mistakes.
Flip it. Stick it. See ya later, bye. — LehtMoJoe
Cover photo via the Dallas Stars Facebook page.