In Its First U.S. Location, Argentinian Steakhouse Corrientes 348 Promises Something Different From Downtown Dallas' Many Other Steakhouse Options.
Corrientes 348.
1807 Ross Avenue, Suite 200.
Downtown Dallas.
Latin Americans have dining all figured out: Lots of flavor, with plenty of meat, potatoes, vegetables and salads shared family-style around a festive table. Perhaps that's why every night feels like a Buenos Aires Thanksgiving (if you can imagine such a thing) at Corrientes 348.
The new, family-owned Downtown Dallas restaurant is named after a street address in Buenos Aires that Argentinian singer Carlos Gardel once mentioned in a song. Whether you catch the reference doesn't really matter; you'll somehow feel Gardel's presence in the dining room as you enjoy your meal (the gigantic photo of him plastered to the wall helps).
It may seem a ballsy move to open up the first U.S. version of Corrientes 348 in Dallas — a.k.a. The Land of a Thousand Steakhouses — but this steakhouse is unlike most. Firstly, there's the smoke, which hits diners right in the nose upon entering the 10,000-square-foot space formerly occupied by Stephan Pyles' namesake. Also front-and-center is the bar, which offers a selection of both tropical and traditional cocktails — including several varieties of the classic caipirinha — as well as a sizable and well-curated wine list.
The menu is like that of a tapas restaurant — albeit one turned upside down. Instead of small plates, these Latin specialties are big, and they serve between three and six people each. Most dishes come in half and full portions, and are meant to be passed around and shared among family and friends. That said, while bringing strangers to Corrientes 348 may seem like a no-no, it's also perhaps the most surefire way to leave as friends — unless, of course, your new friend tries to snatch the last empanada.
The starters are headlined by vegetarian and beef versions of the aforementioned house-made empanadas, skillet-grilled provolone cheese, blood sausage, chorizo dishes and the velvety-smooth and yet delightfully crispy polenta. The salads are flavorful; they'll wake up your tastebuds to welcome the gluttonous meat fest that's sure to follow.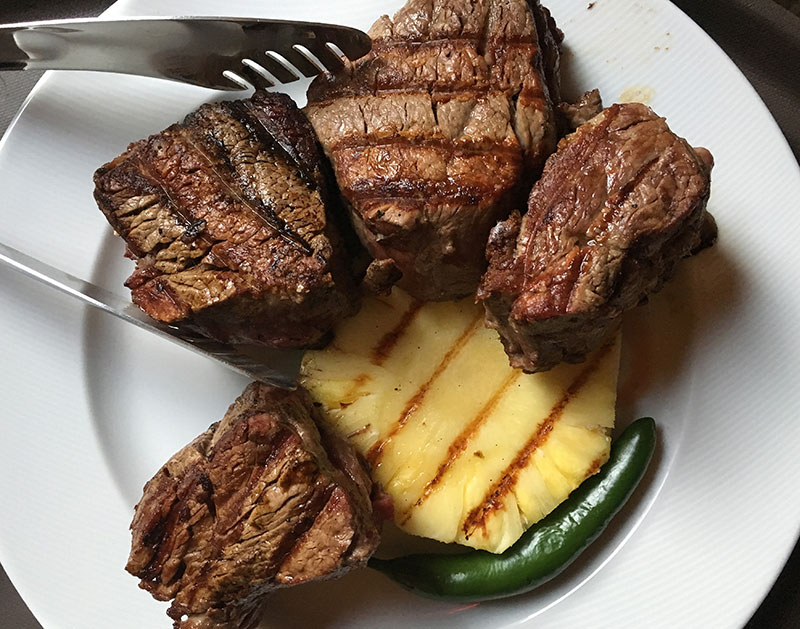 Speaking of meats: The ones on the menu here are varied in cuts and are all prime in quality. They uniformly come grilled to-order with delicious char from the big grill and, for the most part, are available in full and half sizes. Want to impress a table full of clients? Order the $75 bone-in Tomahawk, which gets rolled over to you on a cart and is then carved table side by a man whose singular function seems to be carving up big ones all night long. The Lomito Light, meanwhile, is a gorgeous piece of tenderloin that's served alongside juicy pineapple chunks. The lamb, on the other hand, is a succulent addition to any spread.
Really, from vegetables to fish to meats, if it sounds good, it will be: "The more the merrier" applies here; to food, wine, and to your tablemates.
Oh, and dare yourself to make it to dessert. If you do, you'll be rewarded with crepes — some stuffed with sweet, sweet dulce de leche, and others bruléed and topped with cinnamon, bananas and ice cream. Then loosen your waistband a bit and finish that bottle. You've earned it.
Corrientes 348 is open for lunch from 11 a.m. to 2:30 p.m. on Monday through Friday. Dinner services runs from 5 p.m. to 10 p.m. on Monday through Thursday; 5 p.m. to 10:30 p.m. on Fridays; 4 p.m to 10:30 p.m. on Saturdays; and from 1 p.m. until 8 p.m. on Sundays.