For The Founders Of Bestow Blooms, Dallas' Own Real-Life Flower Crown Maker, Finding Beauty In Everyday Life Is A Must.
No longer do Dallasites have to rely on Snapchat filters their flower crown selfie needs. 
That's thanks to Ashley Scheller and Alexia 'Lexi' Tellez, who together founded Bestow Blooms, a first-of-its-kind in Dallas service that makes and delivers custom-made flower crowns to its customers. Bestow Blooms specializes in making one-of-a-kind, handcrafted woven headpieces using fresh flowers from local florists and markets. The duo also offers a workshop service where they teach people how to craft flower crowns.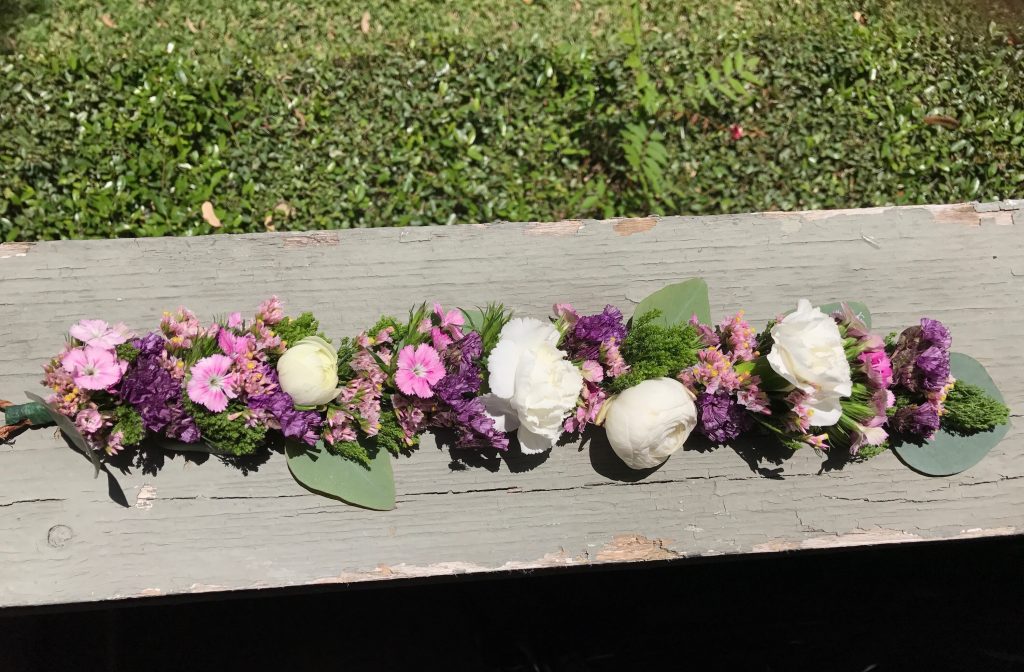 And business has been a-bloomin' for the pair of late, who met their six-month goal two months after starting Bestow Blooms back in May by selling 80 crowns, hosting 10 events and landing a featured vendor spot at the Commerce Street Night Market on July 28.
"We didn't realize how much of a reaction we would have from so many people," Tellez says. "That's what is inspiring us to keep our business going."
Bestow Blooms' business model is pretty straightforward: The company aims to take inspiration from the beauty of everyday nature and to reap the benefits — their crowns cost between $56 and $71 each — from Snapchat's flower crown filter that swept up selfie lovers all over the internet.
"It's a gift that will make someone feel a lot more special than giving someone a traditional bouquet of flowers," Scheller says. "Not only is it a unique gift to give someone that is memorable, but they will feel confident whenever they wear it."
Central Track recently sat down with Tellez and Scheller to talk about Bestow Blooms' success, the creative process, and what the future holds for the flowering business.
I know that you guys were founded in Dallas, but how did the idea of Bestow Blooms become?
AS: It stemmed from Lexi's idea. Around Valentine's Day this year, she wanted to get her single girlfriends some gifts but she couldn't find anything unique enough and she didn't want to get those traditional bouquets that are way overpriced to deliver — it was just way over budget. Weeks later after that, she gave me a call and was like "Hey, I wanted to talk to you about this idea I have in mind and I just want to bounce it off your head." And so she told me, "What if we started this company that specialized in flower crowns?" Really that's how we came up with it.
LT: We had the idea of making the flower crowns a business in March and got everything sorted at the end of April. We hit the ground running as for as creating our logo, getting our website up, getting some photo shoots of our products. Officially, we have only been a local Dallas business for only about a month now.
The question has often been raised about your products resembling real-life Snapchat filters. Is this an inspiration that you guys take in consideration?
LT: Yes and no. The reasons why we chose flower crowns was because I knew that one of my friends loved to take selfies and it made her feel very special. And I thought, "Someone [in Dallas] must make them!" Flower crowns are done in flower shops ,but they have to be made ahead of time and you have to notify them a week in advance for just special occasions like weddings and bridal parties, so most people don't think to go ahead and order those. So I knew it would be perfect because I knew that local florist flower crowns are a lot more expensive and time-consuming. So I actually accidentally made one that looked like a Snapchat filter and I wore it one day just to see how people would react and everybody was like, "Oh my god, you look like the Snapchat filter!" I thought eventually that we should definitely add that element into our product shots.
Was this a mutual creation?
LT: Yes, that's why it's so easy and fun to work with [Ashley] because we're both inspired by crafts and by nature and we needed something to get out of our 9 to 5 work life. We wanted to have fun and do something for others.
AS: Seeing the reactions of people who get the crowns is probably my favorite part, too. I even think I am happier than they are.
LT: Sometimes we get a little flustered and wonder if we are doing the best that we can. We lose our confidence and everyday we think if what we are doing is okay and every single time we are blown away by the reaction. It's just all worth it and we're going to continue to do this because this is exactly what we want to do for people and what we have fun doing ourselves. With time, when we get more confident with our designs that they're going to become more unique.
Where do you guys stem most of your inspiration from?
LT: We saw a lot of crowns online that were all in tropical regions like Mexico, Hawaii, all over the world. They would make their crowns with a braiding technique and I thought to myself, "That's weird nobody in Dallas makes these," so I researched places and I found out that they don't make it in this sort of way with wire and floral tape. So we started experimenting, learned how to make them and came up with this unique idea of doing these for parties. Entertainment in another light. There's so much to do in Dallas, but sometimes it's just the same kind of stuff.
Do you guys plan on becoming a brick-and-mortar store anytime soon?
AS: I don't know about soon, but I would love to open one. That's the end goal — for this to take off and it would be our full-time job. But then again I want to be smart about this and have security. But for right now, it's slowly looking up.
LT: We are definitely considering it. We don't really have a time limit for it right now, though.
How many orders have you guys gotten since you guys officially started selling your products?
LT: I would say about 50 personal deliveries per month.
AS: Well, everybody in our lives closest to us are so supportive, even at my full-time job at [staffing agency] High Profile in Dallas. I've placed at least four or five orders just with my co-workers. We're really trying to push going to small venues, like little Dallas markets. So just trying to getting out there and seeing what our market is and what we should hone in on. But right now it's just babies, weddings, birthdays.
What kinds of styles do you guys incorporate into your designs?
AS: The style of the woven technique is traditionally called Haku Lei — we like to call it woven-style, though. It's really unique nobody else does this in Dallas. It's a bit lighter, easier to wear, and you don't have to worry about wires or tape.
LT: We are really looking forward to next year because right now we're kind of taking it slow and just building as we go on.
AS: All of our products are custom. So you can make it as big or as small as you want it. But we do hope based on the styles our customers see on our website that they trust us with our creative abilities.
How long do the flowers last?
LT: I would say about 3 days to a week. But the more and more that we make them and we have to transport them, I would think they would die or dry out, but as time goes on, I find that they're still super fresh.
AS: After I had made two baby crowns, I found that they were still really fresh after 3 weeks. So I honestly feel that if you keep it in a closed Tupperware container in a fridge, they'll be OK. We also give care tips for those who are using them for special occasions. Depending on the flowers, you can just mist them lightly with water and wrap them in damp paper towels, and when you use this technique they still look and smell really fresh after weeks of being made.
LT: Honestly, the sturdier the flower that is being put on the crown, the longer that it's going to last.
What special events do you guys host?
LT: There's two different events that you can do with us. One is workshop. Right now, we're not brick-and-mortar so we go to the venue of your choice whether it's your house or wherever it may be. Then we bring all the supplies. Lex and I will be there, and you can make it into a girls night. If you're familiar with those places where you can paint and drink wine, the flower crown workshop is just like that. It can be a fun little bridesmaids party. Then the other event is just a flower crown bar. We would have a couple of the materials and then you would just tell us what you want and you would just enjoy yourself at the party and we'll be making the crowns as the night progresses.
For what occasions and events do you sell flower crowns?
LT: I think what we're trying to do is kind of establish ourselves with the personal deliveries for special occasions. We've done some for bridal parties, baby showers, birthdays, photoshoots. We just want to make sure people really get our concept, but we have so many ideas we want to venture out to. For example, wreaths with monogrammed letters that we can deliver. Just different ideas you can't find at your local florists, and have people going, "That's a good idea!" or "I've seen that on Pinterest!" or have them questioning where they can order it. Well, they can order it with us. I want to get there eventually. I think we want to be fully established by the end of the summer and beginning the fall with more products. But I want to be able to get the concept across that we do deliver and we do do events and parties. Once we have that down, I think that's when we can let our creativity run wild.
What are your plans for Bestow Blooms in the future?
AS: I would say to expand our products. We're not trying to compete with traditional florists but instead trying to come up with a floral gift shop, hence the name bestow — so, to give blooms. Flowers bring people joy. Whenever you think of flower crowns, you think hippie or Coachella or country whimsical — but I want it to be where everybody can wear it. We've experimented with so many styles, even for guys. We're just trying to make any special occasion in your life more special with a flower crown.