Dallas Police Twice Evacuated A Massive Call Of Duty: WWII Competition At The Convention Center Over The Weekend Due To Bomb Threats.
Threat of real-life danger twice halted the simulated violence at the Kay Bailey Hutchison Convention Center in Downtown Dallas this weekend as 800 or so gamers were racking up kill streaks during a three-day Call of Duty World League event.
The first halt in play came at right around 4 p.m. on Friday, after someone called in a fake bomb threat to Dallas police, alleging that they had placed two backpacks full of explosives around the convention center, forcing police to evacuate the building.
After police swept the building and found nothing, event organizers announced via Twitter that they would not be resuming the rest of scheduled gaming programming for the night, instead delaying the resuming of play until the following morning.
CWL Dallas will not resume this evening and will continue as scheduled on Saturday December 9 at 10am CT. Doors open at 8am.

— Call of Duty esports (@CODWorldLeague) December 9, 2017
But after Saturday's programming went off without a hitch, police received another bomb threat on Sunday at around 3 p.m., again forcing police to evacuate the convention center. Further complicating matters was the fact that the convention center was also hosting a cheerleading competition at that time.
While it wasn't immediately clear what was going on, a quick search on Twitter yielded some possible answers.
A Twitter user going by the name @SWAutTstic appeared to claim responsibility for making the hoax calls in a series of tweets, seemingly taking joy in having interrupted the massive gaming session — with a prize pool of $200,000 — going on at the convention center.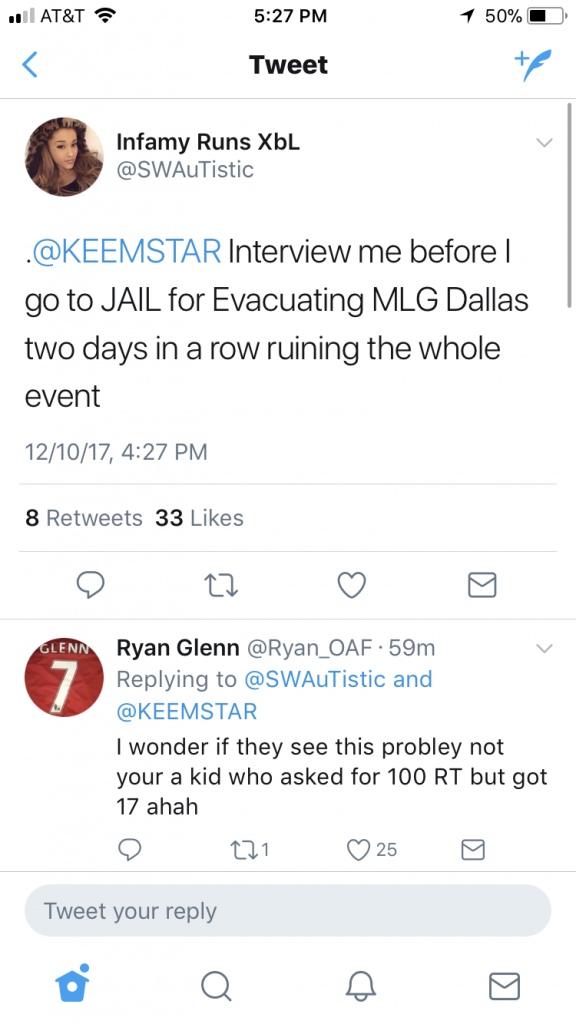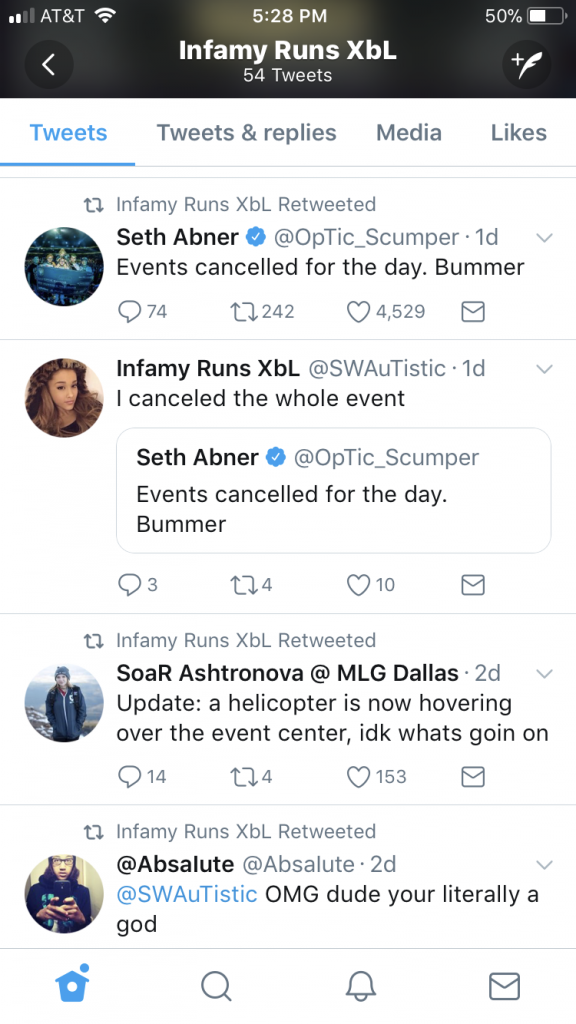 The City of Dallas appeared to take notice of this account too, as a couple of other Twitter users brought it to the attention of whoever runs that account.
Thank you. We are looking into it.

— City of Dallas (@CityOfDallas) December 10, 2017
Sergeant Warren Mitchell of the Dallas Police Department's public information office says that DPD is aware of the Twitter account, but would not discuss any further information on the case.
"We are aware of [the account and its tweets]," Mitchell says. "Our intelligence unit is aware of it. We've seen the Twitter account and the information."
It doesn't appear as if this is the first time this particular Twitter account has been involved in circumstances like these. The account appears to be connected to a man named Tyler Barriss, who was arrested in October 2015 for making two fake bomb threats against an ABC News station in California.
Then again, this being the internet, everything must be taken with a grain of salt. And it's possible that the troll being these tweets could just be using Barriss' photos.
One thing we do know for sure is that gaming was able to resume play on Sunday night, and that Team Kaliber was crowned the winner of the first Call of Duty: WWII event of the season. Over the course of the season, Kaliber and its competition will be playing for a combined pool of $4.2 million in prizes.
Cover image via Call of Duty Facebook Page.