As Dallas Police Struggle To Find Answers In The Wake Of Ongoing Violence, The Black Trans Community Rallies Together And Pools Its Resources.
More than 60 community members packed into a donated Downtown Dallas workspace on Thursday evening as the Black Women's Defense League hosted an event it had called an "Emergency Community Meeting to Keep Black Trans Women Safe." The meeting was scheduled after a string of violence against trans women of color in Dallas, including the recent deaths of Chynal Lindsey and Muhlaysia Booker. 
"I don't know about you, but I am scared as hell," meeting co-organizer Carmarian Anderson — a trans woman herself — told the room. "I wanted to go get bread [from the grocery store] last night… but I couldn't get bread — because I was scared."
For trans people in Dallas, this kind of fear didn't begin with the death of Muhlaysia Booker. It's a concern some of them carry every day, an inherent part of their entire existence.
Explained attendee at the meeting when the floor was opened to discussion: "I don't mean to make light of people losing their lives, but this is just kind of the way it is all the time. So, for this sudden attention, OK that might be a positive thing — [but] it kind of pisses me off,"
In fact, violence against trans people saw a huge rise across the country in 2018. In many cases, that violence appears targeted: The Human Rights Campaign found that last year, trans women of color overwhelmingly accounted for at least 82 percent of deaths among trans people in the U.S., with 64 percent of those victims being under the age of 35, and more than half of them being citizens of the American South. The HRC notes that it uses the term "at least" in its studies because of the very real possibility that its data is incomplete — due either to unreported deaths or to police departments (the Dallas Police Department included) and media outlets using these victims' dead names in their reports.
To that end, Black Women's Defense League founder Niecee X, who organized the Thursday evening event and identifies as non-binary, stressed the importance of education that LGBTQ allies can promote in order to help.
"Ignorance cannot be excused when people's lives are at stake," X said after the meeting concluded. "Education [of others] is something that people need to take upon themselves to start to amass and look at their friend circles, so that we're not only coming to the rescue when someone dies, but that we're looking at ways we can be of service and assistance."
Anderson, who is the founder of the Dallas-based advocacy organization Black Transwomen Inc., says a lack of resources contributes to a laundry list of barriers for black trans folks, which makes them even more susceptible to being at risk. Because of this, Anderson and the likeminded Black Transmen founder Carter Brown have teamed up to create a joint entity called Black Trans Advocacy Coalition that aims to provide a hub for ideas and solutions to help the black trans community in Dallas.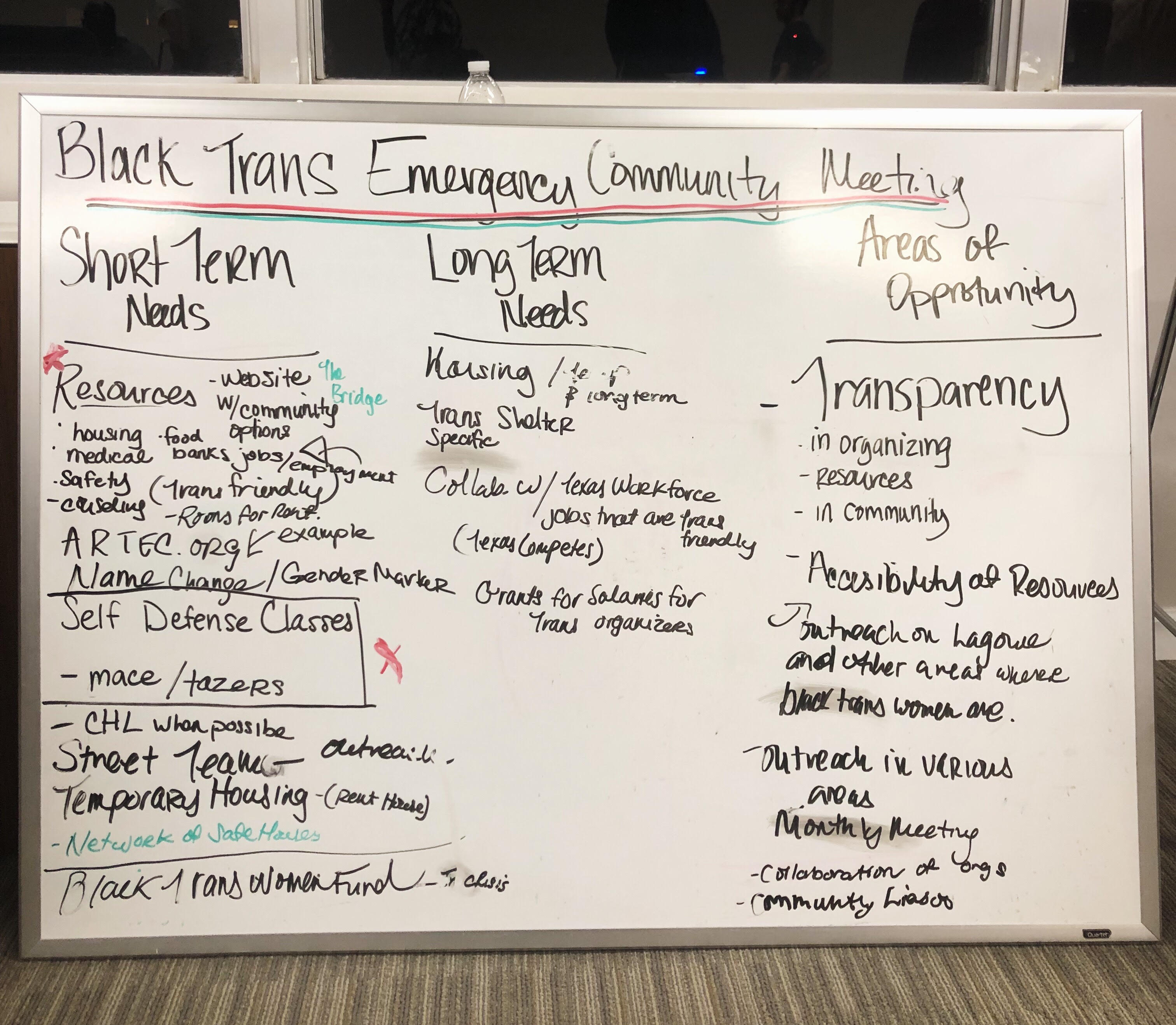 Thursday's meeting was, in part, a means of collecting such information. Community members in attendance came to the gathering ready to provide contact details for self-defense classes, temporary housing, employment opportunities and other resources that trans people in Dallas can access — including a number that many in attendance were unaware of previously.
"They were helpful in the sense of getting us connected with people in the community that we didn't know existed," said 22-year-old DeAmber, a non-binary attendee of the meeting who asked that we not use their last name.
Another attendee we spoke with expressed disappointment in the fact that it took death to bring an event like Thursday's together, but was glad that her voice was finally being heard.
"I feel more powerful than ever at this time," said Jazmine, a trans woman who counted Booker as a close friend and who also asked that we not use her last name.
With a similar sense of self-worth being championed at on Sunday, June 9, as the Dallas chapter of the LGBTQ collective QueerBomb hosts a #BlackTransLivesMatter march at the Resource Center in Oak Lawn, Jazmine is hopeful that, through hard work, those at Thursday's meeting can start building a better future for trans people in Dallas.
"After the death of Muhlaysia, I feel like she wants me to do this," Jazmine said. "I just have to do it."