What Did Saturday's Dallas Ain't Dead Event At Deep Ellum Art Company Prove? That Dallas Ain't Lacking Ambition; Just A Little Order, Is All.
Twelve hours long. A whole gang of vendors, as we've seen at this spot before. Two stages — one indoor and one out back. Somewhere between 75 or 80 acts.
That last point is the most important: Saturday's rap-dominant Dallas Ain't Dead event at Deep Ellum Art Company was, by any estimation, booked as if it were a war of attrition — a seemingly calculated choice on the part of the newcomer event promotion companies behind it, Good Game Talent and Party Plug.
Didn't start off that way, though. When initially announced, the festival only — "only," lol — boasted nine acts; but by the time promoters released the set times for Saturday's deal, the thing had expanded by a factor of at least eight. In turn, it threw away some of the potential this event could've had given the strength of its earliest-confirmed performers — perhaps as a quarterly series? — and instead became something… else.
It became, well, just a lot. Take a breath, and check this schedule out: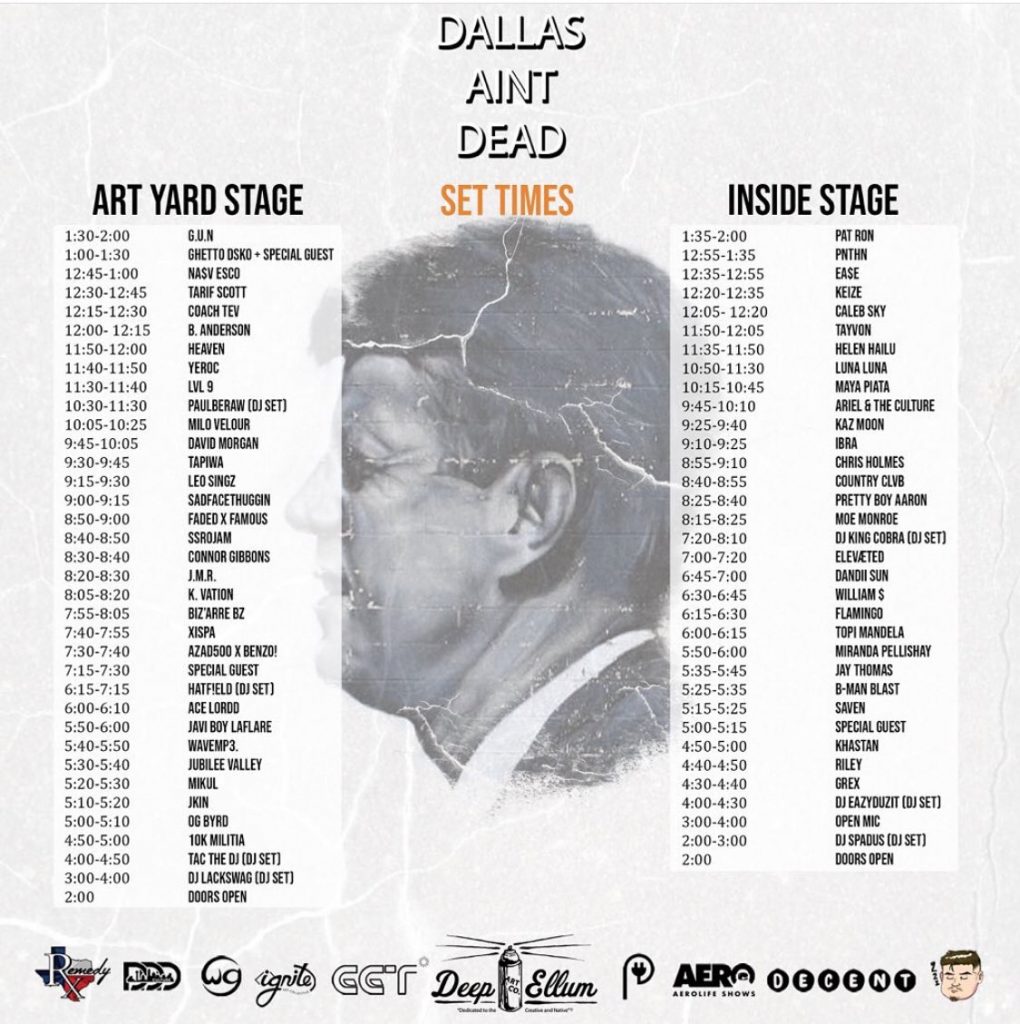 Didn't even read the whole thing, did you?
See! Wars of attrition have their pluses and their minuses.
On the plus side, it definitely guarantees you a strong turnout, right? Even if every act on the bill only draws one friend or fan to see them perform, you're still guaranteeing yourself a turnout of at least 150 (not all of them paid, granted) in the building should you book this many performers. On the flip, while it raises your basement, it also hurts your ceiling: By 9:30 on Saturday night, Deep Ellum Art Co.'s security staff was turning potential attendees away at the door, and not necessarily because there were no more tickets to be sold; rather, it was because the venue had hit its capacity (presuming that everyone on the list was either already in the spot or on their way, which, well, they probably weren't).
Back to the positives of the many-musician strategy: With so many performers, you can be fairly confident — even on a bill where many of them are fresh faces with only a handful shows under their belts — some of the acts on the bill are surely going to be at least pretty decent! You know those old sayings about blind squirrels and broken clocks? The same is true of music festivals with over 50 acts; sure, odds are a handful of them are on the better end of "not bad." For its inherently pessimistic (or needlessly contrarian?) name, Dallas Ain't Dead — credit where it's due — sure had lots of solid acts on its bill. Problem is, most of them were only given 15 minutes to shine — presuming, of course, it only took the zero-minute time slotted for set changes in advance of those limited moments in the sun.
The better, more experienced, bigger-name acts on this youth-oriented bill were rightly given more time on stage at the very end of the night — and none more deservedly so than Oak Cliff pop-rock band Luna Luna, which first came onto our radars just about exactly one year ago. Over the course of the last 12 months, Luna Luna has blossomed into one of the most exciting young bands in the city. The band's the real deal. And, on this night, no other set — not rapper David Morgan's impressively equal parts flippant and studied approach to his audience; not Kaz Moon's surprisingly introspective on-stage recreation of his bedroom pop studio — better encapsulated what Dallas Ain't Dead could've been in comparison to what it was: When the Oak Cliff band, donning matching pink suits, took to Deep Ellum Art Co.'s indoor stage, they did so in front of the day's biggest crowd of all. Many in the crowd also told us they'd bought tickets to the whole thing solely for this performance — as if that weren't obvious on sight alone.
It didn't take 12 hours for one to agree with this event's thesis; rather, the 30 minutes when Luna Luna was on stage is all it took to realize Dallas is l-i-v-i-n. The other 11 and a half hours? Well, they easy could've been condensed to half, if not even significantly less, time than this event somehow thought it needed to prove its point.
A narrowed scope would have other benefits: More attendees would be willing to even try staying for the whole thing; the bar of overall quality for the performers on the night would've inherently been raised; and, for the organizers, the production would've been a simpler and less stressful beast to tame.
Seems the people behind Dallas Ain't Dead left Sunday realizing at least that much. Following what was just Good Game Talent's second-ever event, company owner Jonathan Olmos Rangel reached out to Central Track to note that he'd "learned a lot" and will "be making this [event] a series" moving forward.
(We may have drunkenly spilled our thoughts his was on our way out the door.)
That's good! And those future Dallas Ain't Dead events seem well worth anticipating; for all that could've gone wrong on a show with 75 — or even one with (gasp!) performers of a certain genre — the show seemed to run with an impressive smoothness. The event just tried to be too many things at a time, allowing its admirable ambition to elbow good sense too far out of the way. Like so many young promoters before it, the ones behind this event just forgot for a moment that, with few exceptions, less is more.
One of the exceptions, though? How often people need to be reminded of the Dallas music scene's strengths before the message sticks.
That's a position that needs to be reaffirmed regularly, I've learned.
See, a single, emphatic beat isn't what you want when searching for a pulse. It's a sustained, manageable rhythm that indicates true health.