Bet The House Masterfully Fills Denton's Great Big Barbecue Void.
Welcome to Cued Up! In this new feature, we'll bust out the wet naps and get elbows deep in sauce in order to find what makes the region's best barbecue spots tick. We don't just want to know what makes their 'cue so damn delicious, though; we've got to cut down to the bone of these pitmasters to learn what makes each one of them so special — and why they've dedicated their lives to one of the most fundamentally Texas cuisines.
This week, we chowed down on Bet the House Barbecue.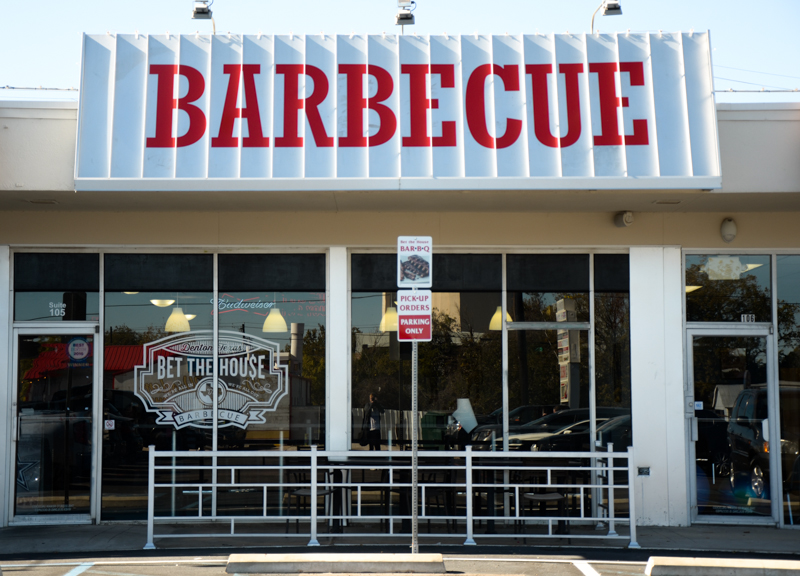 Fast Facts on Bet the House Barbecue.
Where: 508 South Elm Street, Suite 109, Denton.
When: Tuesday through Saturday from 11 a.m. to 8 p.m., and Sunday from 11 a.m. to 3 p.m.
Seating: Not too hard to find a spot.
Line Speed: Can get long, but stays pretty fast.
Woods Used: Post oak.
Overview.
Bet the House Barbecue stands on South Elm Street, not far from the Denton town square and this little hole-in-the-wall barbecue joint is serving up some of the best smoked meats in town. Bet the House is bringing some Central Texas style to Denton, and its residents can't get enough. The guys at Bet the House Barbecue like to keep things simple.
"It's just strait forward fresh food that we cook every morning," says co-owner/co-pitmaster Shawn Eagle. "When we run out, we run out."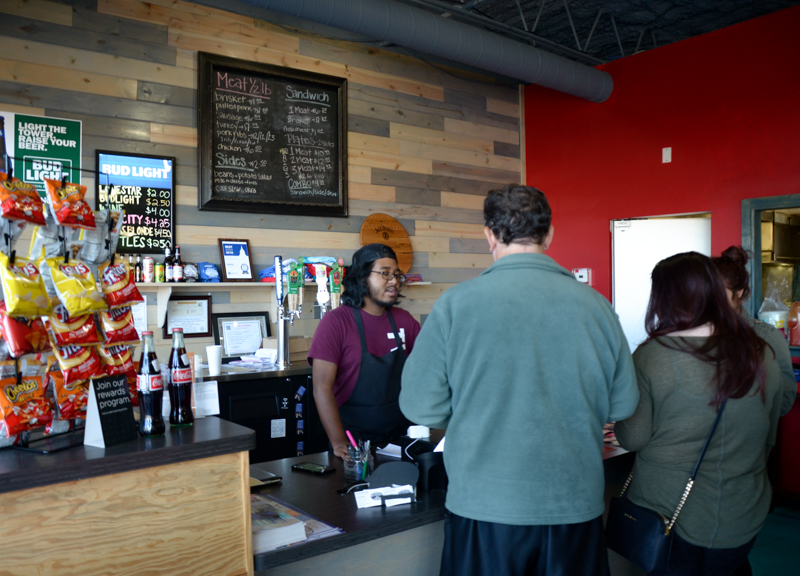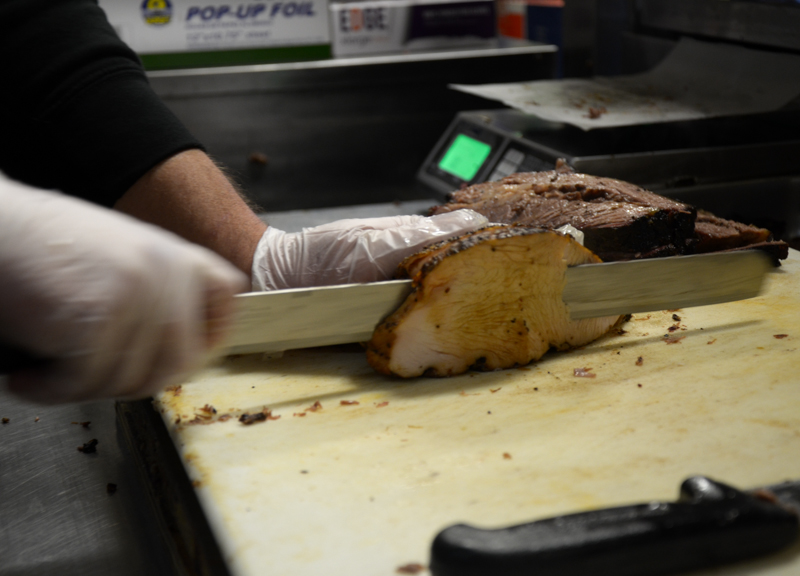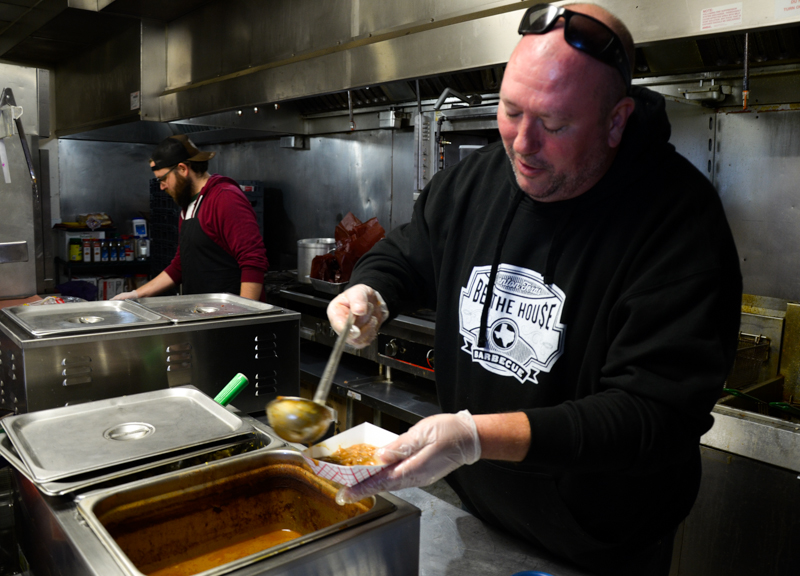 Some History.
Bet the House Barbecue was started in the backyard by two friends, Shawn Eagle and Cody Smithers. Both Shawn and Cody had some prior experience with barbecue, however, it wasn't until Smithers received a smoker for his birthday that the guys really started down the pro barbecue path. After receiving the smoker, the guys quickly started putting it to good use, smoking briskets and racks of ribs for friend or family. And it didn't take them long before they started getting pretty good on the pit — so good that they decided to try their hands at competition barbecue. During this time,  the guys really started to prefect their style and build a name for themselves.
"Its Central Texas barbecue, from where I'm from," Eagle says.
He and Cody did the competition thing for a while but, naturally, they eventually took the next step into catering parties and events around Denton. They stared out small, only smoking one or two briskets a month, but that didn't last long. Before long, says Eagle, they went from catering maybe once a month, to once a week. At that point, the guy started throwing around the idea of opening a place of their own.
"The idea kind of hit us that Denton didn't have any barbecue in the way that we could do it," Eagle says. "We just kind of saw that void in Denton."
After finding the right location and setting it all up, Shawn and Cody were still working just to get the doors open and decided to go the crowd-funding rout. The Bet the House Kickstarter met its goal and in June of 2013, and when it opened its doors for the first time they realized that the "void" for good barbecue in Denton was even bigger than they first thought.  Not long after opening its doors, Bet the House already had to move to a bigger location to accommodate all of the business.
"We put everything we could into it and, luckily, when the doors opened, business was good," Eagle says.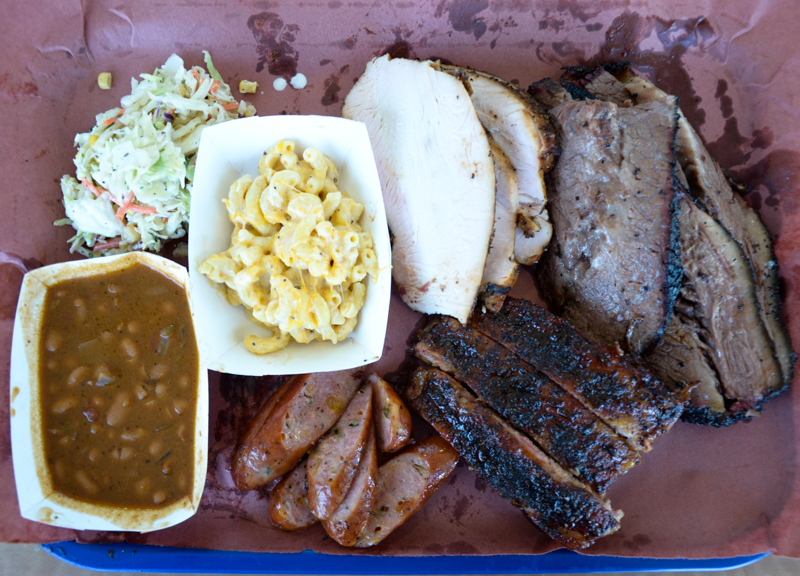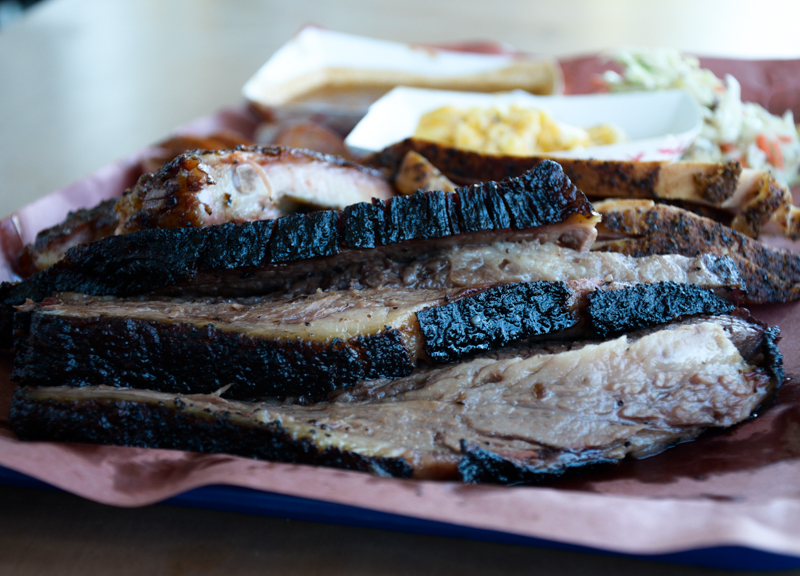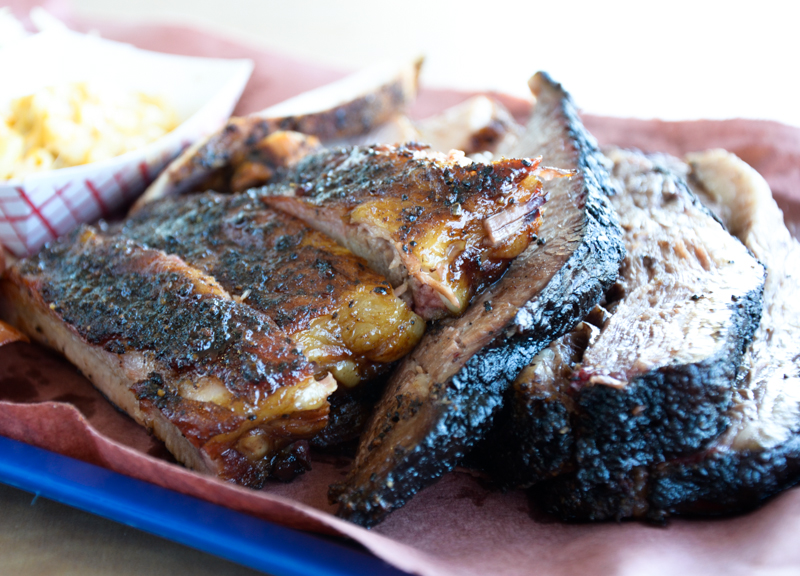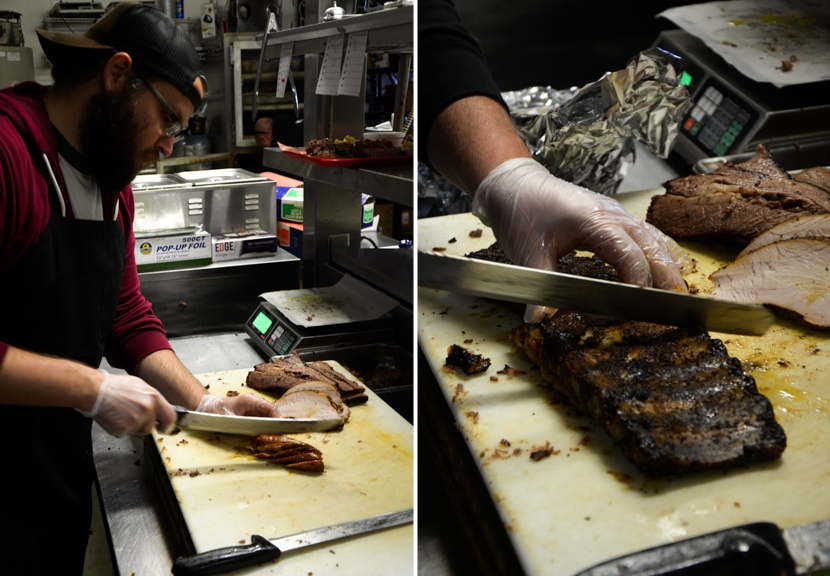 The Pitmaster and His 'Cue.
Shawn Eagle and Cody Smithers both have experience with cooking, however, neither of them set to get into food as a career. Even to this day, both have jobs outside the barbecue house — Shawn teaches special ed at a local high school and Cody is a senior data analyst for the Star Telegram.
Just like everyone that's in to barbecue business, that passion for food started somewhere. Growing up, Shawn's grandparents had a farm outside of Austin. He would help them during the picking seasons and the older guys would bring a few briskets, trim them up and throw them on the pit before going out to work. By the end of the day the food would be ready.
"That was the first thing that kinda stoked my fire about barbecue," Eagle says.
Long before Shawn was smoking professionally he would bring briskest to parties, and was always cooking with his friends.
"We would make food, and people would be like, 'Damn that's good!'" he says.
Both of the guys are inspired by the old school style of Central Texas barbecue and keep to some of those traditions; Bet the House mainly uses post oak and only rubs its briskets with salt and pepper. The brisket itself is tender with a nice ring of smoke and a bark that complements the flavor nicely. The ribs are little more complex, they have a sweet and spicy flavor that is enhanced by the smokiness of the oak. Every link of the regular and jalapeño cheddar sausage comes from Fishers Meat Market and Grocery in Muenster, Texas.
Bet the House has all the sides one would expect to find on a barbecue menu. The potato salad is Shawn's wife's recipe that tastes like something like grandma would make. They have a stuffed baked potato for the really hungry barbecue eaters.
Just because the menu is simple doesn't mean they are still experimenting with new ideas in barbecue. Bet the House has two kinds of barbecue egg rolls, one with pulled pork and mac and cheese and another with brisket and coleslaw. Both are served as special dipping sauce.
Bet the House may be centered on a classic Central Texas style, but the guys are still perfecting their barbecue.
Says Eagle: "We are constantly evolving. We are constantly just striving to get better."