18th & Vine Is An Elevated Take On Kansas City-Style Barbecue.
Welcome to Cued Up! In this new feature, we'll bust out the wet naps and get elbows deep in sauce in order to find what makes the region's best barbecue spots tick. We don't just want to know what makes their 'cue so damn delicious, though; we've got to cut down to the bone of these pitmasters to learn what makes each one of them so special — and why they've dedicated their lives to one of the most fundamentally Texas cuisines.
This week, we chowed down on 18th & Vine BBQ.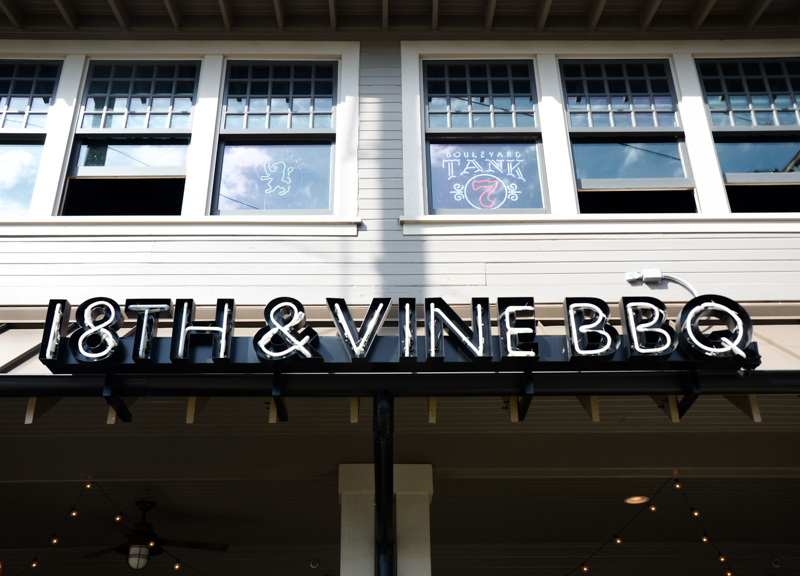 Fast Facts on 18th & Vine BBQ.
Where: 4100 Maple Avenue.
When: Sunday through Wednesday from 11 a.m. to 10 p.m., and Thursday through Saturday from 11 a.m. to midnight.
Wait Time: Around 15 to 20 minutes when it is busy.
Woods Used: Oak, hickory, maple, cherry.
Overview.
18th & Vine sits on Maple Avenue, just on the edge of Uptown. Since opening in the fall of 2015, this hip little barbecue joint has prided itself on doing things a bit differently. For starters, Matt Dallman and his team take a modern approach to classic Kansas City barbecue — a style that's a little different from the norm around here. Beyond that, their spot is also a full service sit-down restaurant and bar — with waiters and everything! — that serves brunch, lunch and dinner menus in a setting that takes inspiration from the historic jazz district in Kansas City. Furthermore, the upstairs bar called The Roost opens at night to offer an intimate jazz lounge experience that features live music and its own menu.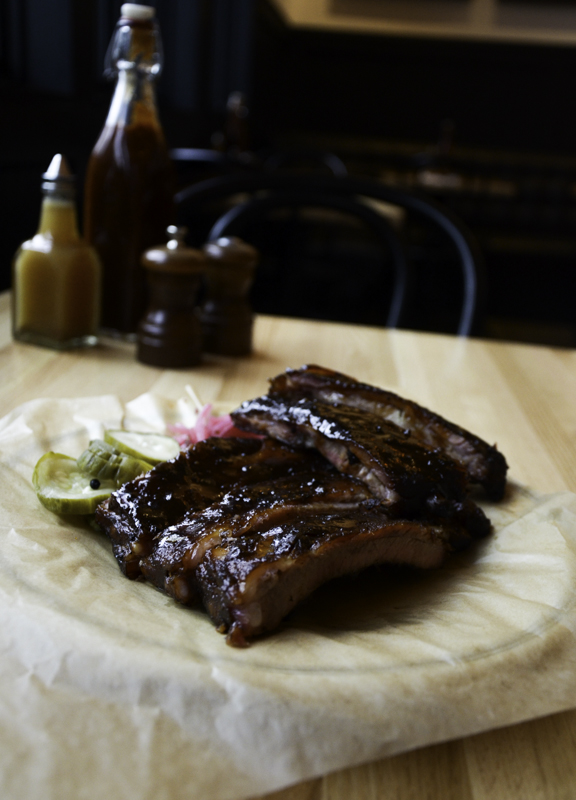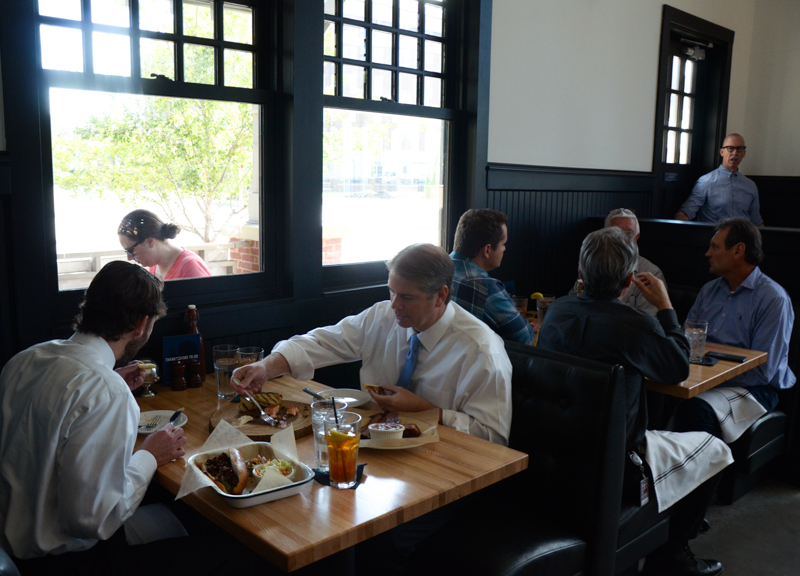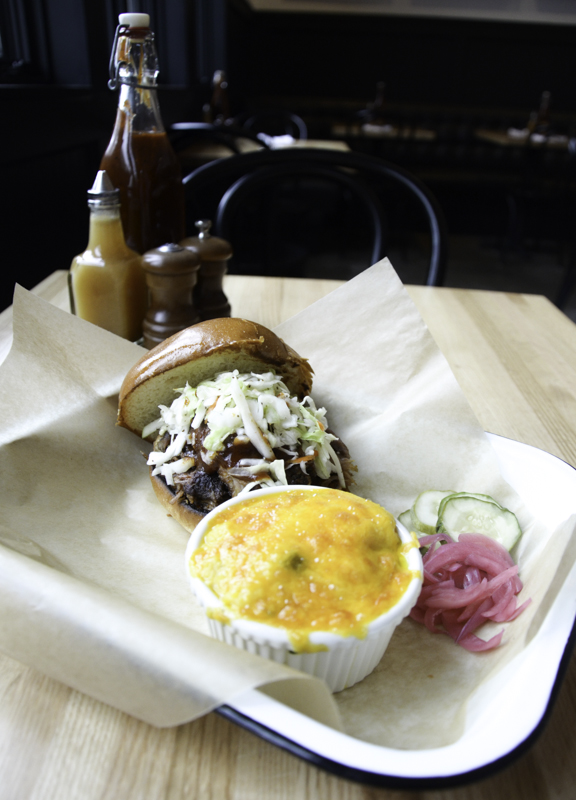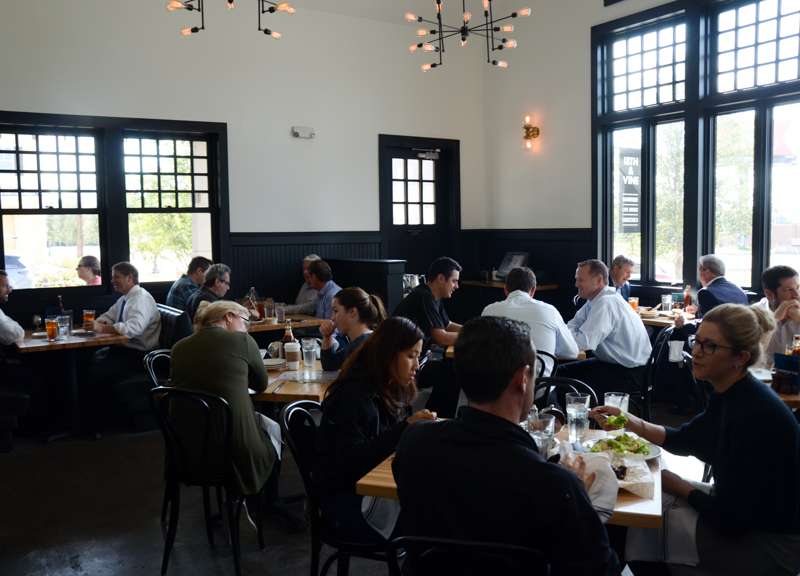 Some History.
Matt Dallman found his way into barbecue like most of the self-taught pitmasters out there: It was something he loved that became a more than hobby. Coming from Kansas City, a place known for some of the best barbecue in the world, Dallman was, naturally, always a fan of the cuisine. After meeting his wife Kimi and moving to Dallas, though, Dallman started to miss the barbecue he'd always had back home. As fate would have it, Dallman found an old smoker and decided to fix it up, and it wasn't long before he was trying to recreate the flavors of home on his own. Around that same time, Dallman was working in a youth ministry and would test his barbecue skills on the kids he worked with — an audience that he describes as a "forgiving" one.
But as Dallman started getting more and more into barbecue, he started settings his sights on the cooking contests like Kansas City's famous American Royal barbecue competition — otherwise known as the quote-unquote World Series of Barbecue. That aim gave him a new direction in his ventures.
"In competitions, you try to get as much flavor into each bite," says Dallman. "The competition style is what I like to bring to the table."
It wasn't long before the Dallmans started a catering business, with designs on eventually opening up a full-time barbecue spot of their own. After planning a few different concepts, the Dallman's eventually teamed up with classically-trained chef and Dallas native Scott Gottlich, whose restaurant Bijoux was once named Bon Appétite's Top 10 Hottest New Restaurants in America list, to launch 18th & Vine.
Now, by combining the Dallmans' competition style with Gottlich's classical training, 18th & Vine looks to take barbecue to a new level.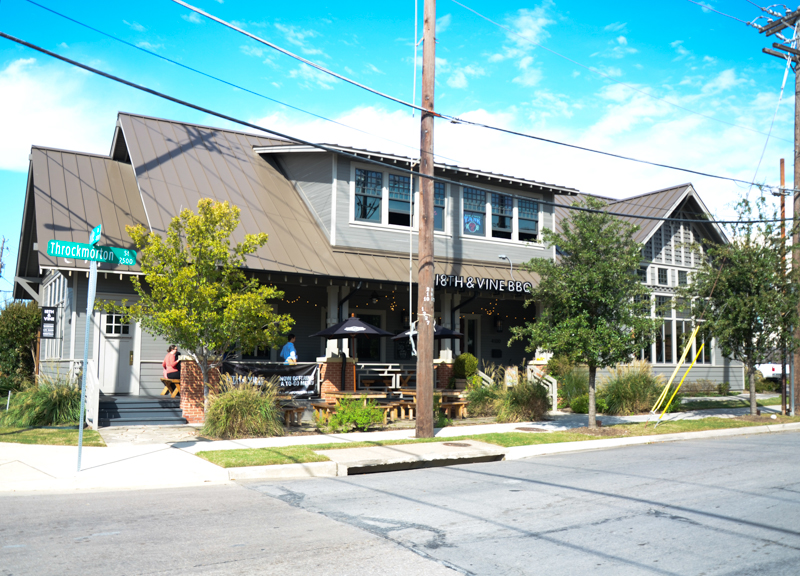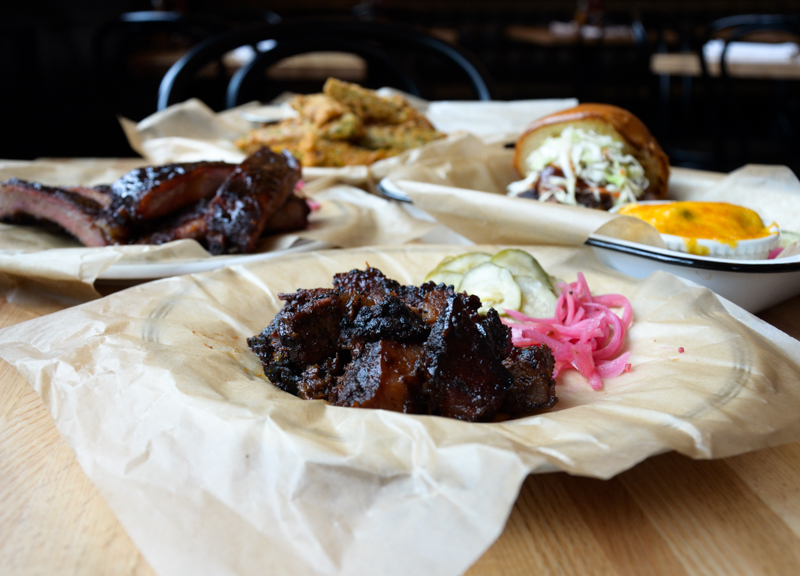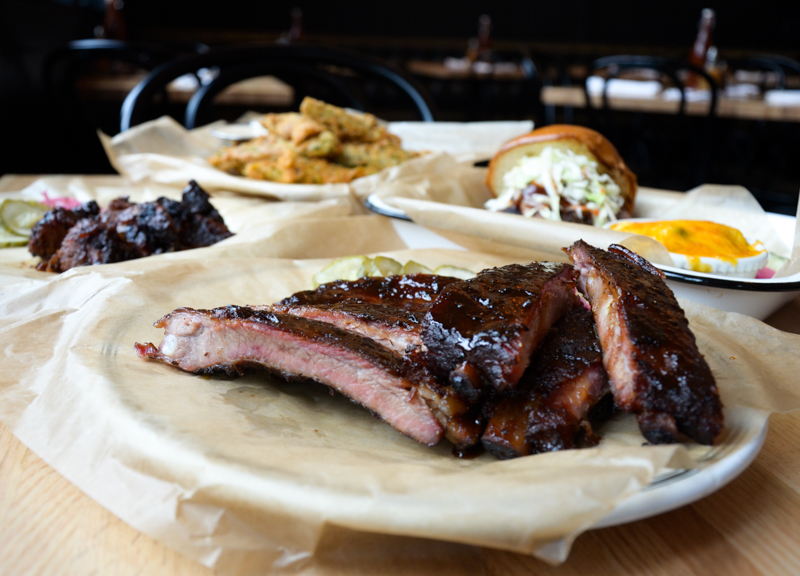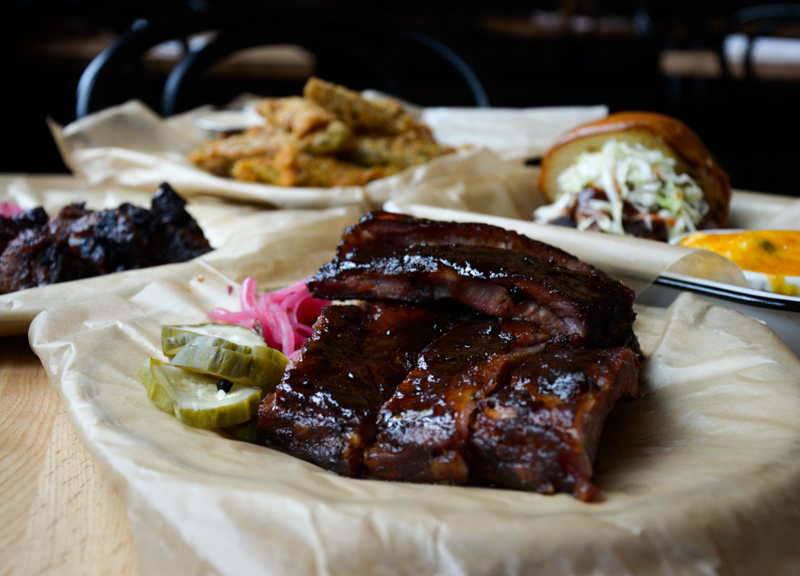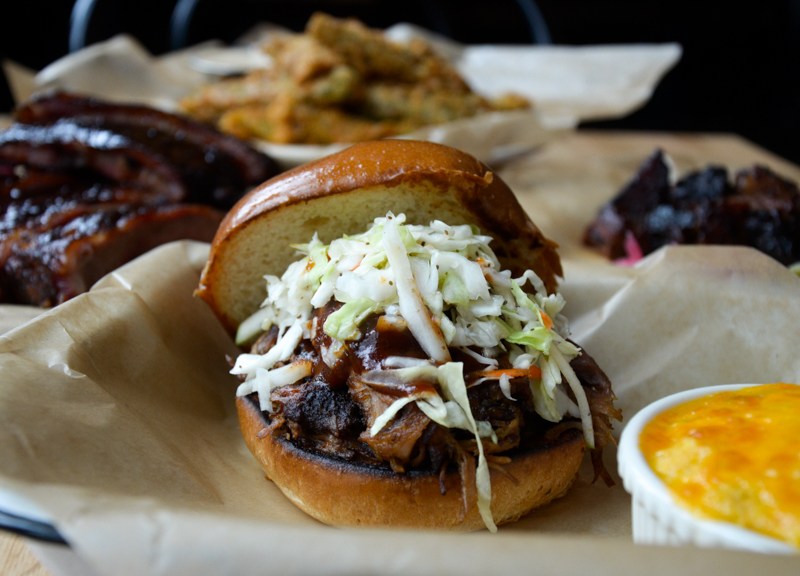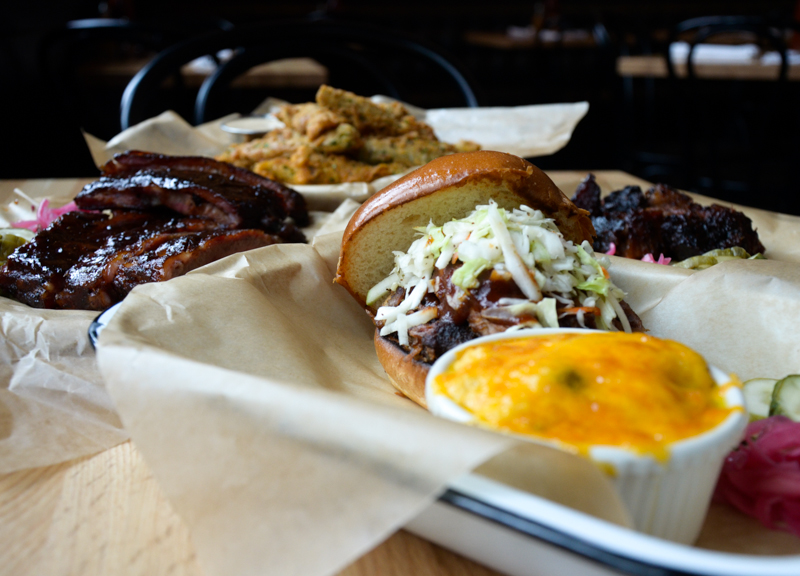 The Pitmaster and His 'Cue.
Matt Dallman has always loved good barbecue, but for him it's about more than just a good meal — it's about the time you spend with friends and family cooking and eating the product of that effort. He says it's the "shared experience" of it all that really inspires him to create the best barbecue he possibly can.
"We take three or four extra steps to each one of our meats to get as much flavor on the plate as possible," Dallman says.
To help achieve that extra flavor at 18th & Vine, the kitchen doesn't just use one wood to smoke its meats. Instead, the staff uses different woods depending on the flavor profile.
The brisket, smoked with maple, comes in thick slices with a nice bark and a good smoke ring. The maple flavor really shines in the burnt ends, though, which pack a perfect level of smokiness into the meat and pairs well with the sweet and spicy flavor of the glaze that accompanies them.
As for Dallman's affection for the Kansas City style, that really comes out in his tender ribs, which have a great smoky flavor and come covered in a glaze that's true to K.C. standards.
The sides, on the other hand, draw their inspiration from all over the South, be it the fried okra (cut long, fried in butter milk batter and served with a housemade dipping sauce) or the jalapeño cheese grits, which are just too good to pass up.
18th & Vine also caters to the vegetarians among us with a list of soups and salads to accompany its barbecue, not to mention a cauliflower steak offering.
That, perhaps, is where 18th & Vine really sets itself apart from the Dallas barbecue pack. There's something for everyone here, thanks to Gottlich's willingness to employ a sort of barbecue fusion mission to his menu. On the dinner menu, his wood-kissed salmon served with pit cream corn, roasted tomatoes and pickled ramp salad is a favorite among repeat customers. At brunch, his the pulled pork breakfast burrito and the vine-style huevos rancheros are specifically meant to cast a wide net.
"I hope that we establish ourselves as a place that people take their kids." Dallman says. "We want [our place] to feel like it's always been here."