The Music Was Amazing, The Comedy Was Great And The Traffic And Crowds Were Super Easy To Manage. Kinda Sounds Like A Dream, If You Ask Me.
Editor's Note: We've given a ton of attention of late to KAABOO Texas' debut at AT&T Stadium last week. We announced its lineup, we previewed the festival's arrival with intrigue, we raised our eyebrows at its sparse early attendance and, in the end, we came away thinking that this thing just might have a future in the area should it want one after a first go that was mostly panned in the local press. Still, some don't think we've covered it enough. Included in that set is Brian Bethel, co-owner of the Dallas digital marketing company White Pants Agency, which is one of Central Track's partners. Brian, you see, really enjoyed the festival — and he thinks it's gotten a bad rap in our write-ups and in the ones from other publications around town. At his request, we've decided to let him make the case for why he feels KAABOO was such a great time. Why not? Somehow, even after all this, we're not quite sick of talking about the festival just yet. Full disclosure, though: When you read the below write-up, please keep in mind that White Pants Agency shares some investors with KAABOO, and the company was also contracted to do some targeted social media work for the festival. That all out of the way, take it away, Brian!
Just like everyone else, I was weary when I first caught wind of KAABOO Texas coming to town.
We've got high standards here in Dallas! And after some highly publicized recent festival mishaps (see: Fyre Festival), I went into KAABOO Texas' debut at AT&T Stadium in Arlington this past weekend feeling like the event was going to have to work hard to prove itself.
But, unlike the many naysayers out there, I really think it did. I genuinely believe that KAABOO Texas mostly nailed its entrance into the North Texas market. And, more important, I think this festival will only manage to improve in the years to come.
Here are 10 reasons why I think KAABOO Texas kicked ass in 2019.
1. Get Over Yourselves; The Lineup Was Genuinely Awesome.
Sure, it was a wide-ranging lineup, but KAABOO Texas designed its bill to appeal to all ages and walks of people. And just looking around the festival grounds while taking in sets from Lionel Richie, Lauryn Hill, Pitbull, Black Eyed Peas The Killers, The Avett Brothers, Violent Femmes and more, it was clear that they definitely brought a little something for everyone. Variety is the spice of life, and KAABOO brought seemingly every genre from every (living) generation to AT&T Stadium over the course of its three days. Oh, and another thing: The performers themselves were great, offering high-energy sets to match the incredible production quality and beautiful sound. At each of the fests six stages, you could hear the performers perfectly — no matter where you stood.
2. The Bathrooms Were On Another Level.
If this sounds to you like a ridiculous thing to praise, that just tells me you've never had to hold your breath while rushing through a bathroom trip in a stinky portapotty at another music festival. The portable bathrooms spread out around KAABOO Texas' outside stages were nothing like those. These things were next level: We're talking insanely clean toilets that actually flush (!) and somehow even smelled nice. Meanwhile, the group ones even had granite counter tops — no joke! On the other hand, the bathrooms inside Jerry World were what you would expect of them — which is to say they were even cleaner, nicer and air-conditioned. Best of all, the bathroom situations weren't just enjoyable, but the vast amount of them made it so lines were minimal all weekend long. No matter when nature called — even if your emergency came during a favorite performer's set — you could relieve yourself in time to see the next song without missing a beat. The last festival I went to, I almost peed my pants because I knew if that, I left my standing spot, that would mean 10 minutes before finding the bathroom, 20 minutes spent waiting in a line for it and then maybe an hour before I could actually relocate my squad. This is not an issue at KAABOO, and I love it for that.
3. It Was Produced By Dallas For Dallas.
I don't think people spoke enough about this in either the run-up to or wake of the festival. Fact is, North Texas native Jason Felts (KAABOO Texas' Chief Brand Officer and the CEO of Virgin Produced) is one of the main reasons the festival brand decided to venture into our market. Along with Dallas real estate developer Bill Hutchinson, who invested greatly in the festival's success along with the Dallas Cowboys and others, Felts wanted to bring something special to his hometown. And he did! This was not the alien invasion of a music festival that many have been making it out to be — by no means.
4. The "Humor Me" Comedy Stage Was A Great Touch.
The festival's inclusion of stand-up sets from such hilarious comedians as Whitney Cummings, Nate Bargazte (whose recent Nextflix special is a must-watch), Jim Breuer, Dennis Miller, Demetri Martin, Fortune Feimster and others is what really made the festival for me and my friends. These performances provided attendees with the chance to sit down, rest their dancing legs and laugh their asses off among friends. The comedy tent itself was really impressive, too: It was designed to look pretty much just like an Improv, with a brick wall backdrop behind a stage that overlooked a sea of round tables attended to by a vigilant wait staff that was eager to take drink orders in the air conditioned space. It was a pop-up club, but it sure didn't feel like one.
5. The Art Was Gorgeous.
The three-story street art installations located throughout the festival grounds in addition to galleries set up on the stadium concourse were uniformly great. Not only did these offer attendees the chance to scope some gallery-worthy works while also provide them the opportunity to score some Instagram-worthy content, but many of these works were also interactive. Feasting your eyes on some of these visuals was a real treat — and a perfect break from all the noise going on elsewhere on the grounds.
6. The Food Was Super Legit.
There's no doubt that food scene at KAABOO Texas was better than any other festival offering in the region. Restaurant pop-ups from The Rustic, Torchy's Tacos and Morton's Steakhouse were just a few of the many delicious options available to attendees. And, considering how other festivals will charge close to $20 for crappy hot dogs, the prices were bad either. I personally came to the festival hungry each day knowing I would be eating a variety of delicious foods instead of generic soggy nachos. And there was even a lineup of cooking shows during the event. Who else does that?!?!
7. There Was No Traffic. None.
Real talk, the team at AT&T Stadium knows how to handle and direct traffic. I guess they've figured it out afterall these years of hosting 100,000-plus crowds out for football games each fall. There was never a worry they you'd get stuck in your car for hours, waiting on people to figure out where to go. Getting in and out of the grounds was a breeze, parking was organized and, unlike other fests that just dump cars into giant fields, the labeled lots made it easy to remember where your car was parked at the end of a long day. (Editor's note: It still cost $60 at minimum to park in most of these lots.)
8. The Bask Pool Was Unlike Anything I've Seen At Another Fest.
The "Bask" stage, which hosted DJs all weekend long and even included a full-sized swimming pool, was easily my favorite thing about KAABOO Texas — especially on Friday and Saturday night, where the festival hosted late-night concerts after the rest of the proceedings came to their close. You can't go wrong with fun people, fun dancing, good drinks and amazing music from Cheat Codes, Chromeo and others. Yeah, it cost a little extra to get into this part of the fest, but did you miss the part where I said they brought a pool onto the grounds? Also, with limited space, they had to do something to keep things from getting too crowded. Personally, I thought the up-charge was worth it considering the perfect weather the festival had on Saturday and Sunday. Did I mention the bathrooms at this stage had showers and makeup mirrors in case you wanted to swim and still continue your festival experience feeling fresh? Because they totally did.
9. The Free Arcade Was A Ton Of Fun.
Oh, a pool isn't enough for you? How about a free arcade area where you could put your hands to use playing all the arcade games you could possibly handle? My competitive friends and I had a blast in here, challenging one another to games with the loser buying to winner a beer. If you're good at arcade games, that means free beer! Free beer and free arcade games? That's called a win-win.
10. AT&T Stadium Was Actually The Perfect Setting.
I was as curious as everyone else to see how a festival at Jerry World would look, but it was actually really awesome. Inside the stadium itself, the energy of the gigantic space is just super infectious from the second you walk in. Meanwhile, the use of the outdoor and indoor areas allowed for crowds to take their pick from chilling in the cool sun or hanging out in the A/C. The sheer vastness of available space also meant no one ever felt claustrophobic or unable to move or as if they didn't have the room to dance around as they pleased. Add in comfortable seating areas, various lounges and suites, and there was something to accommodate even the pickiest of festival goers. The best part? AT&T Stadium even opened its retractable roof for the festival — a rare occurrence that I personally had never experienced at the stadium before. And it only made the environment feel even more electric.
11. The Infrastructure Is In Place For More To Come.
Even with all the above positives, you've got to remember: This was KAABOO's first year in the Dallas market, and there was a lot to figure out. I'm confident they will in years to come — especially when you consider KAABOO's experience in hosting events in Southern California for the last five years and its partnership with the Dallas Cowboys that promises this event will return for years to come. Were the crowds smaller than the general public anticipated? Probably. But what first-year event doesn't struggle with that? As a business owner myself, I mostly focused on how smoothly this thing operated, even with inclement weather delaying some of the performances on Friday. The staff behind this thing is extremely experienced, and it showed all weekend long from my viewpoint. Security was quick and painless. The food lines were fast. The crowd-flow was easy. The bathroom lines weren't long. Oh, and it was innovative, too: KAABOO Texas ran an up-to-date mobile application complete with fresh news about lineup changes and special offers, and even integrated the festival POS systems to work with attendees' wristbands so that guests could pay quickly without a wallet. My point? The entire festival was high-end. People have been wanting an event like this in Dallas for years, and KAABOO pulled it off.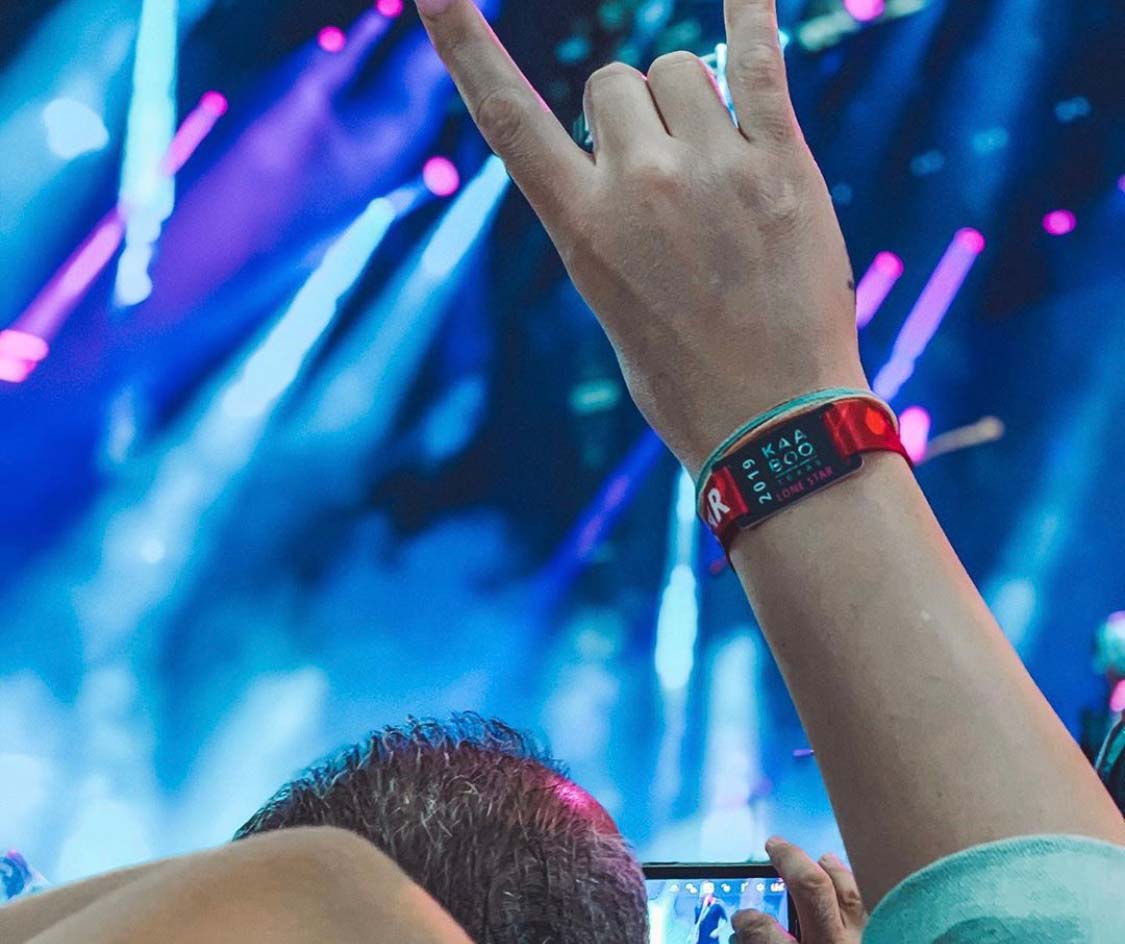 Cover photo courtesy of KAABOO Texas.