After Months Of Drawing Lines In Deep Ellum, Dallas Thai Ice Cream Roll Shop Chills 360 Is Bringing Its Dessert-And-A-Show Offer To Rockwall and Fort Worth.
Nine months after its grand opening last October, the hype surrounding Chills 360 has yet to die down. The shop, which capitalizes on the Thai rolled ice cream trend that first started earning attention across the country last summer, boasts what seems like a constant line outside of the doors outside of its shop at 2646 Elm Street in Deep Ellum. Even in the winter months, when the temperatures dipped below where one might think the thought of ice cream would even be appealing, Chills 360's line refused to subside.
That line, in many ways, has been a double-edged sword for the shop. It's solid marketing — a common response to the question of "Have you been to Chills 360 yet?" is "You mean the place that always has that long line?" — but it also keeps away some people who aren't willing to wait so long just to order a $7 dessert.
Thing is, Chills 360 is objectively worth that wait.
For one thing, its portions are generous. Although the shop only serves one size, it's a substantial one featuring five or six heaping individual rolls of adventurously flavored ice cream. And the single-size offer has other benefits, too: There's no limit to the number of toppings you can put on top of your rolls or incorporate into your chosen flavors, which can be chosen from a menu of eight regularly listed items, monthly specials or seemingly endless choose-your-own options. And, at a $7 cost no matter the specifics, that's not a bad take at all.
That variety is a point of pride for the shop, clearly: "We try to incorporate different flavors occasionally," says Usman Babar, the company's director of business development. "For instance, last month we came out with our Coconut Ash ice cream. I think that's what really makes Chills 360 different, we don't have conventional flavors and we're always coming up with new ones."
But the freshness of the offerings here is also something worth boasting about: "Everything is made in house," Babar adds. "We never freeze ice cream, and we never have product sitting there for two days or more."
Those are all great qualities, to be sure. But there's also fact that Chills 360 offers more than just a treat for your taste buds. Really, it offers a dessert and a show, as workers on the freeze lines have been coached up to incorporate their clientele's names into their hibachi-like live creations, which the company encourages its customers to film with stickers that read "Instagram This!" posted to its windows. It's no surprise, then, that the spot has become one of the more familiar restaurants on Instagram in North Texas.
And that reach seems primed to only grow in the coming months. Babar tells Central Track that Chills 360 is gearing up to open up two more North Texas locations by the end of July — one on the Historic Downtown Square in Rockwall, and the other in Fort Worth's ever-expanding West 7th District.
Babar's stoked about those new additions. And for his part, he hope the lines continue at these new spots.
"It's working out for us really well," he says with a laugh.
How Chills 360 Does Its Thing.
If there's one knock on Chills 360 beyond its lines, it's that newcomers can sometimes be a little intimidated at the process of how things work at a shop where you don't just walk up to the front of the line, shout out your flavor and size and wait for it to be scooped. So, for those people, we've decided to offer up a quick primer on the process here.
1. Line up. First things first, go get yourself to the back of the line. Pro tip: Babar says the lines really get going right around dinnertime and suggests that people looking to get in and out in less than 20 minutes get to the shop before 5 p.m.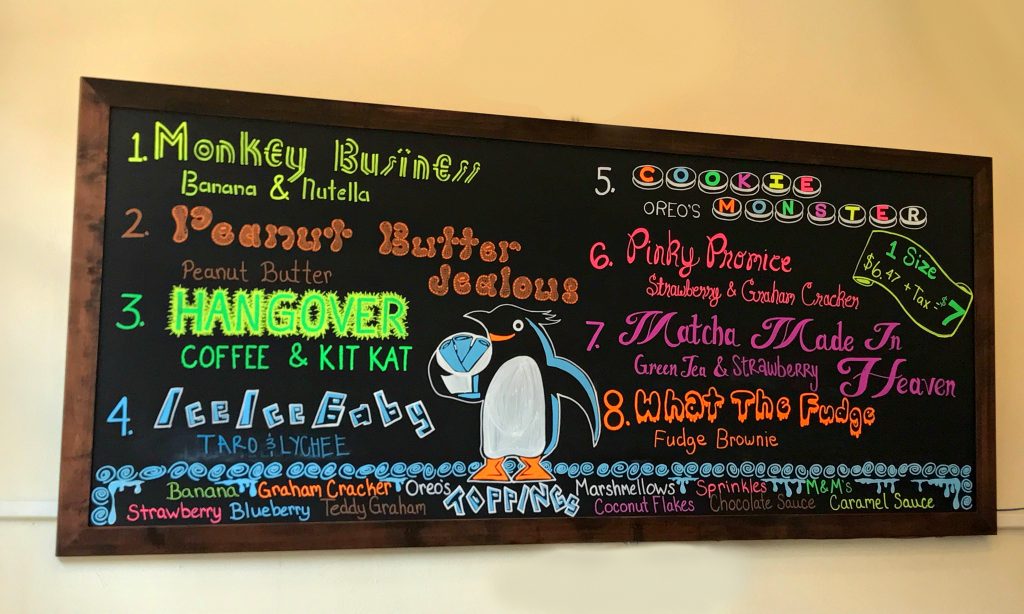 2. Place your order. Despite only having eight listed menu items, Chills 360's wide variety of toppings that can be mixed into the rolls makes the actual flavors you can order pretty endless. Have fun with those — or just grab something off the menu. Babar says the Pinky Promice and Cookie Monster are the shop's best-sellers, although we're partial to the Hangover ourselves. Oh, and don't worry about bringing change: All orders cost $6.47, no matter the flavor you choose or number of toppings you add on; after tax, that works out to a flat seven bucks.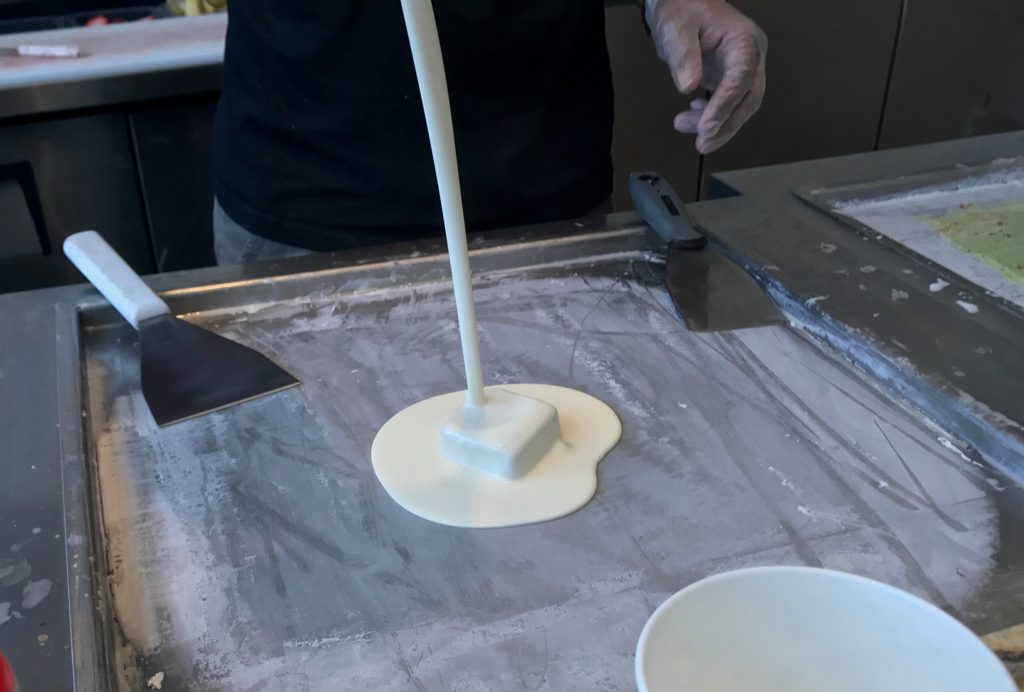 3. Bust out your camera. After ordering, you'll be shuffled off to a viewing area near the freeze-tops. Here, one of the workers will start making your delectable creation by putting down a base flavor of liquid custard on top of your chosen toppings that will soon be chopped into the ice cream that will make up your rolls.
4. Watch your ice cream get chopped. Soon after it is poured onto your toppings, the custard will begin to firm up because of the frozen top it's being formed upon. As it begins to do so, your ice cream maker will begin to crush up the toppings and spread them out across the freezing custard. In the case of the "What the Fudge" menu item (pictured here), the base is a chocolate fudge brownie.

5. Spread out. After a few seconds of the cream and your flavor chunks being battered around, your unique custard flavor will be spread out across the frozen tip and into a smooth surface. Here, you'll begin to be able to see your flavor choice in the form you asked for.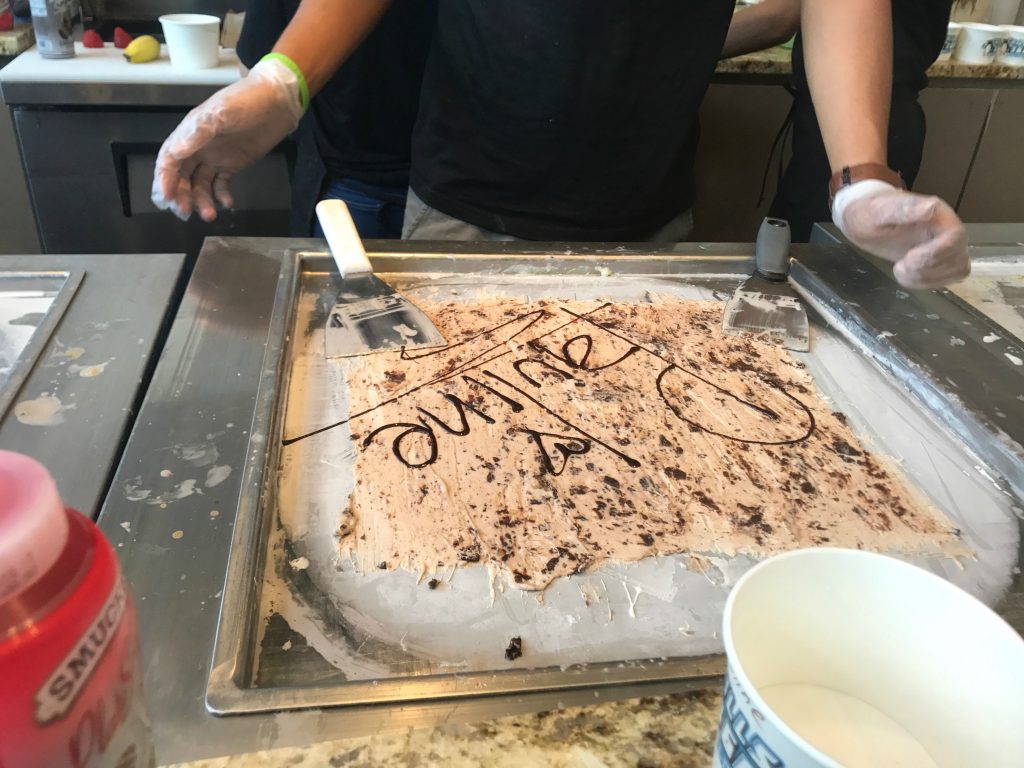 6. Tell your ice cream maker your name. Ensuring that you're going to want to put this onto your social feeds, your designated ice cream maker will ask you for your name and for your choice of a variety of sauces. They'll then write your name out onto the ice cream and pause for you to take a picture with it. Just be sure to spell your name out for them. You don't want a Starbucks situation here.

7. Watch your rolls take shape. Now, this is where the strangely satisfying part of the process comes into play. With a few quick gestures, your maker's metal scrapers will turn your smooth ice cream canvas into six or individual rolls packed with flavor. Once formed, your rolls will be place into a to-go cup and your already-selected toppings will be added by an employee whose sole job is to get your order Instagram-ready.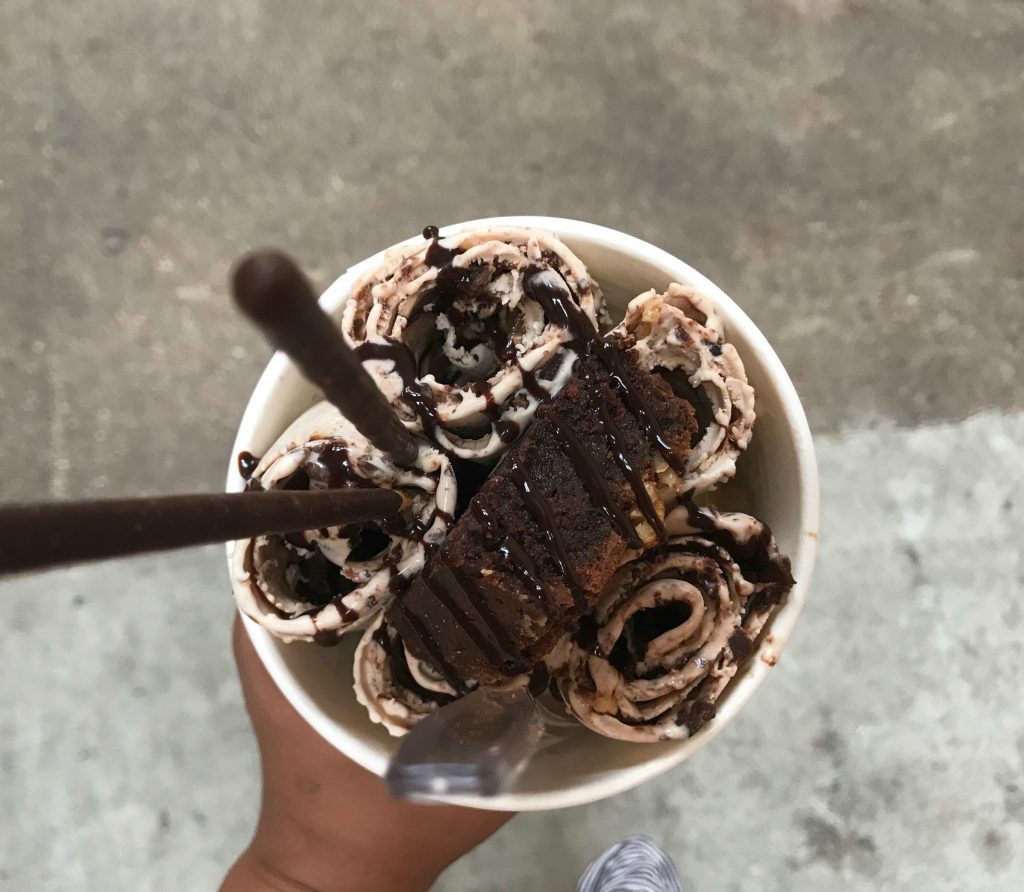 8. Dig in! Just don't forget to grab your 'gram first.