This Week, The Vandoliers Were Rolling Out Into The Country Like A Bat Out Of Hell.
Each week, we take a survey of the local music scene and try to determine which acts in town are really putting in work and seeing it pay off. Which bands have the most intriguing shows coming up? Which bands are getting the most press around town? Which bands have accomplished the most notable feats of late? Based off these criteria, our music writers submit a list to be weighted and compiled into a master list revealed each week in this here space. We like to think it's fairly revealing. Check out our previous Buzz Rankings here.

For the most part, listening parties are a pretty busted concept. Most of the time, attending one means putting up with a bunch of drunk assholes who really don't give a fuck about what's being unveiled at the thing. Instead, the scenesters who bother showing up at all just wanna gorge on free booze and schmooze with one another.
And, hey, that's fine and all — been there — but it kinda misses the point: A good nine times out of 10, listening parties aren't about listening, let alone music.
Fortunately, The Vandoliers' listening party at Off The Record last Friday was one of the exceptions. People were throwing 'em back alright, but the music was very much the draw it was supposed to be, with it blaring over the bar's soundsystem. More than that, the whole event just felt like a cool celebration of the band — one that saw them sell a shit-ton of expensive-ass vinyl records and cool T-shirts, and also sign all those things. It was real neat when the band broke into a mariachi-style acoustic set of a few songs on the back patio with the whole band contributing gang vocals; but it was neater to see the band members wearing shit-eating, ear-to-ear grins while they got treated like rock stars by their adoring fans.
That was just the start of Los Vandos' weekend, too: The very next day, they shared the stage at Good Records with Conor Oberst, and later in that night they played Three Links as part of the Elm Street Tattoo & Music Festival. In the following days, they'd also get some love from Noisey, head out on tour and experience the thrill that'll gitcha when you get your picture on the cover of the Fort Worth Weekly.
It's tough to top a week like that, which is how the Vandoliers came out at the tippity of our weekly Dallas music power rankings for what I'm pretty sure is their very first time.
Of course, those boys had some competition this week. Following closely behind in the Top 10? BNQT for playing late-night TV, These Machines Are Winning for being ambitious as fuck, Bobby Sessions for sonning a stage-crasher, Paul Cuathen and Cody Jinks for going viral with their Chris Cornell tribute, Sam Lao and Charley Crockett gearing up for big upcoming shows this weekend, Tripping Daisy for extending their return stay and Selena Gomez for being famous I guess (and dropping a new song).
A little lower on the list this week is Warbeast, the Dallas metal band whose fans were struck with some impossibly shitty news this week when it was revealed that frontman Bruce Corbitt — a legit, honest-to-goodness Dallas metal legend dating back to his days in Rigor Mortis — is now facing a fight against cancer following a recent bought with heart disease. This writer counts himself among the many pulling hard for the guy at the moment.
Elsewhere: Loafers, Pearl Earl and Parker Towmey unveiled new releases; DJ Sober got another year older; JT Donaldson and the New Math gang is readying a big ol' Memorial Day party; Bowling For Soup played that festival up in Richardson ;and some other people did some cool stuff, too — you should probably check it out.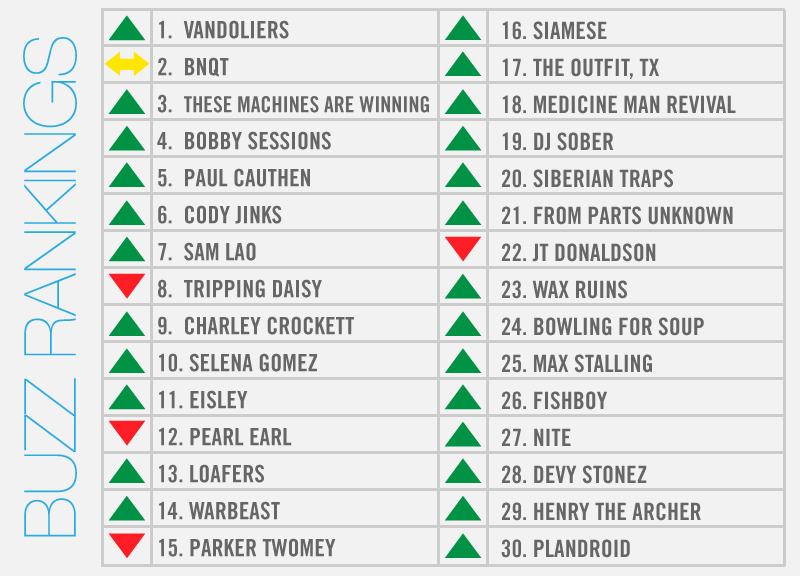 (Also receiving votes: Redsean, Mother Tongues, The Birds of Night, Mind Spiders, Claire Morales, Matthew And The Arrogant Sea, Baptist Generals, Tomkat, Robert Gomez, Kim Nall & The Fringe, Buffalo Black, FXXXXY, Cut Throat Finches, Alejandro Escovedo, Matt Tedder, Daniel Markham, Nervous Curtains, Wesley Jensen, Alsace Carcione, The Brehms, Lofty Beats, Mr. Carter Davis, Ronnie Fauss, Corner Suns, Pleasant Grove, Saint Ro Mayne, Maleveller, Ghoultown, Jon Bap, Ben Hixon, The Gritz, Trai Bo, Norvis Junior, Rache, Zhora, Luke McGlathery.)