The Denton County Sheriff Has Already Politicized The Ariana Grande Bombing, The Granada Announces A Week's Worth Of Free Shows And A Whole Bunch Of Acts Dropped Music Videos.
On Monday night, a suicide bombing during an Ariana Grande at Manchester Arena in England killed at least 22 people — including children — and injured another 59.
It was a chaotic, tragic scene.
And it took all of four hours before an elected North Texas official decided to politicize it. In a Facebook update that was posted shortly after the news of the attack had become headline news all across the globe, Denton County Sheriff Tracy Murphree used the attack as an excuse to lambaste followers of Islam, calling it an "ideology that treats women as property, kills gays and women and christians [sic] with complete impunity" and saying he is "sick of it" and that it is time for America to "wake up."
Below is Murphree's post, which was initially shared as a private update and has since been edited and made public for all to see:
Hot take there, Sheriff! But fear-mongering is not the answer, my guy.
Listen, we get that these are scary times. And there's no justification, explanation or reason that can put into perspective a heinous act like the one that happened last night in Manchester. It's obviously horrifying that this is the world that we live in, where attending a concert — a celebration of music and its power to literally bring people together en masse — suddenly becomes something that one might think twice about attending. It's really shitty that there are people in this world who want to take something so beautiful and tarnish it.
But cliche as it is to say, we can't let those people win. And we can't let the people who use these acts to further divide our population win, either.
So, much as we did in the wake of the Bataclan attack in 2015, we have to soldier on. We can't let fear keep us from going to shows and celebrating the music we love — because, dammit, music is a universal language, it has literal healing powers, it can work miracles and, for all we know, it might be our last, best hope in fixing this goddamn world.
Here's hoping it does — and sooner than later.
Apologies for the awkward transition, but one area venue that is going to be doing its part this summer to keep the good music fight alive is the Granada Theater. Once again, the Lower Greenville venue will be hosting a free week of concerts this upcoming season — and from July 17-23, specifically. They're not slouching on decent offerings, either. Among the acts slated to perform over the course of this run are Eisley, Micky & The Motorcars and some of the best locals around. Check out the below announcement poster to see if you spot your favorites!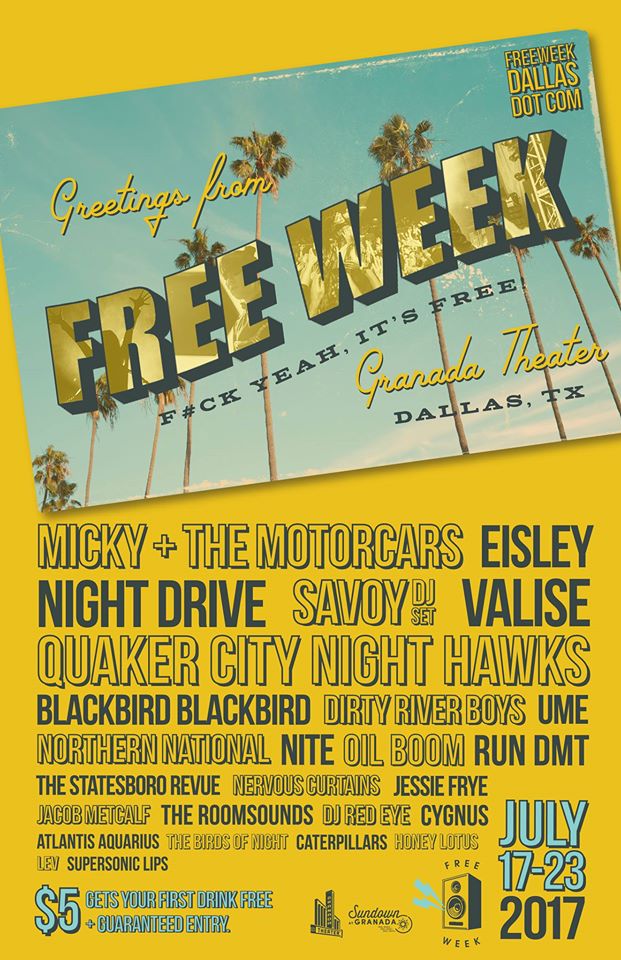 Entry into these shows will be handled on a first-come, first-served basis, although you can guarantee your way into any of the offerings by purchasing a $5 advance ticket, which you can then turn in for a drink at the bar once you're inside. You can buy those tickets, see the whole lineup and get more information here.
Speaking of Tyler's Own Eisley, the family band just released a new video for the song "Always Wrong" from its February-released fifth full-length LP, I'm Only Dreaming. Frontwoman Sherri DuPree-Bemis describes the song thusly in a press release announcing the new clip: "This is a dark love song about an obsessive lover. I was actually inspired by old Vampire stories and the Brothers Grimm. It's sung from the perspective of the one who's obsessed in love. 'Dust from your hair, a small splinter from your back will keep my raging mind in check.' Basically the character is twisted and they want to collect artifacts from the person they're in love with so they can feel closer to them. The chorus has them momentarily showing their insecurity and vulnerability by confessing 'I know I'll only let you down, I know you won't stick around' but quickly turning dark again by telling them 'but I'll make sure I keep you coming back.' All of that being said it's basically, when broken down, just a love song, but that was the story behind it." Unfortunately, all that perspective is rather lost in what's otherwise pretty straightforward, if beautifully shot, performance-style music video. Oh well!
Dallas rapper Saint Ro Mayne too is dealing in some dark territories with his upcoming new album, Saint & Sinner. Here's the video for that album's lead single, "Everything," which the rapper says is him balancing the struggles of "being a good God fearing man, and the worldly environment he encounters everyday."
Not to be outdone, Dallas rapper Shoose McGee is too considering the everyday struggles of life in his clip for the song "Be," which he actually calls an art project as opposed to a music video. Anyway, here he is holding up signs at this year's Deep Ellum Arts Festival and trying to force reactions from the masses who showed up to buy crappy art this year.
The Fort Worth rockers in Siberian Traps take a different look at day-to-day living with their "Lemon Balm" video, which the folks at Aesthetic Magazine premiered a few days back. The clip finds the band's fellow Fort Worthian, War Party's Cameron Smith, strolling through the streets of the Fort and, I dunno, engaging in some low-level, on-beat hijinks? I'm not really sure what they're going for, but the POV stuff is neat, Cameron and the rest of the Dreamy Life Records gang are clearly having a blast here and the song is a really great throwback that fans of mid-tempo indie rock should enjoy.
Also new to the YouTubes this week is the latest music video from the genre-busting Medicine Man set. This one's for the song "Bittersweet," and there's really no doubt about what this good-looking clip is going for: This one's about a love story gone bad! Making it all the more interesting, though, is the fact that it features one member of Medicine Man romancing another one's significant other. Scandalous!
On bigger screens this week, the boys in BNQT took to Late Night with Seth Meyers to make their television debut late last week. There, they performed the very good song "Restart" so well that it's probably time we all started asking if this band's success means that Midlake is officially done. Hmmmmmmm.
Finally, let's end the week with some quick hitters:
The metal bros in Maleveller are getting the band back together! The much-adored band will perform a reunion show on June 29 at The Double Wide. Creepeth and Kallahonka open. More info here.
The Denton twins behind the '80s music-adoring Nite have announced that they've signed a record deal with California's Cleopatra Records for their next release, which is some neat news. Nite's been bubbling under for a couple of years now, and no other act in town has better hair — that's just a fact.
Anyway, that's all we got this week, folks! Just remember to love one another out there, OK?