This Week, T.Y.E. Was On Fire.
Each week, we take a survey of the local music scene and try to determine which acts in town are really putting in work and seeing it pay off. Which bands have the most intriguing shows coming up? Which bands are getting the most press around town? Which bands have accomplished the most notable feats of late? Based off these criteria, our music writers submit a list to be weighted and compiled into a master list revealed each week in this here space. We like to think it's fairly revealing. Check out our previous Buzz Rankings here.
We see the question debated frequently on the ol' Book of Face pretty often: Who is going to be North Texas' next big breakout national star. One name that's almost universally left off those comment sections, though, is a guy we think is probably the most likely of Dallas' current crop of musicians and performers to be that next big thing.
We're referring to the opera-singing rapper T.Y.E., whose debut album premiered via The Fader this week, and whose release show in celebration thereof we are co-presenting at Dada tomorrow night.
Those feats were enough to notch the performer born Tye Harris his first – of what we predict will be many – trips to the top of our weekly, local music power rankings this week.
Close behind him are some acts with a few dozen Buzz No. 1s in their back pocket, like Leon Bridges and Kacey Musgraves, who were both announced as openers today for select dates for Harry Styles' upcoming global tour.
And while Mothership won't be opening up for Metallica's summer tour, the band's guitarist will be getting his own signature line of instruments, which is a cool consolation.
Also on the road this weekend is Tripping Daisy, which kicks off its first tour in decades tonight — a four-night Texas run that'll feature locals like Motorcade and Quaker City Night Hawks opening along the way.
In other big show news, Maren Morris will play a free concert to kick off this fall's State Fair of Texas run. And Pueblo recently made its full-band debut in Dallas to kick off a tour of its own.
Elsewhere: The New Year got some NPR love; The Texas Gentlemen are serving as the house band for the Willie Nelson-branded Luck Dallas show at the Granada this weekend; and Ishi is playing its first Dallas show of the year this weekend at Trees.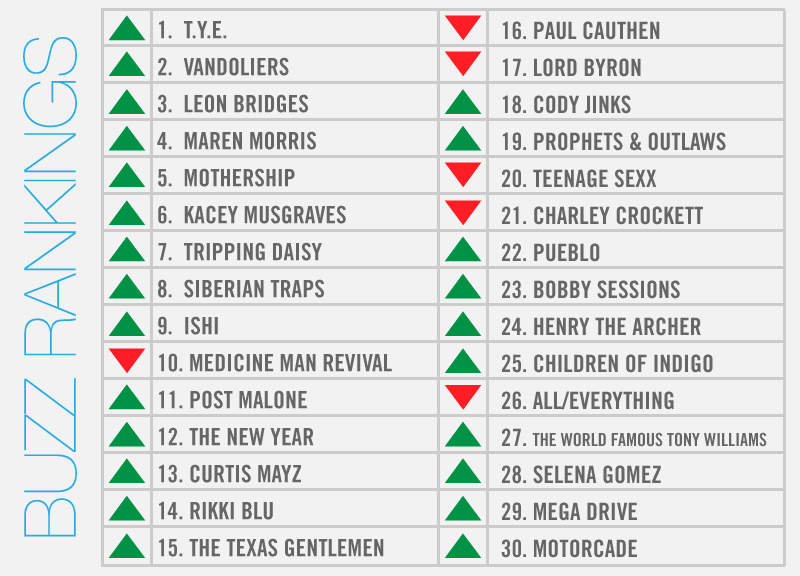 (Also receiving votes: Sam Lao, DJ Sober, Wiccans, Pearl Earl, Dorrough, Quaker City Night Hawks, Warbeast, Malleveler, G.U.N., Devy Stonez, Big Tuck, Toadies, Loafers, Ignatius, Drawn by Jaymz, Wax Ruins, Larry Legion, M3cca, Acid Carousel, Chris J. Norwood, JIBE, C Struggs, Dave Abbruzzese, Vincent Neil Emerson, Monoculture, Sarah Jaffe, Blands, SuperSonic Lips, Calhoun.)