Mothership Gets A Line Of Signature Model Guitars, Toadies' Frontman Opens A New Rehearsal Space and The State Fair Announces Its List Of Free Concerts.
One telltale sign that you've made it as a musician is when your instrument is as identifiable as you are (see: B.B. King's Lucille, Willie Nelson's Trigger or Jimmy Page's double-neck Gibson). Another sign you're on your way as a pro player is when a manufacturer awards you with your own signature model of your instrument of choice (see: St. Vincent's line of Ernie Balls).
So who'll be the next local to get their own custom axe?
Mothership's Kelley Juett, turns out. His new Galaxy Collection for U.K. manufacturer Boult Guitars is currently available for pre-order.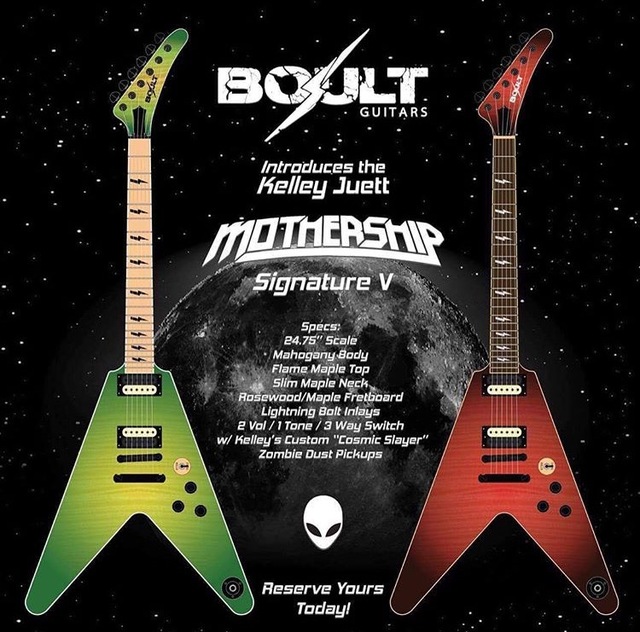 The "Galaxy" collection will come in three colors (Andromeda, Milky Way and Vorax Centauri), feature a mahogany body and a flame maple cap, Juett's signature Cosmic Slayer pickups from Zombie Dust, maple or rosewood fretboards and a color-matched headstock. They'll reportedly go for £519 (roughly $669).
"Kelley is a guitarist we've admired for a while now; and Mothership are a band destined for the very top — it was bitterly disappointing not to see them supporting Metallica this year," the company said in a press release.
Another sign you've progressed to another level in your career is when you start adding other ventures to your portfolio. That's where Toadies frontman Vaden Lewis is currently at, anyway. He's in the process of opening his own rehearsal space in Fort Worth called The Loop. Per the "about" page on the space's new website: "After over 25 years as a touring and recording musician, Vaden Todd Lewis (The Toadies) has experienced the pros and cons of numerous rehearsal spaces, and was ready to convert his experiences into his dream rehearsal studio. With the help of his partner and wife Rachel, that vision came to life. Together they opened The Loop, a premium rehearsal complex in the heart of their hometown of Fort Worth, TX." Rooms — which start at $300 monthly or $65 hourly — are currently available for pre-lease, as of June 1.
Another veteran rock act, Tripping Daisy, begins a four-day Texas tour this Thursday. Opening that first show in Houston is Motorcade, which is promoting the show with the release of a new video for its single "Recover," our 26th favorite song of last year.
There are some other big shows are on the horizon as well, like the just-announced lineup of free performances during this fall's annual State Fair of Texas run. Opening day of the fair, September 29, will find Maren Morris headlining, with performances also coming from Flo Rida, La Mafia, Ro James, Wilson Philips, Charlie Daniels Band, For King & Country, Los Traileros del Norte and a few others TBA throughout the fair's run this October.
Another interesting performance will find Bill Murray fronting a four-piece classical outfit at the Winspear on October 26. Check out a recent fan-shot clip of him doing a live Van Morrison cover below.
Before any of those, Vincent Neil Emerson will take the reins on a new recurring country revue at Fort Worth's Magnolia Motor Lounge. The Saturday, June 24, debut of his Lefty's Honky-Tonk Revue will feature performances by Eleven Hundred Springs, Lefty himself, Tommy Hooker, Summer Dean, High Plains Jamboree, Raised Right Men and Squeezebox Bandits.
Get a little of taste of what's in store below as Dean, backed by Squeezebox's Abel Casillas, is featured in the most recent episode of Cinderblock Sessions.
Speaking of features, The New Year showed up on NPR last week in their "Songs We Love" column. With regard to the Kadane brothers' first new material in nine years, NPR writes: "the song ['Mayday'] perfectly encapsulates an approach to songcraft in which mathematical precision never gets in the way of shaggy, ragged beauty."
Lastly, we've got a pair of album announcements to leave you with. First up, folker Chris J. Norwood announced that his debut album, Longshot, will be out on August 11. The disc was produced by Chris Masterson (The Mastersons, The Dukes), whose wife/bandmate Eleanor Whitmore also appears on the thing. Ray Wylie Hubbard's bassist and Bob Schneider's drummer round out the players. And Jibe will celebrate their first album in for-fucking-ever with a July 8 performance at Gas Monkey Live, with the first 1,000 tickets to that shindig being free.
Got a tip for White Noise? Email us!