This Week, Snow Tha Product Moved The Needle.
Each week, we take a survey of the local music scene and try to determine which acts in town are really putting in work and seeing it pay off. Which bands have the most intriguing shows coming up? Which bands are getting the most press around town? Which bands have accomplished the most notable feats of late? Based off these criteria, our music writers submit a list to be weighted and compiled into a master list revealed each week in this here space. We like to think it's fairly revealing. Check out our previous Buzz Rankings here.
We've written a few times recently whether the fest thing is getting kind of tired, or if maybe we're just too old for this shit. The pretty lackluster ACL lineup announce did little to change our minds either.
But one of the last remaining local fests that does still move our needle is JMBLYA, which returns to Fair Park this weekend with headliner Chance the Rapper. (Please say "The Rapper.")
And you can bet there'll be several thousand young folk on hand when local product Snow Tha Product hits the stage early in the day. And, as the only one with local ties on the hippest fest in town, Snow reaches the apex of our Buzz Rankings once again this week.
That makes it her third trip to the top of our weekly, local music power rankings — but her first since 2012.
Another big fest coming to town this weekend is the Off the Rails country music thing going on at the soccer stadium in Frisco. Many thousands will also show up for that one, you can bet, and this year's big headliner is Lindale's Own Miranda Lambert.
Also earning their respective spots thanks to their participation in the inaugural Fortress Fest were Quaker City Night Hawks, Sudie, Sam Lao and Bobby Sessions.
Not to be outdone, Toadies and Lecrae played in front of big crowds, too, playing post-game concerts after Saturday and Sunday's Texas Rangers games.
Hoping to play in front of similarly packed houses this week are acts like Jimmy Wallace, who'll rock his own International Guitar Festival this weekend; Charley Crockett, who'll headline Granada Theater's big crawfish boil this Saturday; Eli Young Band, who'll doing their thing over at The Rustic; or Ty Herndon, who's playing one of those rare Fair Park Band Shell shows this weekend.
Elsewhere this week: Maren Morris used her badassery to further push country music forward; BNQT released a nationally-lauded debut LP; and Jonathan Tyler got some TV time.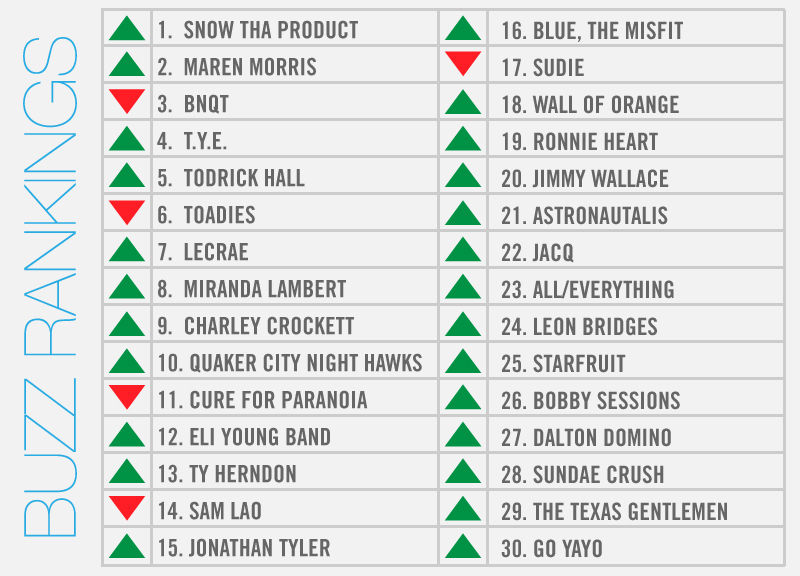 (Also receiving votes: Burning Hotels, Sarah Jaffe, Ishi, –topic, Tyrannosorceress, Jason Eady, Reagan James, Lift To Experience, Oil Boom, Triangulum, From Parts Unknown, The Whistles and the Bells, Parker Twomey, Blake Ward, Siamese, The Polyphonic Spree, Coach Tev, Eleven Hundred Springs, Northern National, Acid Carousel, Sealion, Tripping Daisy, Dead Mockingbirds, Dead Flowers, Meka Jackson, War Party, Curtis Mayz, Larce Blake, Pearl Earl, Tunk, Drawer Devils and Daniel Markham.)