This Week, Erykah Badu Is Gearing Up To Celebrate Her Solar Return.
Each week, we take a survey of the local music scene and try to determine which acts in town are really putting in work and seeing it pay off. Which bands have the most intriguing shows coming up? Which bands are getting the most press around town? Which bands have accomplished the most notable feats of late? Based off these criteria, our music writers submit a list to be weighted and compiled into a master list revealed each week in this here space. We like to think it's fairly revealing. Check out our previous Buzz Rankings here.
Erykah Badu's done a ton of celebrating of late.
Her debut album Baduizm turned 20 a couple weeks ago, and she'll turn 46 this Sunday. And, make no mistake, she'll celebrate the latter in a big way with a star-studded birthday bash at The Bomb Factory on Sunday.
In turn, she finds herself atop our weekly, local music power rankings once again — something she's done more times than anyone. This, her 23rd first-place finish, puts her in sole possession of the most all-time No. 1 finishes — just one win above Leon Bridges. For his part, Mr. Bridges is buzzing this week, too, thanks in large part to his involvement with Badu's birthday party.
In the two-hole this week is another of the city's mainstays, the Old 97's. The boys will release their 11th studio album tomorrow, which they promo'd with a performance on Seth Meyers' late-night talk show and a Rolling Stone profile.
Maren Morris, Eli Young Band, Kacey Musgraves and Miranda Lambert, meanwhile, all earned their respective slots this week thanks to the ACM Awards nominations they pulled down. And Spinderella got her spot because she took home an award of her own.
Meanwhile, Sarah Jaffe, St. Vincent and John Congleton all recently spoke out against Texas' proposed bathroom bill.
Elsewhere: The Unlikely Candidates released their first album since being dropped by Atlantic; Norah Jones led a star-studded Neil Young tribute at the Granada last weekend; Bobby Sessions got a big spread in the Dallas Morning News; and Oil Boom landed another TV placement.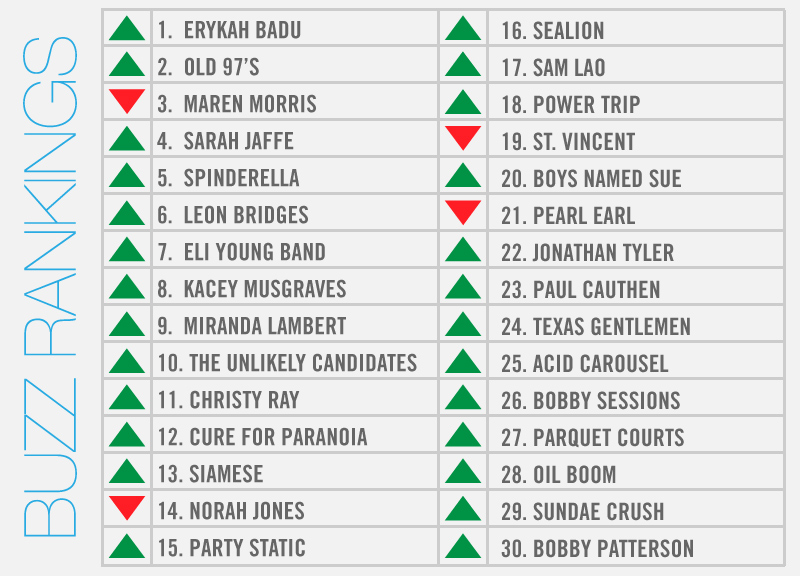 (Also receiving votes: John Congelton, Charley Crockett, DJ Sober, Selena Gomez, The Outfit, TX, Imaj, John Stewart, Jenna Clark, Mothership, Go Yayo, Blue, The Misfit, Greg Schroeder, Rob Viktum, Zach Witness, Matt Tedder, Eisley, Pageantry, Vandoliers, Burning Hotels, Animal Spirit, Cheridan, Ronnie Heart, Quaker City Night Hawks, Picnictyme, Duell, Sheka Booker, Ting Tang Tina, Sandovall, Asylum, Lars Warn, Silas Nello, Whiskey Folk Ramblers, Northern National, Jesus Chris + The Beetles, Will Johnson.)
Cover photo by Jonathan Stafford.