This Week, Pentatonix Earned Their Praise.
Each week, we take a survey of the local music scene and try to determine which acts in town are really putting in work and seeing it pay off. Which bands have the most intriguing shows coming up? Which bands are getting the most press around town? Which bands have accomplished the most notable feats of late? Based off these criteria, our music writers submit a list to be weighted and compiled into a master list revealed each week in this here space. We like to think it's fairly revealing. Check out our previous Buzz Rankings here.
When the Arlington-spring Pentatonix included an a capella cover of Leonard Cohen's "Hallelujah" on its recently-released Christmas LP, many critics scratched their heads. Nope, it's not necessarily a Christmas song. And, yup, it's been covered way too many time already.
But after Cohen's recent passing, their cover version went way viral. And those same critics ate their words, gushing about how gorgeous this new version was.
Now, the group looks to end this week on a high, hitting its hometown to perform on its biggest stage to date, headlining the massive American Airlines Center. Seem you can take the good with the bad — and, in this case, you can also take home your first-ever No. 1 recognition in our weekly, local music power rankings.
Farther down the list are some other performers that, like Pentatonix, have been on TV. Like Austin Allsup, who continued his run on The Voice as the last local artist standing. And former Nashville Star contestant Miranda Lambert, who has been scoring all kinds of boffo reviews for her latest solo record. Or Leon Bridges, who hung with the Sesame Street crew.
Meanwhile, in the No. 2 hole this week is multiple past Buzz champ Rhett Miller. He's in town for a couple solo acoustic shows this weekend, playing Fort Worth's Magnolia Motor Lounge tomorrow night, and making his 10th annual appearance at the CF Concert Series at Gas Monkey Live the following night.
Elsewhere: Forever the Sickest Kids announced an upcoming reunion show; Lift to Experience is re-issuing its one-and-only record; The Killdares called it quits; and J. Oliver penned a song for Kevin Hart.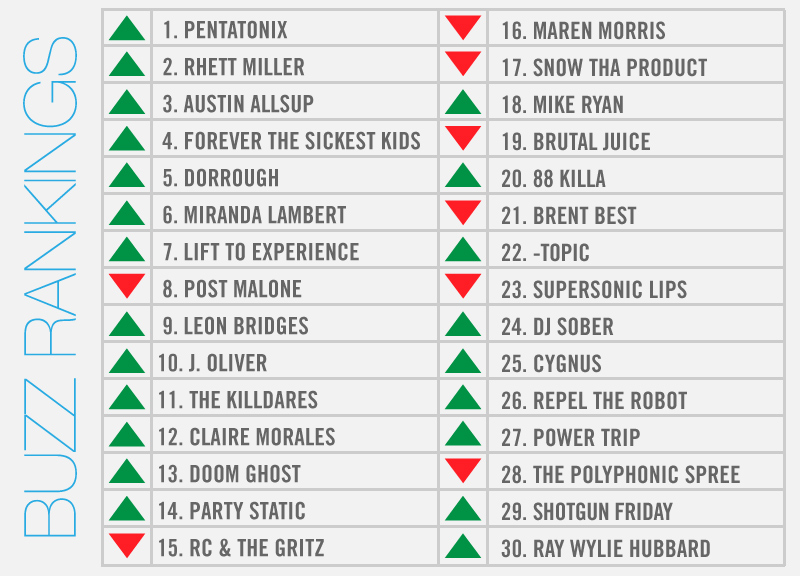 (Also receiving votes: Garret Owen, Vocal Majority, Sikwitit, Pueblo, Thin Skin, True Widow, JIBE, Nature Nate, Christy Ray, Sudie, The O's, Sarah Jaffe, Siamese, Felt & Fur, Panic, Psychic Killers, Jake Schrock, Def Rain, Badtwin, Baptist Generals, Jaeson Green, Matt Tedder, Blue, the Misfit, G.U.N., Lord Byron, Sam Lao, Picnictyme, FXXXY, Honor System, Ursa Minor, Acid Carousel, Troy Cartwright, Frankie Maxx, Sealion, Sur Dada, SASO, Rhymin' N Stealin', Pearl Earl, Mousehearted, Bird Meets Winter, Ishi.)