Two Years Later, The Food At Brick & Bones Is Still Good As Hell, From Its Award-Winning Fried Chicken To Its Spicy Habanero Bacon Mac & Cheese.
Maybe you've had a kickass night and you want to extend it by shoving some tasty food morsels into your mouth. Or maybe your night has completely gone down the toilet, and you can't find your friends, and your phone battery is dead, and, dammit, you could just really use something to eat right now, OK??!?!
Well, either way, in a city that's lacking in late-night dining options, Brick & Bones is a godsend.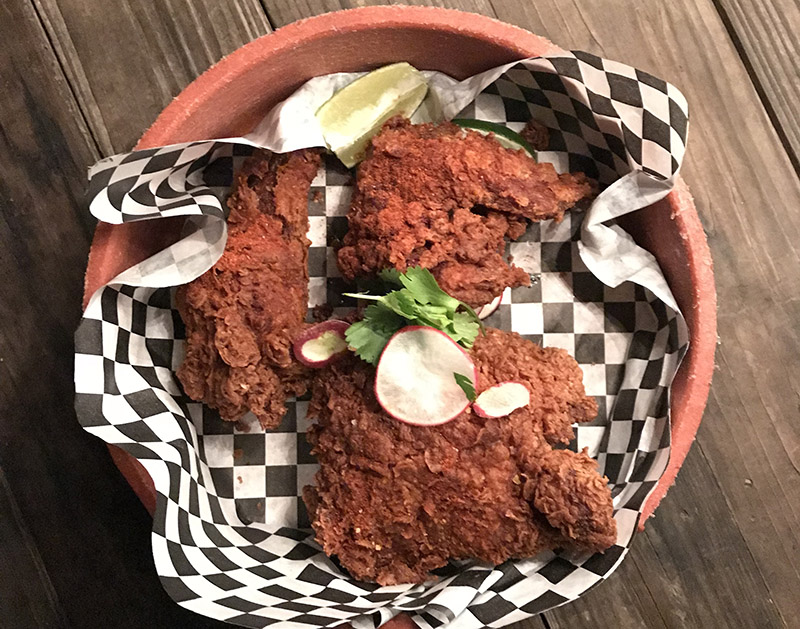 Since the summer of 2015, head chef Rey Morales and the kitchen crew here at this Deep Ellum spot have been putting a Mexican spin on fried chicken, mac and cheese, and all sorts of other tasty dishes. Tucked right in the heart of Elm Street close to Trees and Wits End, Brick & Bones might not look the part of a dining destination — it resembles a dive bar more than anything — but it is one just the same. Dark and gritty and exactly where it needs to be, this restaurant was specifically designed for sopping up alcohol, with its 6 p.m. to 2 a.m. hours keeping the denizens of Deep Ellum fed right up until last call.
Looks and initial aim be damned, though, Brick & Bones is far more than what it appears to be on first impression. Head inside the place and peer through the back wall's windows into the kitchen and you might spy Morales cooking up an epic storm centered around his beloved fried chicken with its killer crunch. Or just glance over by the bar and spot owner Cliff Edgar chatting up regulars as his bartenders mix up cocktails featuring ingredients like oven roasted pineapple and caramelized bananas.
Fried chicken and a beer is the easy and obvious route to take here, and while there's absolutely nothing wrong with that decision, making it means missing out on some more creative ways to sop up the many cocktail options, which dance through every spirit and spike that with unique pairings like beet juice, hibiscus-infused tequila or banana-infused rye.
As you might expect, there's a strong chicken focus to the menu with options ranging from tenders to naked to hot-fried, but there are also several appealing sides, apps, salads and seasonal specials to choose from. If you're looking for more than the booze to keep you warm, try the Mexican Onion Soup, Morales' just-introduced riff on traditional French version, which features caramelized onions deglazed in mezcal and red wine, a chipotle beef broth and pepper jack cheese. As for sides? The Mexican corn, Brussels sprouts and a bacon habanero mac and cheese are all better than they have any right to be.
If there's a knock on Brick & Bones, it's that its dark lighting makes it difficult to take good snaps of your dishes, meaning it's not exactly an Instagrammer's paradise. Of course, to a certain set, that's also part of the place's appeal.
And, to be honest, there's something refreshing about eating dinner inside an Instagrammer's worst nightmare. It helps you shed any expectations for a picture-perfect night, allowing you to comfortably stash your phone away and eat fried chicken like God intended – with both hands.
Besides, you can just use your words to tell your friends about it later. No, you might not have any pictures to back up your tales of deliciousness found here — but, believe me, you'll spout off more than a thousand of them in praise of this chicken by the time your friends start begging you to shut up about it.