Dallas Twitter Was In Fine Form As The Entire City Weighed Whether The Tornado Sirens Blaring At Midnight Were A Sign Of Doom Or Just Municipal Incompetence.
Last night, shortly before midnight, everyone in Dallas collectively freaked out as tornado sirens all across the city began to blare, intermittently turning on and off again for at least two full hours, with no apparent risk of tornado or, heaven forbid, airstrike looming. It was pretty freaky; no one really knew how to react as their late-night partying and/or attempts at sneaking in some early zzz's were interrupted by those familiar, often horrifying sounds.
And, seriously, everyone was on the same page there, given that the entire city's warning system went off at once. Check out this map of the sirens that went off during the mayhem: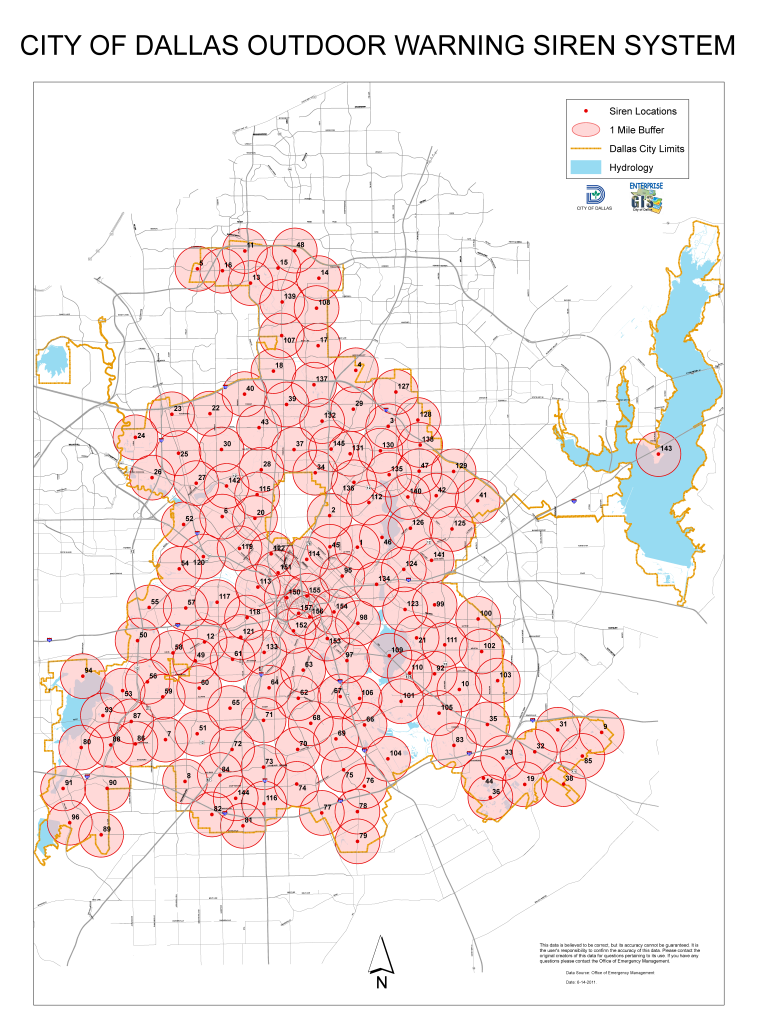 Not helping matters was the fact that it took the city over an hour to post an update to its social feeds, announcing that the blaring was apparently the result of a malfunction. Until that statement came, Dallasites had to rely on the tweets of area meteorologists confirming that there was no tornadic activity in the area and tweets from individuals at City Hall who said that the system had simply gone haywire.
Once their word came, here's what the city officially had to say about the errors:
Malfunction causes sirens to go off in Dallas: pic.twitter.com/amsbbxDeRx

— City of Dallas (@CityOfDallas) April 8, 2017
Although they would indeed continue blaring for about another hour after that release, the fix fortunately did not take a full three hours to come.
And, now, in the sobering light of daytime, we know what caused the sirens to go off: City officials now confirm what many on social media speculated during the blares, announcing that they believe the sirens went off as a result of a system-wide hack.
See Also: DALLAS' PUBLIC MENACE OF THE YEAR. // This Year, Mysterious TxDOT Hijacker(s) Provided Cheap Laughs and Political Commentary for Local Drivers.
Way to be, Dallas Twitter! Y'all nailed it.
And in more ways than one, actually, as the gallows humor locals engaged in over the course of the hack brought some much-needed levity to the proceedings. To that end, we've collected below some of our favorite tweets from The Great Dallas Siren Malfunction of 2017. Enjoy:
This would've never happened under Phil Simms' watch.

— Bradford Pearson (@BradfordPearson) April 8, 2017
Is this Mary Suhm's doing?

— Doyle Rader (@DoyleRader) April 8, 2017
Maintenance of Dallas' 911 system and emergency sirens really took a hit when Radio Shack went under.

— Zac Crain (@zaccrain) April 8, 2017
There should be distinctly separate sirens for zombie stuff

— Father John Zesty (@machinesports) April 8, 2017
We live in the upsidedown now dallas

— my name is guch (@outcomecritical) April 8, 2017
These sirens still sound better than Florida Georgia Line.

— Ben Baby (@Ben_Baby) April 8, 2017
.@CityOfDallas Maybe try ctrl+alt+delete?

— Michael Gruber (@tweetgrubes) April 8, 2017
Have they tried turning it on and then back off?

— Nicholas Friedman (@NMFreed) April 8, 2017
The hero this city needs, but not the one it deserves. #dallas #sirens #dallassirens pic.twitter.com/yutiM4OwlY

— Danyul (@De_La_Rooster) April 8, 2017
New leaked Call of Duty map. #dallassirens #aliens pic.twitter.com/AAxAfwWzn0

— David Gonzalez (@dcvidg) April 8, 2017
this sorta thing never happened when Obama was president #DallasSirens pic.twitter.com/IDKWpJbFMD

— Creth Davis (@crethdavis) April 8, 2017
Aaaaaannnnnd they're back. #dallassirens pic.twitter.com/qrLJpj7wh4

— Nathan J. Welsch (@nathanjwelsch) April 8, 2017
When #sirens keep going off in Dallas and they keep telling us it's a malfunction in the system. pic.twitter.com/sfHGQq2beq

— Amy Junod (@AmyJunod) April 8, 2017
dallas siren guy had one job pic.twitter.com/ySpowUZVvG

— kris • (@kristinareljaa) April 8, 2017