At ART CON 13, Art Lovers Were Able To Enjoy A Lively Art Sale While Doing Some Good For Refugees Who Have Fled Violence In Their Home Countries.
Cheering and shouting filled the space of the warehouse walls at The Cedars Union Saturday night as people threw their hands up to bid on the one-of- a-kind pieces for sale at the Art Conspiracy 13 auction. With two auction bays and three rounds of artwork, there was plenty for the wandering eye to see.
This year, organizers also expanded a bit on the event's features. Rather than having just the auction and live music, they set up multiple installations to create a more welcoming ambiance through multicolored lighting and interactive installations areas where for attendees could snap Instagrammable moments of the night.
But Art Con's basic principles of bringing together musicians, artists and art lovers to conspire together with a mission to raise awareness and create a giving community among the arts scene remained the same.
Over the course of its run, the event has hosted the work of some 750 area artists and raised more than $300,000 for 13 charity organizations. This year's beneficiary was SEEK the Peace. Jordan Eggars, a volunteer for SEEK on hand at Saturday's event, said his group's hope was that it would be able to raise at least $12,000 through the auction.
"With the funding from tonight, we're going to start an art for trauma healing program," Eggars says. "The goal is to have the refugees become leaders and help to shape the program."
The program will give refugees opportunities to provide emotional healing for themselves and others through candle-making and other artistic endeavors.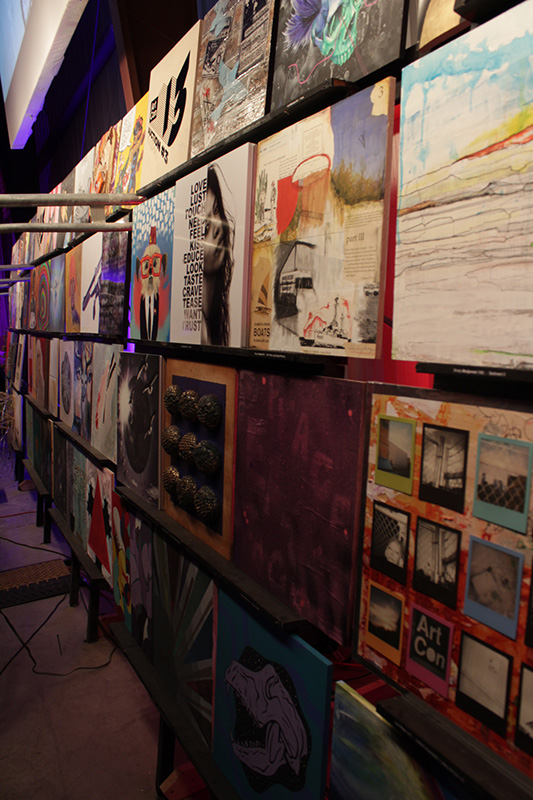 Artists at Art Con 13, meanwhile, followed the event's tried-and-true format. In advance of the auction, artists were given an 18-inch-by-18-inch plywood board and were instructed to create a work of art in one 24-hour time-period. Then, come Saturday, those pieces were auctioned with the bidding starting at $20 and getting up to triple digits in some cases.
Most artists went with a canvas piece, much like the majority of their predecessors. But there were a lot of firsts this year as far as artists expanding on the medium.
Michael Vangeli, an engineer by day and art lover all the time, said this was his seventh year attending Art Con, and his first coming as an attendee rather than a volunteer.
"The artists have really learned how to utilize the media given," he said. "There is an evolution of creativity that changes every year."
One artist in particular was thinking way outside the box — literally — by contributing a miniature monochromatic table, complete with four legs to hold it up. The piece was named "Pete's Table" after a handicapped dog named Pete who needed a boost to look out the window. There was also a record player, a piece featuring three-dimensional monarch butterflies and another with intertwined metal piping coming off the wooden frame.
With the weather conditions more than ideal, attendees filled the parking lot as well as the warehouse, enjoying the food trucks and cocktails, while local bands performed on the intimate stage inside. The feeling of being around people who genuinely love art and the mission behind Art Con was hard to ignore. Auctioneers jokingly pressured people into bidding wars, saying things like, "It's for the refugee children!" and "Let's get it up $100 more!"
We'll be bringing you a full list of the 10 pieces that got the highest bids that night later this week, so keep an eye out for that.