Briefly Escape This Bitter Earth With Jeff Goldblum, Rock In The Suburbs With Ben Folds & Cake And Harvest Your Love For Tash Sultana. Plus More!
Ok, let us start by apologizing for what you're about to see, but if we had to see it, so do you.
In what seems like a too-convenient-to-be-believable love match, two of the biggest pop stars at the moment, Shawn Mendes and Camila Cabello, are dating… or something like that.
Ever since they confirmed their definitely-not-pressured-by-their-publicists relationship to coincide around the time of their collaboration single "Señorita," there's been a cluster of photos and videos of the two engaging in PDA all over social media that no one asked for. Well, they decided to clap back (if you can even call it that) at the people who have been making fun of their kissing methods (?) by posting a cursed video:
View this post on Instagram
Thanks, I hate it.
Now, you're probably wondering why we care enough to mention this. And the answer is simple: we needed a visual to depict you & the plans you are going to want to make after reading this list of things to do in DFW this week.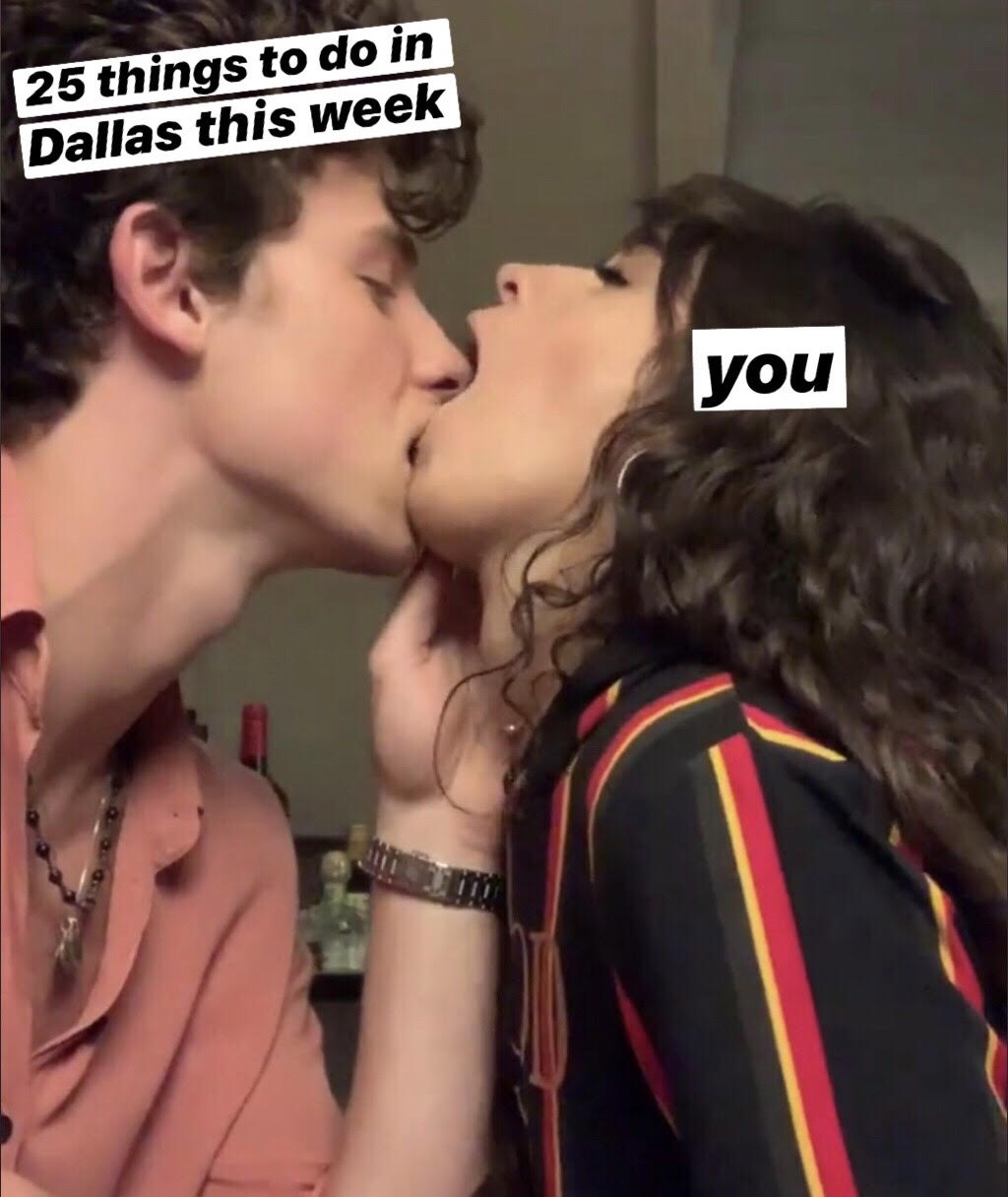 Have fun! — Alec Spicer
Monday
Mexican Indepence Day at The Rustic 
A celebración co-presented by Four Corners Brewing Co. that includes a live lotería drawing and DJ set from Ronnie Heart. And no, gringo, it's not the same thing as Cinco De Mayo. — Daniel Valdez
Olivia Gatwood & Special Guests at Rubber Gloves
A poet and educator in sexual assault prevention, Olivia Gatwood is particularly notable for her video "odes" to subjects like "the word 'pussy,'" "my period underwear" and "my bitch face." Right on. — DV
PJ Sin Suela at Trees
This Puerto Rican MC went to med school and got his doctorate, then moved onto spitting bars with stars like Bad Bunny. And you thought your degree had nothing to do with your current job. — DV
Outward Bound Mixtape Session at RBC
The stalwart avant-rock bookers have curated a tight lineup this time around, featuring the sludgy Eloe Omoe, Toronto's Luge, Denton's Sexual Jeremy and the wonderfully named Gay Cum Daddies. — DV
Tuesday
Half*Alive at Trees
Their stylish video for the single "still feel" has racked up 26 million Youtube views, rocketing the band to a major label (and a perpetual home in Spotify "indie" playlists). Now, they're playing Trees in support of their debut album "Now, Not Yet" — DV
Injury Reserve at Club Dada
This Phoenix alternative hip-hop outfit is starting to become the "it" act in indie music. Stereogum even listed the trio as a "Band to Watch" a few months back. — Garrett Gravley
Paul Anka at Winspear Opera House
This is the show your grandma invited you to. Be nice and tag along, won't ya? He wrote "My Way," for god's sake! He'll be performing mainly Sinatra covers, though. — DV
Jojo Siwa at Verizon Theatre
And this is the show your little sister invited you to. Possibly the first ever tour to be sponsored by both Nickelodeon and Party City. — DV
Lewis Capaldi at Granada Theater
The Scottish troubadour's debut album is titled "Divinely Uninspired to a Hellish Extent". Hopefully that's just some kind of reverse psychology tactic to get you to see the show. — DV
Texas Terrors Film Festival 2 at Texas Theatre
This indie horror short film festival returns for its spine-tingling sophomore year. One of the most intriguing shorts on the bill is "Closer," about a young woman whose fascination with ASMR videos leads to her questioning the nature of reality. The quintessential ASMR experience, really. — DV
Wednesday
Morrissey + Interpol at Verizon Theatre
If Morrissey decides to cancel (as is his usual MO these days), Interpol is still playing. That's tough to refuse. — GG
Kenny G at Winspear Opera House
Jazz purists tend to hate Kenny G. And, as evidenced by the picture above, that included the GOAT, Miles Davis. — GG
Tash Sultana at South Side Ballroom
The queer Aussie psych-rocker played this same room last year, but this time, they've sold the place out. — DV
Coming of Age: A Women of Color Comedy Show at Oak Cliff Cultural Center
Three local WOC comedians perform sets at OCCC, a needed antidote to the mayonnaise lineups of most mainstream comedy shows as of late. — DV
Kataklysm at Gas Monkey Live!
From the harsh, icy tundra of Montreal harks this death-metal band. — DV
Xavier Rudd at HOB
Xavier Rudd is known for his persistent activism in support of the environment and indigenous people He's like Bono, but Australian and far less obnoxious. — DV
"The Fly" at Texas Theatre
One of the coolest (and grossest) Jeff Goldblum films, for all you stans who can't wait for his concert the next night. We'll manifest that he makes an appearance at this for you. — DV
Cafecito: Consent at The Wild Detectives
Planned Parenthood's latinx outreach program is running this interactive event about the importance of consent. — DV
Thursday
Squeeze at Bomb Factory
The British new wave band will embark on their "Difford and Tilbrook Songbook" tour this fall and play cuts from their golden age, as well as solo songs from the aforementioned frontmen. The tour includes a rare Dallas appearance at The Bomb Factory. — GG
Ben Folds + Cake at Verizon Theatre
This is shaping up to be the year of the big co-headlining bills. Some of the co-headline announcements this year include Morrissey + Interpol, The Black Keys + Modest Mouse, Smashing Pumpkins + Noel Gallagher's High Flying Birds, Father John Misty + Jason Isbell, Kali Uchis + Jorja Smith and Beck + Spoon + Cage the Elephant. And now you can add Ben Folds + Cake onto this pile. — GG
Senses Fail at Gas Monkey Bar N' Grill
Back in the mid-2000s, these guys were at the center of the emo/post-hardcore movement that took Myspace by storm, and they've been at it tirelessly long after that bubble burst. Hot Mulligan and Yours Truly open the show. — GG
Noah Kahan at Granada Theater
Vermont singer-songwriter Noah Kahan signed to Republic Records in 2016, where he released his debut single "Young Blood". That same year, he collaborated with Julia Michaels on the song "Hurt Somebody." People have been quick to call Kahan an industry plant, but can you seriously picture A&R reps flying to Vermont to search for the next big thing? C'mon, now. — GG
Jeff Goldblum & The Mildred Snitzer Orchestra at Strauss Square
Jeff Goldblum is a jazz pianist, but you already knew that. He and his backing band, the Midred Snitzer Orchestra, will be paying us another visit at perhaps one of the most jazz-friendly venues in the area. — GG
The Other Art Fair at Dallas Market Hall
120 artists will present and sell their work in a swanky hall with live performances and free gin cocktails. The buyable artwork starts at $150, so don't cheap out and hang it up on thumbtacks. — DV
Kiana Lede at House of Blues
Former Kidz Bop Kid. Current R&B crooner. — DV

Cover photo via UMG.