Have The Best Homegrown Festival Ever By Winning Our Baller Homegrown Experience.
One of the biggest local music stories of the year thus far has been Tripping Daisy's surprise reunion announcement back in January. Now, after five months of buildup, the legendary locals will play their first show in 17 years next Saturday, as the headliners of the eighth annual Homegrown Music & Arts Festival at Main Street Garden Park.
See Also: HERE'S WHO'S PLAYING IN THE REUNITED TRIPPING DAISY.
As one of the area's last big outdoor fests standing, and with a lineup that not only boasts such a buzzworthy headliner but a strong lineup from top to bottom, tickets to HG8 are selling fast. And make no mistake, the collection of MUTEMATH, White Denim, Porches, Lower Dens, Still Corners, Motorcade, RC & The Gritz, El Gato, Cure for Paranoia, Lizzie Boredom and Greg Schroeder makes it one of the strongest Homegrown lineups to date — certainly worthy of the $100 VIP fee.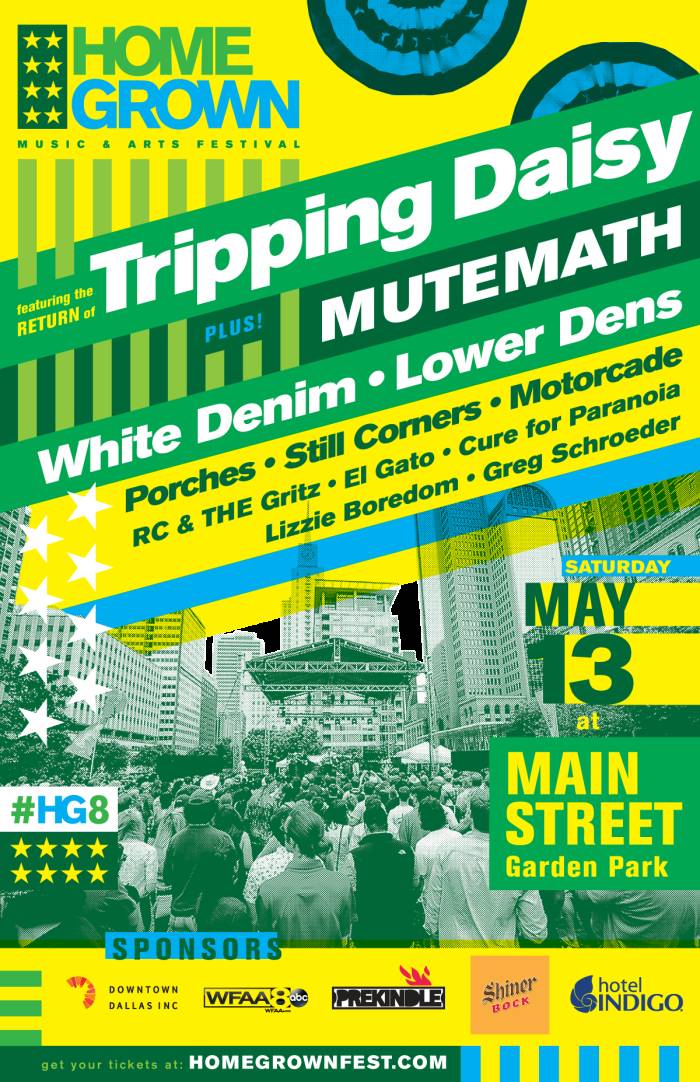 But for one lucky reader and a buddy, that cash will stay squarely in your pockets where it belongs. That's because, once again, we're teaming up with Homegrown to offer up another Baller Pack. But wait, there's more! Not only might you and a buddy get into this thing for free, but if you're the chosen ones to receive this VIP treatment, you'll also get all of the bonus perks detailed below.
Here's what else is up for grabs this time:
A pair of VIP passes to from Homegrown Festival. VIP Experience includes access to VIP restrooms, bars and exclusive seating areas.
Limited edition HG8 poster.
Homegrown T-shirt.
Signed copy of Tripping Daisy's I Am An Elastic Firecracker LP.
Signed copy of MUTEMATH's VITALS LP.
Entering our contest is free. It's easy, too. Just do so by signing up in the form below. And make sure to do so by Wednesday, May 10, at 8 p.m. when we'll pick this Baller Pack's winner. Oh, and do all of the additional tasks mentioned below if you want to increase your odds!
Homegrown Festival 2017 CT Baller Pack