Live Nation Brings Back Its Cheap Lawn Ticket Promo, Rhett Miller's Poetry Draws Ire And Kacey Musgraves Has Some New Tricks Up Her Sleeve. Plus So Much More!
Sure, maybe your rent is due tomorrow. But music is a form of communication that predates language, and seeing it in a live setting should still be high on your list of spending priorities.
If that's the case for you, good news! Starting at 11 a.m. tomorrow and running through 1:29 a.m. on May 8, the concert conglomerate Live Nation will host its annual National Concert Week promotion in which it sells tickets to a whole smorgasbord of shows, all at $20 a pop. The following list of acts represents just a few of the talents swinging through Dallas whose shows are on the discount list:
$uicideboy$
Lil Pump
Coheed and Cambria
Mary J. Blige
Slayer
Cage the Elephant/Beck
Kali Uchis
Smashing Pumpkins/Noel Gallagher
Willie Nelson
Marco Antonio Solis
Dane Cook
Beast Coast (Flatbush Zombies and Joey Bada$$)
The 1975
The Who
Blackbear
Jim Gaffigan
Head here starting tomorrow to get in on this fire sale.
Speaking of fires: It's really starting to look like Woodstock 50 could be the second coming (kindling?) of Fyre Festival, leaving Fort Worth hero Leon Bridges' scheduled appearance at the anniversary event in question. NPR is reporting that investors have pulled out of the attempted half-century revisit of the legendary namesake event. In a statement from Dentsu Aegis Network, the multinational media firm that initially invested in the festival, a spokesperson said they have "decided to cancel the festival." A representative of Woodstock 50, however, is singing a completely different tune, as evidenced by a statement issued to Pitchfork that said the following: "Although our financial partner is withdrawing, we will of course be continuing with the planning of the festival and intend to bring on new partners."
In other words: Get your jail sandwiches and FEMA tents ready, folks!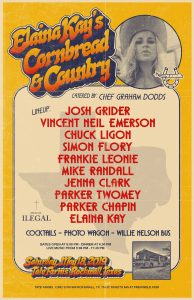 Beforehand, though, maybe mosey over to Dallas singer-songwriter Elaina Kay's inaugural Cornbread & Country Festival, which scheduled to take place Saturday, May 18, at Tate Farms in Rockwall. Playing this affair will be Kay herself, as well as Josh Grider, Vincent Neil Emerson, Chick Ligon, Simon Flory and others. Tickets for this are going for $45 via Prekindle.
Also trying new things is Rhett Miller, as the Old 97's frontman is currently doing all he can to promote his new, very Shel Silverstein-inspired poetry-for-children collection called No More Poems! Not everyone is digging Miller's new venture, though: A post shared by one mother who spotted Miller's poetry book while shopping at Costco has gone viral over her concerns over the dark undertones of the material. On the other hand, that controversy has brought Miller supporters out of the woodwork to voice their approval of the new venture from the songwriter — among them Stephen King. Hey, any publicity, right?
Meanwhile, Pearl Earl drummer Bailey Chapman is up to new tricks too, having played her second show as a drummer of Austin punk band Sailor Poon at Fort Worth's Fortress Festival this past weekend. Per Sailor Poon of that Fortress Fest set in a press release announcing the addition: "While many bands have performed with double drums, this could be the first time an all-female outfit has taken up the challenge… The band [has recorded] video and live audio to document the event, and will release a video of the performance later this year."
Sounds like we'll have to wait for that video. Not so with the following collection of freshly dropped clips from North Texas acts this week, though!
First up, check out the below, new clip from the also Fortress Fest-performing War Party. Set to the band's "No Exit" track, it's apparently the last video the band will release as it winds down the project for good.
Sticking to Fort Worth-based talents, the boys in Quaker City Night Hawks have dropped a video to go with its drug-addled "Suit In The Back" track, which we named a "Song of the Day" here on the site back in November.
Back on the eastern front, Dallas emo SoundCloud rapper Sadfacethuggin has a fresh video of his own for this song "Detonator" that you can check out below.
There was a time when the term "emo rapper" was a unique thing to hear. But now it's a dominant one in hip-hop. Of course, that's not the only genre that is embracing a new appreciation for emo: Just last week, Kacey Musgraves addressed the emo phase she went through with the tweet below:
some of y'all never were into gauging your ears in your early high school years until your nana found your plugs and threw them away and it's really showing https://t.co/rJKEm72OeV

— K A C E Y   M U S G R A V E S (@KaceyMusgraves) April 22, 2019
Innocuous as this tweet may seem, it appears as if emo is more than just a phase for the Mineola-based singer-songwriter. After all, Musgraves once teamed up with Paramore's Hayley Williams in covering Cyndi Lauper's "Girls Just Wanna Have Fun" and the pair also once filmed themselves singing along to "Screaming Infidelities" at a Dashboard Confessional show. And now comes word that Panic! at the Disco's Brendon Urie has expressed interest in collaborating with country superstar, recalling how he met her while attending a Clive Davis party where he was seated at the same table as Musgraves and her fellow North Texas-sprung country darling, Maren Morris.
Musgraves is, of course, in high demand these days in the wake of her recent award-show dominance. Just this morning, she was announced as a performer at this year's Austin City Limits festival, where she's earned herself ninth billing on a lineup featuring dozens of performers.
Finally, let's close out this week's column with some quick-hitting notes.
Dallas indie pop duo D & Chi won the first annual KAABOO Discovers event hosted at the Rustic,  and has earned itself a performance at KAABOO's upcoming Saturday, May 11, offering.
Denton experimental outfit Emotional Indulgence (formerly known as Ethereal and the Queer Show) has released a new self-titled album via Noumenal Loom.
Fort Worth singer-songwriter Jake Paleschic announced via Twitter the May 17 release of a new single called "The Light."
Longtime Dallas Observer contributor Eva Raggio has been named the paper's new arts and culture editor, replacing Paige Skinner, who held that post for a little over a year before recently taking up residence in Los Angeles. Best of luck to Skinner and Raggio alike in their new ventures!
Cover photo by Pete Freedman. Got a tip for White Noise? Email us!