Two Injured In Andy's Bar Shooting, The Rail Club's Off To Court, Quaker City Night Hawks Gets A Queso Line, Warbeast Returns Post-Cancer Fight & More.
Frightening news out of Denton over the weekend, where gunfire broke out during Saturday night's DUMFest Virgo Bash Edition show at Andy's Bar on the square: Per multiple outlets, multiple gun shots were fired after a fight broke out inside the club towards the end of the hip-hop-heavy show, which reportedly featured performances by HoodFame Lil Ronnie, S3nsi Molly & Lil Brook, Av The Great & Gas House Smitty, RatchetAssWooda, Masa Lopez, Fab Duece and more. Two men involved in the altercation were later taken to the hospital with non-life-threatening injuries, and two other men were arrested for their role in the scuffle.
No other bar staff or patrons were injured.
But whereas Dallas venues — including the Granada Theater and Club Dada, among others – have, at various times over the years, banned hip-hop shows from their establishments following comparatively lesser disturbances, Andy's management appears committed to welcoming all genres on its stage when the bar re-opens tonight. Per a message on the venue's Facebook page: "Although shaken by an unwelcome event, our team's resolve to press forward together is inspiring. We're proud of their courage and even more of their concerns, not about themselves, but for everyone around them. From fellow staff to patrons and artists alike, we want to provide a home and stage that celebrates ALL people and genres of music."
It's worth keeping in mind in times like these that hip-hop shows are by no means the only ones where tensions can sometimes run high. For instance, people are bound to get out of control at this Thursday's free Blake Shelton pop-up show at Billy Bob's, a venue about a quarter of the size the country megastar typically plays. Want to attend the "intimate" 5,000-cap show yourself? You can start lining up at 10 a.m. outside of the venue box office on Thursday to score a wristband.
While were at it, here's another big show announcement worth keeping on your radar: Warbeast will play its first show with frontman Bruce Corbitt in a year and a half as part of an October 20 bill at Ridglea Theater. Corbitt's been battling esophageal cancer during that stretch, and Corbitt's posted on social media that he's skipped some doctor-recommended chemo treatments just to make sure he is rested up enough to perform at this one.
Originally, that show was set to go down at The Rail Club — but we're learning there's good reason for its relocation. Turns out, that club is being evicted by its landlord! The scuttlebutt on the ol' book of faces is that the eviction revolves around some missing rent payments, which ownership alleges may have been embezzled by former employee Kevin Dunlap, who is now being taken to court by some of his colleagues as a result. Once the dust settles, owners say they plan on re-opening their storied Fort Worth metal club in a new location.
In the meantime, it seems Dunlap is still running the venue's Facebook page: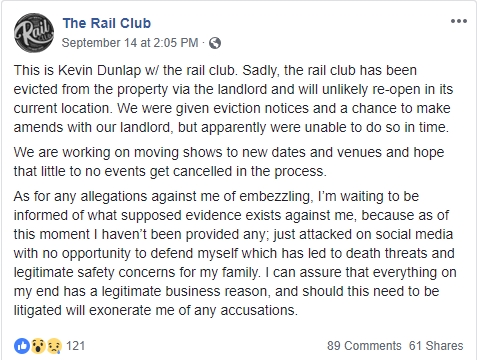 This is a developing story, which we'll continue to monitor.
Speaking of things worth monitoring: Blue, the Misfit's is set to move from Dallas to New York soon, and the folks at Ruins are sending him off with a goodbye part set to go down this Friday, September 21. The night before that, Blue's Just _____. party brand will host a Mac Miller tribute set at RBC that'll be DJ'ed by DJ Myko Fldr. Could that be an indication of that brand's future? Maybe!
One thing we are sure about is that this year's Dallas Observer Music Awards Showcase, which annual finds some 50 or so award-nominated local bands take over eight stages across Deep Ellum, will this year take place on December 1. Nominations, meanwhile, will be announced October 4.
Some bands that won't be nominated in that annual event are the ones that'll be performing at Rock Lottery No. 17 — but that's just because they don't exist yet. In case you've missed the past two decades worth of these offerings, they go like this: Members of 25 local bands will meet up at Dan's Silverleaf the morning of October 13, get split up into five new groups, head off to write and rehearse new songs for the rest of the day, and come back to perform them in front of an audience that night.
You also have a few incentives to hit up a Quaker City Night Hawks show next week. At the band's September 29 show at Dallas' Twilite Lounge and the next night at the bar's Fort Worth location, the band will be releasing a couple of old tunes – "Queso Blanco" and "Fox in the Henhouse" – on seven-inch vinyl for the first time. Better yet is the fact that Mrs. Renfro's Gourmet Salsas has whipped up a limited run of branded queso to hawk at its merch booth this month.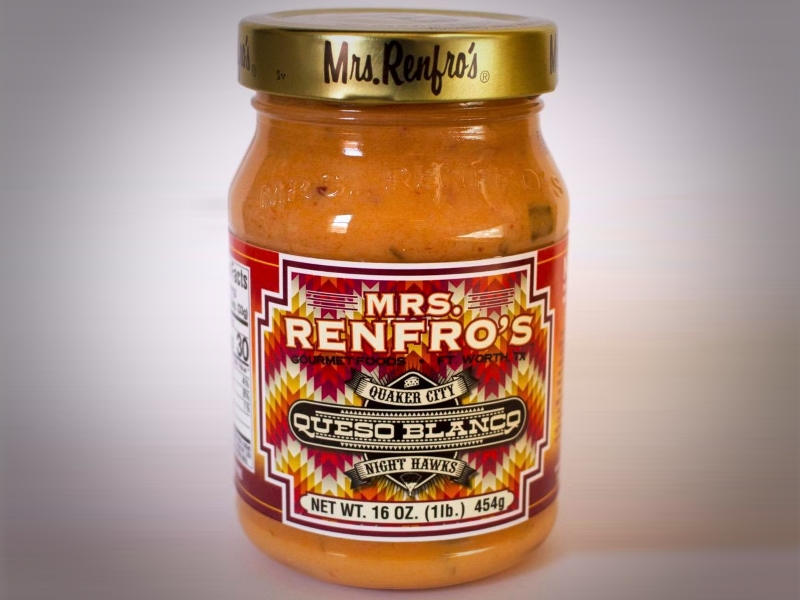 If there's something Texans love as much as queso, it's Willie Nelson, who'll play his first concert in support of an active political candidate later this month on behalf of Beto O'Rourke. The September 29 show at Austin's Auditorium Shores venue is set to feature Leon Bridges, among many other heavy-hitting Texans. The event is free, but you must RSVP here in advance. Meanwhile, don't forget that a similar event featuring Spoon, The Polyphonic Spree and others called the Buffalo Tree Festival is set to take place on October 7 here in Dallas.
Speaking of Bridges, though: He recently invited a pajama-clad John Mayer onstage at Los Angeles' Greek Theatre to play guitar on his "Mrs." song, the video of which you can watch below:
Similarly, DJ Khaled brought Dallas rapper Yella Beezy on stage during the Arlington stop of Jay-Z and Beyoncé's On The Run II tour. He the best.
In other video news, Edie Brickell & New Bohemians released a clip for the first single from their upcoming new studio LP Rocket. The "What Makes You Happy" video finds the group skating around a retro rink. The LP comes out October 12, with an official release show happening at the Granada the night before.
Meanwhile, the artist formerly known as Tunk made a visual treatment for the penultimate track from his new Lil Bro Nem, Vol. 1 mixtape. Peep ArraDon's "Marathon" video and its many featured guest spots below.
For our last video of the week, Toadies dropped a live clip of "Broke Down Stupid" to promote its upcoming Live at Billy Bob's Texas album, which comes out September 28. You can pre-order the thing at Spinster Records, however, this Friday the 21st as part of a listening event. The band then returns to Billy Bob's for the third straight December 30, a day the City of Fort Worth has decreed to be official Toadies Day.
Finally, we may have an explanation for Post Malone's otherworldly string of bad luck of late. Seems that mother fucker messed with one of the world's most haunted objects while hanging around a noted ghost hunter.
Also, there's a Ghost Malone joke to be made here somewhere.
Andy's Bar cover photo via Facebook. Got a tip for White Noise? Email us!