Protesters Injured By "Non-Lethal" Projectiles At Recent Dallas Protests Have Filed A Federal Civil Lawsuit Against The City Of Dallas, Police Chief.
Update at 9:30 p.m. on Thursday, June 11: In response to the lawsuit detailed below, a judge has signed an order — and Dallas city attorneys have agreed to it — that bars the Dallas Police Department from using tear gas and other chemicals against non-threatening people at protests. The order also bars DPD officers from firing or deploying kinetic-impact projectiles (rubber/sponge/wooden bullets) into crowds under any circumstances for the next 90 days.
Dallas Police Chief Renee Hall has agreed to the decision.
Below is a press release from the attorneys who initiated the lawsuit.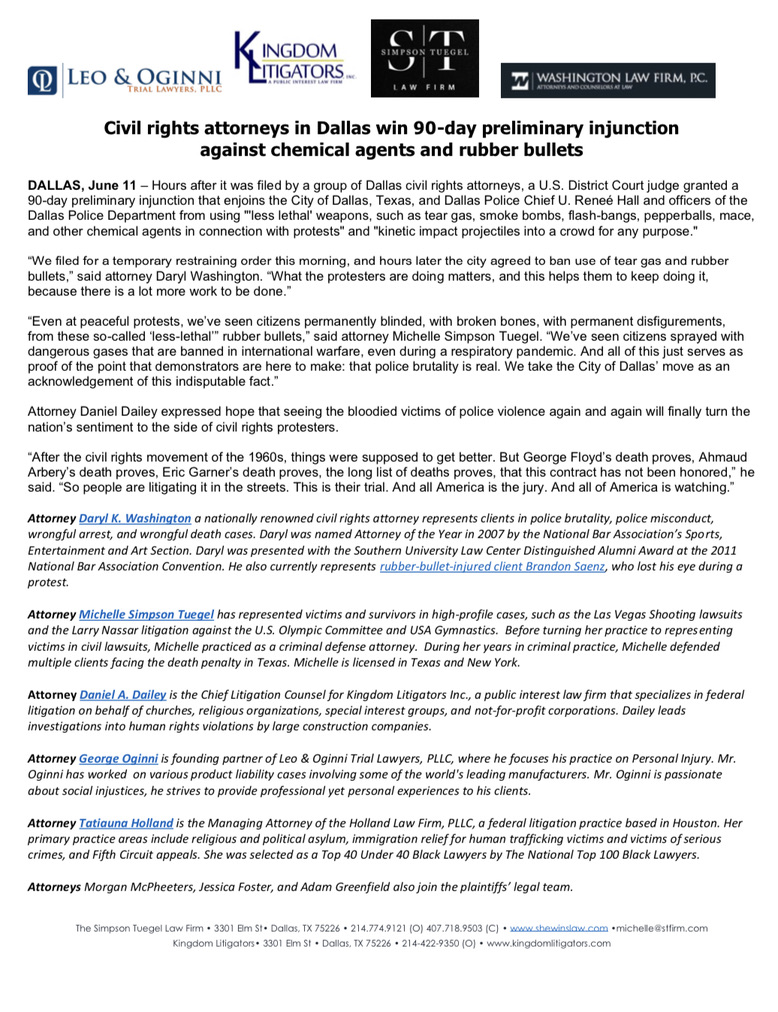 Read the entire injunction order here.
Asked why the 90-day aspect of the injunction is important, attorney Michelle Simpson Tuegel provides the following statement:
"We filed this motion asking a federal court in Dallas to grant emergency relief for people who are trying to exercise their First Amendment rights, right now in Dallas. Courts grant preliminary injunctions for a limited time because these orders are in response to an urgent need where people will be immediately and irreparably harmed if the court does not step in. A preliminary injunction is actually more powerful than a temporary restraining order — which is what civil rights attorneys in Denver and other cities have recently sought to stop similar police brutality. Temporary restraining orders typically only last for days, not months.
"We pushed for a 90-day order in hopes that the City will investigate these uses of excessive force, and particularly these so-called 'less lethal' rubber bullets which are anything but. We expect to see some very strong and solid policies on these issues implemented by the City by the time the 90 days up. And if they are not, we will implore the Court to extend the injunction further as necessary, or even permanently.
"In the meantime, this helps our clients and others like them to feel comfortable to get back out there and exercise their First Amendment rights, knowing that the Dallas Police Department is now required under the order of a federal judge to not use tear gas and rubber bullets against peaceful protesters. And if they do, this injunction means there are consequences for the City that there would not have been otherwise."
More details as they come.
Original story follows.
* * * * *
On Wednesday, two Dallas protesters filed a federal civil lawsuit against the City of Dallas, Chief Renee Hall and "John Doe officers 1-50" after sustaining injuries at recent peaceful protests.
Tasia Williams and Vincent Doyle were both hit with rubber bullets at separate Dallas protests, according to lawsuit filings.
Williams was among hundreds of peaceful protesters who marched onto the Margaret Hunt Hill Bridge on June 1, and was ultimately detained for hours. She was hit in the leg with a rubber bullet.
In conjunction with the suit, lawyers have also filed for a temporary emergency restraining order against the Dallas Police Department's use of tear gas, rubber bullets and sponge bullets. 
Both Williams and Doyle are being represented by a group of Dallas-based civil rights attorneys.
Though DPD has still not confirmed whether it used projectiles like rubber bullets and tear gas used on the bridge and in previous clashes with protesters, our own reporting has confirmed the department's use of such weapons, thanks to video evidence we ourselves have filmed throughout the last 14 straight days of protest. 
"Police say that they need to use tear gas and rubber bullets as tools to force a crowd to leave an area," co-lead attorney Michelle Simpson Tuegel said in a press release. "But when they are being used against protesters who have already been trapped and have no way to leave, these are no longer tools of crowd control. They are instruments of torture."
In a special session with City Council last Friday, Hall told council members she was still unaware of what projectiles had been used. 
Much like a 26-year-old man named Brandon Saenz, Doyle was hit in the face with a rubber bullet during a protest on May 30, fracturing his face and requiring the installment of a metal plate, according to his attorneys. 
"Plaintiffs each peaceably attempted to exercise their First Amendment rights by participating in the 2020 Protests for reforming policing tactics and resolving racial injustice in Dallas," lawsuit documents state. "And in doing so, Plaintiffs became victims of the very same unjustified and horrific police brutality they were demonstrating against."
The plaintiffs have filed to block DPD's "future use of tear gas, other chemical agents, and rubber or sponge bullets KIPs (kinetic impact projectiles)."
"There is no compelling argument that this action was taken to protect life or property," Simpson Tuegel said. "These were peaceful protesters exercising their First Amendment rights. There are no businesses to loot in the middle of the Margaret Hunt Hill bridge."
Like so many small businesses, we at Central Track face an uncertain future due to the effects of COVID-19. In eight years of operations, we've never locked our content from you through subscriptions or paywalls — but, in order to make it out through the other side of all this, we need your help. If you can, please consider supporting our coverage of all things Dallas culture by supporting us on Patreon in exchange for exclusive perks or by donating directly through PayPal or Zelle to [email protected].