Produced Almost Entirely By Women, Theatre 3's Latest Play Fiercely Tackles The Hottest-Button Issues Of Our Time — By Looking To Our Past & To Our Future.
This story is sponsored by the Theatre 3, which is hosting the world premiere of the acclaimed playwright Selina Fillinger's The Armor Plays: Cinched & Strapped through June 30. Visit the award-winning theater's website for more information about this run, and to purchase tickets to this progressive night of female-forward theater in The Quadrangle neighborhood of Uptown Dallas.  
You already know: The future is female.
But when the war for that future comes and it's time to get dressed for battle, will you be cinched or will you be strapped?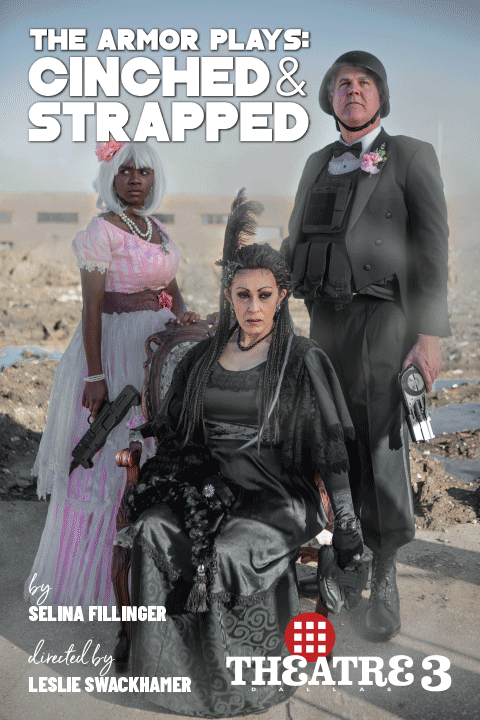 Theatre 3's world premiere of The Armor Plays: Cinched & Strapped, which opened on the Uptown Dallas space's iconic theatre-in-the-round stage this past weekend and will run through June 30, aims to answer that question. And since you just might not forgive yourself if you miss the answer that this paired offering settles upon, you really shouldn't risk letting this production pass you by.
Written by one of today's cleverest, award-winning female playwrights, Selina Fillinger (whose Something Clean play recently earned a rave in The New York Times), The Armor Plays: Cinched & Strapped is actually two incredible new plays merged together to explore many of the hot topics that we are repeatedly seeing emblazoned across our headlines in 2019.
Gender, war, abortion and the urgent sense or rebellion felt in these politically challenging times — it's all up for grabs in this production. The first act transports audience back to the 19th century for a setting filled with corsets, lace and quote-unquote manners. The other projects us into a dystopian future where destruction and desperation have combined to raise the stakes in a world that is dirty, sexy and full of guns.
Directed by Leslie Swackhamer, whose own impressive stage work across the country is turning heads, the hit play is produced by a local creative team of women who very much wear the pants in the Dallas arts community. Nearly a dozen fierce females have joined forces for this effort, almost exclusively handling its sound design, scenery, animation design and everything in between.
If you're keeping score, 80 percent of the cast is also made up of inspiring women — among them Christie Vela (as Lady Glessing and Arb), Sophie Neff (as Lady Witherton and Goo), Ania Lyons as (Lady Ada and Tot), and Ana Hagedorn (as Tabitha and Igg). Dallas theater mainstays James Crawford (as Lord Burrows and Ved) and Seth Magill (as Lord Witherton and Cal) round out the roster of
The Armor Plays: Cinched & Strapped is more than just timeless. It's also timely AF.
Tickets to The Armor Plays: Cinched & Strapped cost between $10 and $50, and are moving fast. Shows run Thursday through Sundays, with a couple of additional performances. See the full performance schedule and reserve your seats here. Cover photo by Jeffrey Schmidt.