The Henry Brothers Talk About Life, Coffee And Creating Space For Both At Houndstooth's Newest Dallas Outpost At Walnut Hill And Central Expressway.
Welcome to The Quickie, our new series featuring a short 'n sweet, quick 'n dirty interview with a local small business owner, chef or creator.
Texans Sean and Paul Henry are the minds and management behind Houndstooth Coffee, a minimalist coffee shop chain with five locations in Austin and Dallas. The duo most recently opened up a third Dallas location at at the end of November at the forthcoming Hill Shopping Center at Walnut Hill and Central Expressway.
The new Houndstooth spot is solar powered and is the first coffee shop in the state of Texas to feature the Mavam Espresso machine, a machine that sits below the counter allowing for more customer-barista interaction.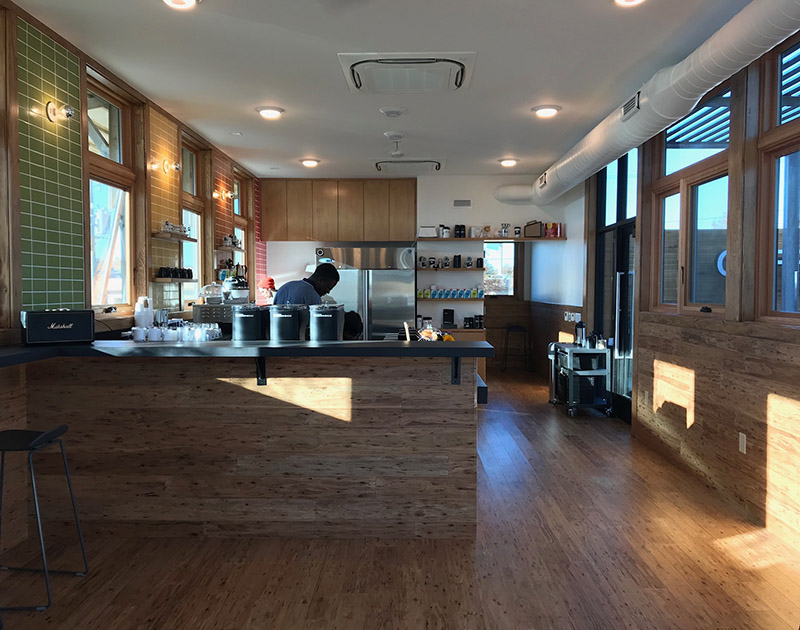 The Henry brothers both believe in caring for people, guests and the coffee that brings them together. That's an attitude that they see as key to being an "integral pattern in the fabric of the Texas Coffee community."
And that's something they've tried to do that since 2010, when Sean started the company and then followed that by opening coffee wholesaler Tweed Coffee Roasters in 2013 in the Design District. Paul is now the acting GM and manages the Austin shops and staff.
We sat down for a chat with both of them about Houndstooth's past, future, current happenings and their newest Dallas location in this week's Quickie:
Give everybody the Houndstooth backstory. What made y'all decide to get in the coffee biz?
PH: My brother Sean founded Houndstooth in 2010 after a trip to the Pacific Northwest. The coffee culture there was so much more developed than anything in Texas, so he came home with a goal of opening a high-quality cafe in Austin. I joined him before we opened and have been with the company every since.
SH: Houndstooth began as a simple idea to create a space for folks to enjoy coffee and one another. After college as I was spending days off reading and writing in various cafes, I thought this is what I want to do. I want to provide space for people to thrive and grow. As we've progressed, I realized that all along we've been in the hospitality business, not just coffee. I've gotta give a shout out to our Baristas, who work so hard and host people day in and day out. Our baristas and guests truly make Houndstooth what it is by weaving the pattern of coffee and people everyday.
What might folks not know about your coffee or about coffee in general?
PH: Coffee is a fruit! This tends to surprise folks. It is a seasonal product like most fruits and it takes tremendous care to retrieve, ship, roast and brew a coffee bean in a tasty way.
SH: Our coffees are seasonal. It's great to celebrate the seasonality of coffee throughout the year. We love it when the fresh crop coffees arrive and remind of what we tasted the year before. We're about to bring in our first coffee from Ecuador, which I'm really excited about.
What and how do you brew at home?
PH: I actually don't brew coffee at home very often. I own a Chemex, Clever Dripper and Kalita Wave but they don't get much use.
SH: I generally use an automatic brewer at my house. When you have kids, sometimes the simplest solution is the best.
Ah yes, children. Well, when you get out, what's your favorite place to eat out in Dallas?
PH: Our favorite place to eat in Dallas is the original Bob's Steak & Chophouse.
SH: For a solid date night, we enjoy Gemma. Small Brewpub has a great burger. Skellig for weekend brunch.
What's the latest/coolest/most exciting thing you're working on right now?
PH: Houndstooth just opened a cafe at the northeast corner of Walnut Hill and 75. It's an exciting project to be a part of and TreeHouse is a fantastic neighbor! The entire project is solar powered and places a very high value on using sustainable goods and renewable energy. We're also going to open a new cafe in Austin just off MLK & Alexander Ave. It will have a full bar component as we try and bridge the AM/PM divide with tasty beverages & genuine hospitality.
SH: Our new espresso machine at the new location. The Mavam is pretty cool. It really helps breakdown the physical barrier between barista and guest. We love watching folks get excited about their coffee being made.
This is our first stand-alone cafe, which is fun. It has a great feel as you walk up. Then once you're inside, our goal was to bring the outdoors in. From the wood floor that flows onto the walls to the rainbow wall to all the sunlight pouring in all sides, it never feels like a tiny house. We hope the result is that our guests feel energized not just by the coffee but by the space itself. It is small, but the way it sits high on the hill on that NE corner is amazing.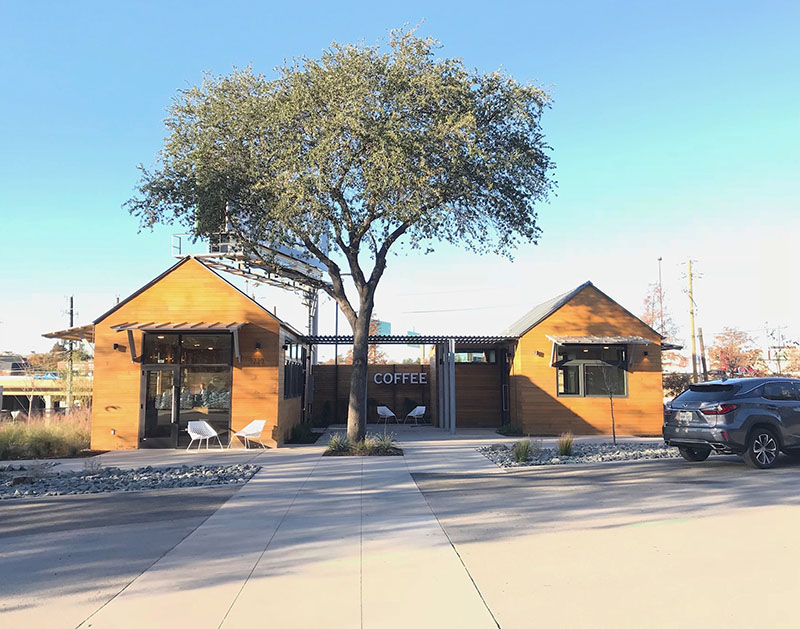 If there's another local small business you'd like to know more about, The Quickie is here to serve. Like a good cover band, we take requests. Let us know in the comments or message foodbitch directly.
Images by FoodBitch.