Tiki Drinks Are The Hot Trend These Days Among Dallas Bartenders, Who Are All Aiming To Keep Pace With A Hole-In-The-Wall Oasis In Arlington.
Until recently, I'd never heard of Arlington's 4 Kahunas Tiki Lounge.
But that's where the award-winning Dallas bartender extraordinaire Ravinder Singh sends me when I ask him where I can find a decent tiki drink in this town.
He's not alone in making that recommendation, either. In fact, when I set out to try to find Dallas' tiki bar scene, pretty much every credible source I ask suggests I check out 4 Kahunas.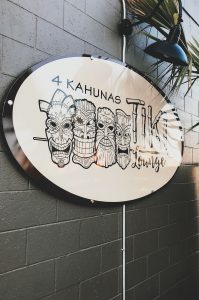 So, this past weekend, I decided it was time to finally check the place out for myself, to see if it was worth all the hype.
I was able to rope acclaimed Dallas cocktail writer Angelica Navarro into joining me for the trip. It didn't take much convincing, to be honest: Navarro is an honest-to-goodness tiki expert, and 4 Kahunas is basically her personal Cheers. On the drive out to Arlington, she schools me on everything from the World War II history and origins of tiki mixology to our current political climate and why she thinks tiki drinks are actually needed today.
Speaking to her, you get a sense of what tiki culture means to a lot of its biggest fans. More than anything, she explains, it represents respite. It's an escape from today's over-connected, dramatic, high-tech, busy world.
Tiki, as a concept, is a vacation in a glass inside a vacation in a bar. When customers walk through a tiki bar's door, they should feel like they're transported to island time until they stumble back out. Navarro's favorite spots all have a certain let-your-hair-down vibe where the bartenders look you in the eye, talk to you about your drink and really get to know you.
True tiki-philes always look for that extra effort. At 4 Kahunas, you can see it in the more tropical ingredients the bartenders craft in-house. The rich coconut milk, homemade syrups and whimsical garnishes are all part of the fun.
Same goes for the decor.
"Tiki bars should have actual tikis," Navarro says, pointing out 4 Kahuna's design once we've arrived and taken our seats at its cozy bar. Real art produced by real artists should be the goal, she says. Placing palm fronds ordered off Amazon in whichever corner feels most convenient doesn't cut it.
Not every past attempt at opening a tiki lounge in North Texas has understood that.
"Those who have tried to open tiki bars [in Dallas before] really made [their spots] more of a club with a Polynesian aesthetic," says Brad Bowden, 4 Kahunas' bar manager. "To me, where many Dallas bars fall short is that they lack culture — and tiki relies heavily upon it."
Singh, who ran the bar at Rapscallion before taking over bar manager duties at the buzzing new spot Beverly's, agrees.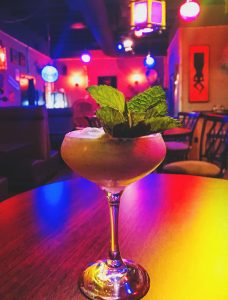 "Tiki is hard," Singh says. "It's a labor of love, it's a niche and it's expensive to start up. That, combined with the Dallas drinker who just wants things simple and good, [means] you have a lot of really great places that just don't have the staying power."
Dallas is known as a city that loves to drink — and especially so when it comes to craft cocktails. So it's surprising on some levels that tiki concepts haven't managed to last long in this town.
But maybe things are changing. Tiki drinks seem to be on everyone's lips these days — by those seeking them, by those championing them or by those who simply slip them onto their bar menus as a fun experiment.
No, you don't have to drive all the way to Arlington to get a solid tiki drink in North Texas these days; if you're willing to forgo the environmental aesthetic, bartenders Rapscallion, Tiny Victories, Hero, Industry Alley, Local Traveler, The Libertine and Lounge Here each make concerted efforts to serve up tiki drinks at least one night a week, if not even more regularly than that. Throughout July, The Statler hotel's speakeasy-style Bourbon & Banter bar even hosted a month-long pop-up dedicated to a tiki drinks, serving outlandish, hand-crafted versions of the classic creations, complete with tropical bar decor, hollowed-out pineapples and various elements the staff would light on fire. It was a fun run, if only temporary.
That's all A-OK by another set of Dallas bartenders, who aren't as sold on tiki as their peers. Chad Solomon, co-owner and -operator of the Midnight Rambler in the basement of The Joule, is actually turning sharply away from tiki drinks these days, instead serving up what he's calling his bar's new "neo-tropical" menu.
"At Midnight Rambler, I purposefully have chosen not to do tiki drinks," Solomon says. "[I think tiki is mostly] a pop art movement limited to a faux Polynesian aesthetic and heavily layered drink formulas. I instead prefer to create 'neo-tropical' cocktails; my intention is to create drinks with a cleaner, more-focused flavor and aroma, which is consistent with our neo-classical drink style at Midnight Rambler."
While his "dark tropical" libations are indeed exotic and tasty, they lack the inherent lightheartedness of tiki, which built its appeal on romanticized post-World War II stories of overseas escape — and, to a degree, the notion of "going native" long before terms like "cultural appropriation" entered our collective vernacular.
Back at 4 Kahunas, it's tough to ignore tiki's charms. Small and located in a nondescript office park, the bar very much feels removed from reality — just as it's been designed to, Bowden says.
"The tiki genre itself is a faux culture loosely based on that of the South Pacific," he says. "Really, escapism and inclusion are what tiki is all about — being able to walk into the bar, disconnect from your geographical location in the outside world and escape to your own slice of paradise."
It's kitschy, sure. But it's supposed to be.
"Many people can't get away to Tahiti every week," Bowden says. "But they could make it to a tiki bar. If you can't sell that disconnect and culture, then forget about it. From the drinks to the decor to even the people you hire — you can't fake it."
All photos by Foodbitch.