WWE Fans Completely Dominated Dallas And The Surrounding Areas This Weekend.
Thanks to WrestleMania's arrival in North Texas, it didn't really matter where you turned in Dallas this weekend, you were definitely seeing some WWE- or otherwise wrestling-related event going on.
Or, if not that, you at least were likely to spot some fan busting out their favorite Stone Cold shirt from 1998.
Yeah, wrestling meant business locally these past few days, as wrestling fans local and international alike came out of the woodwork to celebrate their fandom and party all weekend long — yes, including me.
Other than the big event itself, the biggest draw was the four-day-long WWE Axxess event hosted at Downtown Dallas' Kay Bailey Hutchison Convention Center. Here, you could take pictures to your heart's desire, stand in lines for autographs until it was dark or purchase hundreds of dollars worth of merchandise.
Actually, it was an awful lot like the various comic and sci-fi conventions that so often happen around these parts nowadays. Sure, there are some differences, but there are some striking similarities, too.
Here's what I mean: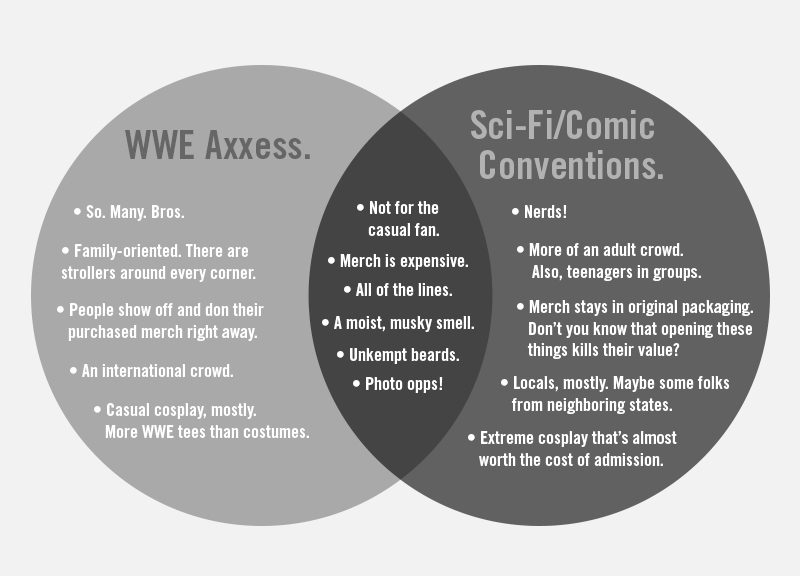 Need more insight into what it was like to be a wrestling fan in Dallas this weekend? We dispatched Kathy Tran to capture the visual essence of all the WWE fans taking in the action at the convention center on Saturday.
The haters can laugh at wrestling all they want; there's denying that these attendees had themselves a ball.