Take a Tour of the Richardson You Might Not Know.
Between the President George Bush toll road and LBJ freeway 635 lays the business-driven and suburb-filled city of Richardson, Texas. Home to University of Texas at Dallas and major corporations like Texas Instruments, Samsung, Verizon, Fossil and Cisco Systems, at most times Richardson doesn't seem like it has much to offer than a place of education or employment.
Most city-dwellers seem to think of it this way, at least, while swearing they never travel north of I-635. But it seems if you're a vegetarian or into Greek and Asian dishes, you love coffee and have a special place in your heart for eclectic festivals, it's time for you to take the DART Rail past Royal Lane. With recent additions like the soon-to-arrive The Pearl Cup and the opening-soon Alamo Drafthouse, we've been asking ourselves a pretty mind-blowing question of later: Is Richardson getting cooler?
We've dug up a list of our favorite spots — some one might even deem "underground" — to support our vote that yes, Richardson is, in fact, getting cooler. Or, perhaps, just tastier.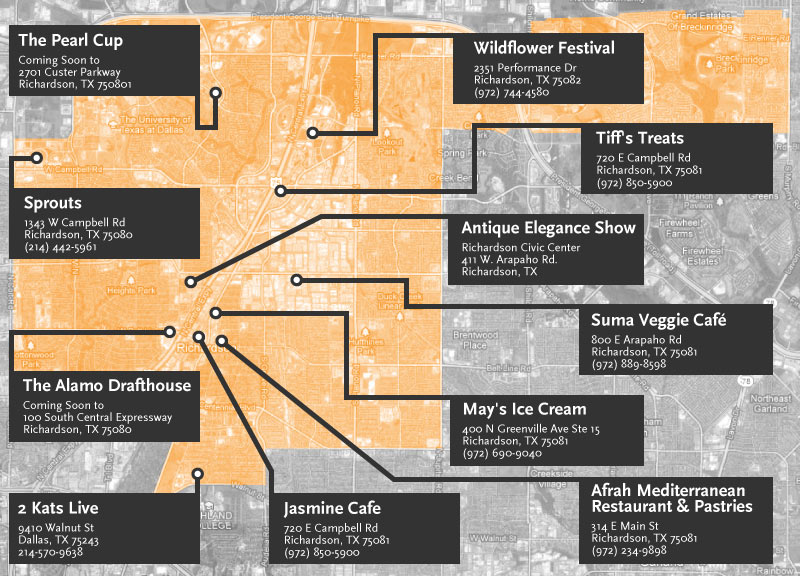 Tiff's Treats
720 E. Campbell Road
Two of the most over-served desserts in some of the Richardson corporate offices have to be Sprinkles Cupcakes and Tiff's Treats. Both deliver, sure. But the latter comes served hot and fresh (and they even deliver milk to accompany the sugary treats). And, listen, delivery is the way to go.
For a business that delivers such a top-notch cookies, you'd think visiting the storefront would be just as appealing as ordering online. Unfortunately, the interior of Tiff's Treats just doesn't live up to the quality of their product — unless you need to visit Tiff's on your lunch break so you can hide in your car while you shovel three cookies into your mouth with nobody to witness it. There's just something more exciting about getting a box of assorted cookies delivered right to your desk and sharing it with your jealous co-workers. Here's something important to remember in that case: Tiff's delivers in the -042, -044, -074, -075, -080, -081, -082, and -043 ZIP codes.
Afrah Mediterranean Restaurant & Pastries
314 E. Main St.
Here's something my friends tell me all the time: "Stop talking about Afrah! You're going to ruin the local vibe there! It's a secret!"
Oops?
Listen, I'm not the only one to be blamed here. After their appearance on the Food Network's Diner's, Drive-Ins & Dives, this place has completely blown up. I'm OK with that. Good things deserve to be shared, especially when they involve a buffet as good as Afrah's. There are quite a few Mediterranean options on East Main Street in Richardson, but Afrah's rules supreme.
Originally a pastry shop and now "serving the finest Mediterranean cuisine," Afrah's has become the most popular spot for Mediterranean food in all of Dallas-Fort Worth. Deservedly so: Afrah's serves the fluffiest, dreamiest pita bread, the most addictive hummus you'll ever try, and, just for good measure, they also have a beautiful gelato bar.
If you're looking to expand your palette and you've been apprehensive about doing so, visit Afrah's. The atmosphere isn't intimidating, the food is some of the best around, and, best of all, it's totally affordable. Bonus? Afrah's stays open until midnight during the week and until 1 a.m. on the weekends. Just one heads up: They don't serve alcohol, but, as with much of Richardson, hookah is always an option.
Jasmine Cafe
720 E. Campbell Road
Also located on East Main Street, Jasmine is another Mediterranean restaurant and hookah bar, where the food not only decent but very affordable. The service isn't as friendly or as quick as Afrah's, but the chicken gyros keep bringing us back for more. To cater to the young night crowd, they also have a huge hookah selection and separate lounge for smoking.
Suma Veggie Cafe
800 E. Arapaho Road
The owners have been described as kind of grumpy, and die-hard vegans have in the past been rumored to question some of the actual food content, but Suma Veggie Cafe is still the shit in our book.
The lunch buffet is the way to go. It's a decent selection, but more important is the fact that it's quick and cheap. Seriously, this place is legit for lunch on the go. Just be sure to get there early. Suma Veggie packs a full house during the midday hours and, although delicious, their buffet is super small. Dare you not to bump into someone.
Wildflower Festival
2351 Performance Drive
The annual Wildflower Festival in Richardson always brings out a diverse crowd each May. Here, you'll find families, teenagers, vendors and young adults all sharing the festival grounds. On six performance stages, local and national acts alike grace the festival's stages every year.
Some past acts include The Polyphonic Spree, Nelly and Dashboard Confessional. There's also food, pop-up shops, art auctions and endless glowing accessories to enjoy.
Antique Elegance Show
Richardson Civic Center
411 W. Arapaho Road
Now here's an interesting find: Twice a year, the Richardson Civic Center is filled with vendors selling (and showing off) items dating as far back as pre-Civil War era. Upon visiting, you'll find antique jewelry, vintage clothes, furniture, art and tons of old knick-knacks just waiting to claim you as your own.
Admission is five bucks, but that's good enough to get you in for the entire weekend. If you've more than spent your time in Lula B's, take a chance to find something "new" at the Richardson Antique Elegance Show. With over 60 antique dealers, you won't walk out of the event empty handed. The next show is September 15 and 16.
2 Kats Live
9410 Walnut St.
In a tiny shopping strip off of Walnut and Abrams, there is a little dive bar with strong drinks and great jazz music. During the early evening time, 2 Kats can look intimidating (read: shady as hell). And, no, positioned between a barred up convenience store and a hair-braiding institute, the blacked out windows and vacant patio at 2 Kats aren't too inviting. But, once night falls, the venue is, well, live. It's got that "hole in the wall that's actually a hidden gem" vibe, and is definitely worth checking out on a Friday night.
Sprouts
1343 W Campbell Rd
If your grocery list includes a custom six-pack of beer and Almond Dream Bites, Sprouts is the market for you in Richardson. Dallas is also getting accustomed to the name, as Sprouts recently took over the popular Sunflower Market off of Henderson Ave. Grab your reusable bags and a free cup of espresso — it's farm fresh produce time.
Chinatown
The 400 block of N. Greenville Ave.
On the 400 block of North Greenville, all your sushi, sesame chicken and boba tea dreams come true. There's a large buffet of options in this strip center. May's Ice Cream, First Chinese BBQ, and Royal Sichuan are a few of our top recommendations.
The Pearl Cup
2701 Custer Parkway
This as-yet-unopened spot will be the Pearl Cup's third area location and, if any city outside of Dallas really needed one, it's Richardson. The Starbucks off Campbell Road and Central Expressway can only handle so much traffic. As you may already know from the Dallas versions, The Pearl Cup offers fair trade coffee, award-winning baristas and a perfect atmosphere for reading, socializing and people-watching. But there's something else special about this soon-to-come location: It will serve beer and wine!
Alamo Drafthouse
100 S. Central Expressway
The so-called "best theater ever" is coming to Richardson. Founded in Austin in the late '90s, the Alamo Drafthouse's first Dallas-area foray will almost certainly be the new hot spot for locals to see movies, have drinks, and enjoy dinner.
Just remember to keep your phone off, OK? Otherwise, prepare for to be ejected from the theater. No exceptions. That's just one of the few rules of Alamo Drafthouse. Other rules include no ads before films and no crying babies or rowdy teens.
Consider this long-awaited cinema to be a dedicated hub for true moviegoers.