The January Sequel To The Band's 10-Year Anniversary Show Will Feature Carcass, Vio-lence, Razor, Deafheaven, Sheer Mag, Torche, True Widow, Wiccans & More.
Step aside, Posty Fest. There's another Dallas-based act throwing around its clout and hosting a banger of a festival here in its hometown.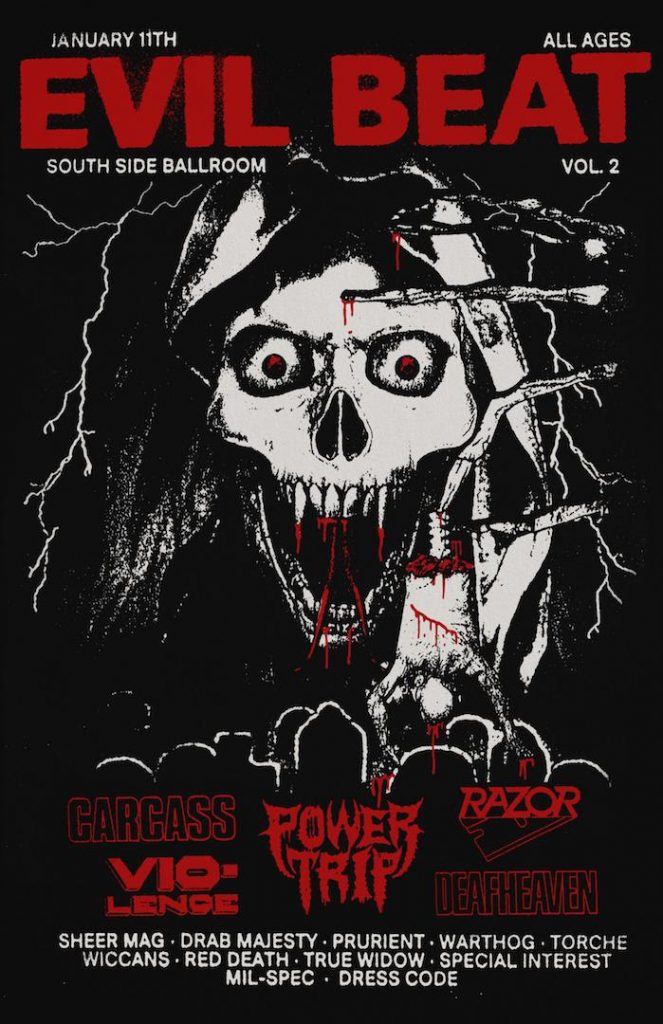 After months of teasing an announcement, the Dallas thrash metal outfit Power Trip announced this morning the details surrounding its second annual Evil Beat music festival, which is slated to go down on Saturday, January 11, at the South Side Ballroom.
Much like Posty Fest, it too will grace us with a beautifully stacked lineup: Power Trip will co-headline its own affair with help from speed metal legends Razor, English death metal outfit Carcass, Grammy nominees Deafheaven and Bay Area thrash pioneers Vio-lence.
The undercard is similarly brimming with buzzworthy talents such as Philadelphia throwback rockers Sheer Mag, Miami metal act Torche and Los Angeles darkwave heroes Drab Majesty, plus local heroes such as Denton hardcore vets Wiccans and Dallas stonegaze favorites True Widow.
If you don't remember there ever being a fist Evil Beat music festival, that's because last year's inaugural deal at Canton Hall was primarily advertised as the band's 10-year anniversary gig. That more humble affair which featured Ceremony, Cold World, Iron Age, War Hungry, Back to Back and Holy Order, and was the second installment in a week-long celebration that started the night prior at Club Dada and featured Eternal Champion, Forward, Obstruction, Ciaturas and Steel Bearing Hand.
Tickets to this year's rager are $46, and go on sale right here at 10 a.m. You can purchase your passes today  a presale with promo code "evilbeat" starts today. As part of every ticket sold, Power Trip will donate $1 to PLUS1, an organization that works to promote "equality, dignity and access for all" through the lens of of events such as this one.
Full lineup follows.
Power Trip's Evil Beat, Vol. 2 Lineup:
Power Trip
Carcass
Razor
Vio-lence
Deafheven
Sheer Mag
Drab Majesty
Prurient
Warthog
Torche
Wiccans
Red Death
True Widow
Special Interest
Mil-Spec
Dress Code